Shrine visits, isles row stir tensions
'ILLEGAL ENTRY': A group of at least 168 Japanese lawmakers visited a controversial shrine as 80 Japanese activists played cat and mouse with Chinese vessels
Tensions flared between Japan and its Asian neighbors after at least 168 Japanese lawmakers visited a shrine seen by China and South Korea as a symbol of Japan's past militarism, and Chinese patrol vessels played cat and mouse with a flotilla of Japanese nationalists near disputed islands in the East China Sea.
Beijing protested over the voyage by 10 boats carrying about 80 Japanese activists into waters near the Diaoyutai Islands (釣魚台), known as the Senkaku Islands in Japan and the Diaoyu Archipelago (釣魚群島) in China.
"Regarding the Japanese right-wing activists' illegal entry into the waters of the Diaoyu Islands that is causing trouble, the Chinese foreign ministry has lodged stern representations with Japan and has strongly protested," Chinese Ministry of Foreign Affairs spokeswoman Hua Chunying (華春瑩) told a news conference.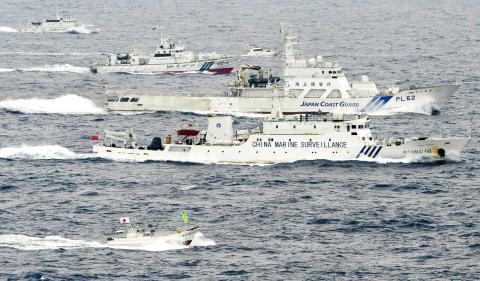 A Japanese fishing boat, bottom, a small Japanese pleasure boat, top center, Japan Coast Guard vessels, third and fourth from bottom and top left, sail along with a Chinese surveillance ship near the disputed Diaoyutai Islands in the East China Sea yesterday.
Photo: AP / Kyodo News
Japan also protested at what it called an intrusion by eight Chinese patrol vessels into its waters near the uninhabited Japanese-controlled islands, which are near rich fishing grounds and potentially lucrative maritime gas fields.
Japanese Prime Minister Shinzo Abe, pressed in parliament to say how Japan would react to a Chinese attempt to land on the tiny islands, said it would be "natural to force them to leave."
However, Tokyo appeared keen to avoid a clash between the nationalists' flotilla and the Chinese ships. The Japan Coast Guard, which had 13 vessels shadowing the boats, urged them to leave and escorted them away.
Last year, members of the same group, Ganbare Nippon ("Stand Firm, Japan"), landed on one of the rocky islets and triggered anti-Japanese protests in China, where lingering resentment over Japan's wartime aggression has been rekindled in recent days. China chastised Japan for yesterday's visits by at least 168 lawmakers to Tokyo's Yasukuni Shrine, which enshrines 14 soldiers convicted as war criminals by an Allied tribunal along with Japan's war dead. The pilgrimage came after Abe made an offering and Japanese Deputy Prime Minister Taro Aso and two other ministers visited the shrine over the weekend.
Homage paid by leading Japanese politicians at the Tokyo shrine typically angers Japan's neighbors, who contend that it glorifies wartime aggression.
"Regardless of what method or what identity these Japanese leaders take in visiting Yasukuni Shrine, fundamentally it is intentionally denying Japan's militaristic invasionist history," Hua said. "We urge Japan to be responsible to history, to be responsible to the people and take a responsible attitude to the future and take realistic actions to win the trust of the international community, stop causing harm to itself and stop isolationist measures."
Some Japanese experts said that, despite the latest tensions, the Asian rivals might avoid a rerun of the violent anti-Japanese protests in September last year that hurt economic ties between Asia's two biggest economies. Those protests were sparked when Japan's government bought the islands from a private owner.
"It may be things as usual. The mood will get worse, but as time goes by, it may come back to more or less the same place," said Yoshihide Soeya, director of the Institute of East Asian Studies at Tokyo's Keio University.
He said China had reacted most strongly to Yasukuni visits in the past when they were made by premiers, foreign ministers or chief Cabinet secretaries.
South Korea, where bitter memories of Japan's 1910-1945 colonization run deep, canceled a trip to Japan by its foreign minister following the weekend shrine visits.
Yesterday, a South Korean government spokesman said matters of history should be kept separate from efforts to cooperate over North Korea's nuclear ambitions.
"It is helpful that the region's countries and the international community work together and pool their wisdom to solve this problem [of North Korea]," South Korean Foreign Ministry spokesman Cho Tae-young said. "But when it comes to history issues like the Yasukuni visit, our government takes a firm stance. That must not be mixed."
Comments will be moderated. Keep comments relevant to the article. Remarks containing abusive and obscene language, personal attacks of any kind or promotion will be removed and the user banned. Final decision will be at the discretion of the Taipei Times.