Family of Falun Gong practitioner seek official help
WITS END: The family held a second press conference to plead for the help of the government in seeking the release of Chung Ting-pang, who is being held in China
The family of Bruce Chung (鍾鼎邦) pleaded with the government for the second time in 10 days to do something about his detention in China.
Chung, a 53-year-old Falun Gong practitioner, was arrested in Ganzhou, Jiangxi Province, on June 18 as he was about to return to Taiwan and accused of "sabotaging national and public security."
"We do not want to wait for another minute or another second because his life is at stake," Chung Ai (鍾愛), Chung Ting-pang's daughter, told a press conference in Taipei organized by Chinese Nationalist Party (KMT) Legislator Hsu Hsin-ying (徐欣瑩).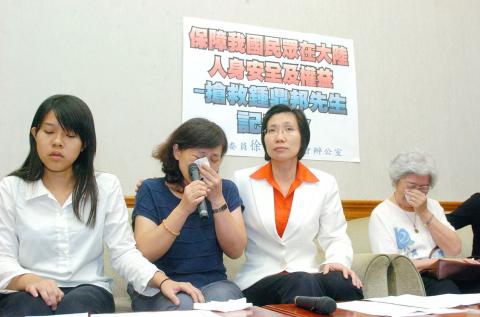 Chinese Nationalist Party (KMT) Legislator Hsu Hsin-ying, second right, holds a press conference in Taipei with the family of Chung Ting-pang, a 53-year-old Falun Gong practitioner recently detained in China, calling on the government to secure his safe return to Taiwan.
Photo: Wang Min-wei, Taipei Times
This was the second press conference the family has called after making the same appeal with Democratic Progressive Party (DPP) lawmakers on June 22.
The family has had no contact with Chung Ting-pang since his arrest or been provided with any further details about the case since the first press conference in which they urged the government to help, Chung Ai said.
Hsu made three demands: the immediate return of Chung Ting-pang to Taiwan, the assistance of the Straits Exchange Foundation (SEF) in hiring a lawyer to defend Chung Ting-pang, the arrangement of a family visit and a discussion on how to protect Taiwanese from harassment in China in upcoming cross-strait negotiations.
"We have to make sure that Taiwanese are legally protected before engaging in broader cross-strait exchanges," the lawmaker said.
Chung Ting-pang's wife, surname Lee (李), was in tears at the conference, saying the government was the only channel available to the family to seek the return of her husband.
Officials from the SEF, the Mainland Affairs Council and the Ministry of Justice attended the press conference, said they had been in contact with their Chinese counterpart since the arrest and were assured that Chung Ting-pang was safe.
Yu Shiu-duan (俞秀端), deputy director-general of the ministry's department of International and Cross-Strait Legal Affairs, said officials in the Chinese Ministry of Public Safety had given assurances that Chung Ting-pang was safe and well, but provided no further details as to his arrest.
A report last Tuesday from China's Xinhua news agency said that Chung Ting-pang had secretly collected documents and incited Chinese citizen's to destroy broadcasting equipment — crimes which endangered national and public safety.
Chung Ting-pang's background as a practitioner of Falun Gong, which is banned in China, was not mentioned at the press conference.
According to Chung Ai, her family has been struggling with whether to draw attention to Chung Ting-pang's Falun Gong practice, which government officials suggested would only "complicate the case."
In contrast, Falun Gong Human Rights Lawyers Working Group spokesperson attorney Teresa Chu (朱婉琪) advised Chung Ting-pang's family that his Falun Gong background could be used to pressure Beijing.
Between 1998 and 2009, 13 Taiwanese Falun Gong practitioners have been detained, imprisoned or tortured in China, Chu said, though they had all been released.
Comments will be moderated. Keep comments relevant to the article. Remarks containing abusive and obscene language, personal attacks of any kind or promotion will be removed and the user banned. Final decision will be at the discretion of the Taipei Times.