Cheng Hung-yi to leave 'Talking Show'
TOO GREEN: Sources said Cheng's resignation might be related to the pressure Beijing is placing on SET-TV as it attempts to break into the Chinese TV market
SET-TV (三立電視) confirmed yesterday that Cheng Hung-yi (鄭弘儀), host of the popular political TV talk show Talking Show (大話新聞), known for its pro-localization views, is to leave the program at the end of this month.
SET-TV spokesperson Chang Cheng-fen (張正芬) said yesterday that Cheng tendered his resignation prior to the Lunar New Year holiday because he wishes to take care of his wife and spend more time with his family.
However, sources said Cheng's resignation might be related to the pressure Beijing is placing on SET-TV as the company attempts to break into the Chinese market.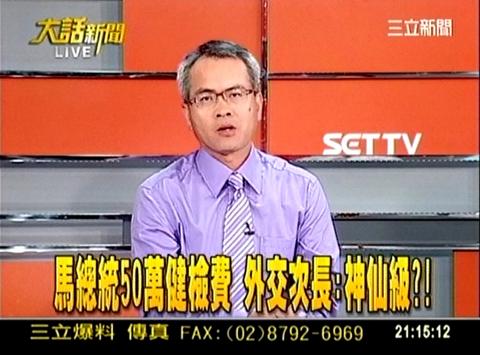 Popular Talking Show host Cheng Hung-yi is shown in a screen grab from a recent episode of the TV show.
Photo: Screen grab courtesy of SET-TV
There have been allegations that the network's recent bid to enter the Chinese market came under pressure from Beijing due to the show's pro-localization slant and its severe scrutiny of the administration and policies of President Ma Ying-jeou (馬英九).
The network is known for its pro-localization news and dramas, with the company hoping to establish SET-TV as the "Drama Kingdom." In the past years, the company has been expanding overseas, having produced TV dramas that have been shown in countries such as Japan and South Korea.
However, unlike other Taiwanese drama shows produced by other stations that have been aired on various channels in China, popular TV dramas produced by SET-TV, such as Fierce Wife (犀利人妻), have not been aired in China, despite their high ratings in Taiwan, sources said.
SET-TV was listed on the stock market in 2000, but it delisted and became a private company in 2005. During that time the company had overseas shareholders, which created tension between SET-TV chief Lin Kun-hai (林崑海) and pan-green parties ahead of the 2008 presidential election.
In 2008, then-Chinese Nationalist Party (KMT) legislator Alex Tsai (蔡正元) attempted to buy a 17 percent stake in the company held by Excelsior Capital Asia in Hong Kong, but that attempt was blocked when Lin bought back the shares for NT$1.3 billion (US$43.9 million).
Cheng has been the core of Talking Show. Due to his image and reputation, he has been able to interview many political heavyweights, including former president Lee Teng-hui (李登輝) and former Democratic Progressive Party chairperson Tsai Ing-wen (蔡英文).
Recent ratings for Cheng's show have been between 0.8 and 0.9, far outstripping its rival show on TVBS, 2100 Talk Show (2100全民開講), hosted by Lee Tao (李濤), which has a 0.5 rating.
Cheng's most recent exclusive interview with Lee on May 15 also gave the show's rating a boost and the interview has been rerun several times.
Sources said the management informed Cheng at the beginning of this month that the show would be undergoing a full makeover.
Sources said Cheng had stated in private many times that he could not accept the company's request that he change the style of the show due to his loyal audience group and stable ratings.
Due to Cheng's strenuous opposition, the management at SET-TV could only make minor changes, such as ensuring the show is now made by SET-TV itself and not outsourced to other studios so that the company could increase its control of its content.
Rumors about Cheng quitting the show started when he took a five-day break in February and he was replaced by the editor-in-chief of the news department, Chen Ya-lin (陳雅琳), the source said.
There had been conflict at the time because Cheng was not happy that SET-TV demanded that he follow the Makiyo case, leading to tensions between Cheng and the station's management, the source said.
The Makiyo case involved a Japanese-Taiwanese singer and actress, and her friend, Takateru Tomoyori, who beat and seriously injured Lin Yu-chun (林余駿), a taxi driver.
Chang said anchorwoman Liao Hsiao-chun (廖筱君) has been tapped to be the temporary host of the show.
She declined to comment when asked about the any change in style or management.
SET-TV hopes to have the chance to work with Cheng again and it has benefited greatly from his talents, Chang added.
News of Cheng's resignation also caused a stir on the Internet, where netizens created a Facebook page petitioning for Cheng to stay on.
It had gathered nearly 4,000 signatures as of press time yesterday, with some lambasting SET-TV, saying they would boycott the show if it was not hosted by Cheng.
Additional reporting by Chen Hui-chen, Yi Hui-tsu and CNATranslated by Jake Chung, staff writer
Comments will be moderated. Keep comments relevant to the article. Remarks containing abusive and obscene language, personal attacks of any kind or promotion will be removed and the user banned. Final decision will be at the discretion of the Taipei Times.