Tsai downplays DPP official's comments
Democratic Progressive Party (DPP) Chairperson Tsai Ing-wen (蔡英文) yesterday downplayed recent comments made by a senior party official suggesting that she could be considered as the party's candidate for the 2012 presidential elections.
Quizzed about DPP Secretary-General Wu Nai-jen's (吳乃仁) comments at a media briefing on Wednesday, Tsai said that she had made her aims "very clear."
"I want to be elected Sinbei City mayor and I want to realize my political goals. I want to turn Sinbei City into a first rate [municipality]," she said. "I will be responsible until the end."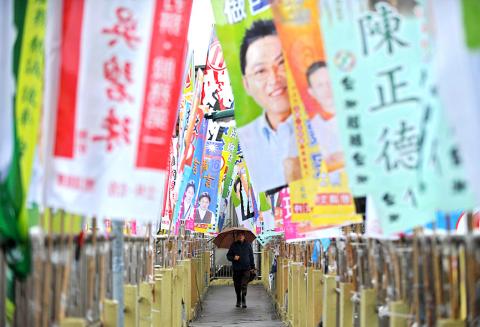 A man walks down a Taipei overpass lined with campaign flags yesterday.
Photo: Patrick Lin, AFP
Wu said the DPP would not exclude any of the five candidates running for mayor tomorrow when it ponders its nomination for the 2012 presidential campaign.
SIMPLE LOGIC
The DPP's logic was simple, he said. Whoever is the most likely to win a presidential election, "would most likely be our presidential candidate," he said.
The comments caused Chinese Nationalist Party (KMT) politicians to accuse both Tsai and the DPP's Taipei City mayoral candidate, Su Tseng-chang (蘇貞昌), of using their municipal campaigns as a springboard to the 2012 presidential election.
Expressing outrage, KMT Sinbei City mayoral candidate Eric Chu (朱立倫) said: "Serving the full term is a basic requirement and a sign of respect for voters."
KMT Secretary-General King Pu-tsung (金溥聰) yesterday called on voters to understand the intentions of the mayoral candidates and support candidates who were truly committed to the mayorship.
COMMITTED
King said all five KMT candidates would be committed to their voters and finish their four-year terms if elected.
Su dismissed Wu's comments and pledged his commitment.
"I don't know what Secretary-General Wu said, but I have already promised Taipei City residents that I will finish my four-year term if elected," said Su, who has repeatedly denied that it is his intention to join the presidential race as the DPP's candidate in 2012.
Comments will be moderated. Keep comments relevant to the article. Remarks containing abusive and obscene language, personal attacks of any kind or promotion will be removed and the user banned. Final decision will be at the discretion of the Taipei Times.