Cross-strait maritime exercise held
TROUBLED WATERS The search-and-rescue drill took place between Kinmen and Xiamen, the scene of fierce battles between the KMT and CCP in the '40s and '50s
Taiwan and China yesterday staged their biggest-ever joint maritime search-and-rescue drill, near waters where the two sides fought fierce battles half a century ago, officials said.
More than 30 vessels and three helicopters took part in the exercise off Kinmen, the Coast Guard Administration said in a statement.
About 400 people from coast guard, rescue and maritime support units from the two sides took part in the drill, according to the statement.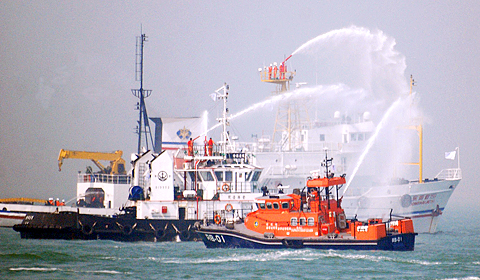 Rescue boats from Taiwan (front and middle) and China (rear) take part in a joint rescue drill yesterday.
PHOTO; AFP
"The purpose of the drill was to check how responsible units from Taiwan and the mainland [China] will react to maritime accidents," the Coast Guard Administration said.
The drill, which covered an area of about 6.2km2, played out a scenario where a passenger ship shuttling between Kinmen and Xiamen hits a cargo vessel, causing fires and leaving some passengers in the sea, it said.
Exercises of this type were agreed in earlier talks between Taiwan's Straits Exchange Foundation Chairman Chiang Pin-kung (江丙坤) and China's Association for Relations Across the Taiwan Strait Chairman Chen Yunlin (陳雲林).
Kinmen was the scene of fierce battles in the 1940s and 1950s when the Chinese Communist Party's military repeatedly tried to conquer the island group held by the Chinese Nationalist Party (KMT).
Now peaceful exchanges have taken over and so far people from Taiwan and China have made more than 1.28 million visits using a ferry that links Kinmen and Xiamen.
Taiwan and China held the first-ever such drill in 2008, but on the Taiwan side only the Kinmen County Government joined the drill, mobilizing one ship.
Additional reporting by CNA
Comments will be moderated. Keep comments relevant to the article. Remarks containing abusive and obscene language, personal attacks of any kind or promotion will be removed and the user banned. Final decision will be at the discretion of the Taipei Times.