Tehran captures key Sunni militant
Iran yesterday seized a Sunni Muslim rebel leader behind a bombing that killed dozens of people last year, and who Tehran says has links to al-Qaeda and support from Pakistan, Britain and the US.
There were contradictory reports about how Iranian security forces detained Jundallah (Soldiers of God) leader Abdolmalek Rigi, whose group claimed the Oct. 18 bombing that killed more than 40 Iranians, including 15 from the elite Revolutionary Guards.
Iranian Intelligence Minister Heydar Moslehi said Rigi had been in a US military base 24 hours before his arrest and was carrying an Afghan passport supplied by the US, state-run Press TV reported.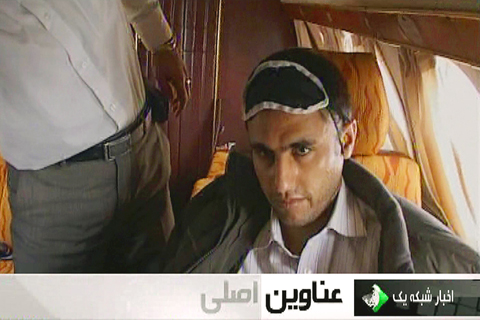 An image grab taken yesterday from Iranian local TV station IRIB shows Sunni militant Abdolmalek Rigi sitting in a plane following his arrest and return to Tehran.
PHOTO: AFP
Rigi, Iran's most wanted fugitive, had been tracked by Iranian agents for five months before his arrest, Moslehi said.
The capture was "a great defeat for the US and UK," Moslehi said at a media conference, accusing the US and Britain of involvement in "continuous plots" in the region.
Moslehi said Rigi had been arrested on board a plane flying between Kyrgyzstan and Dubai.
TV pictures showed him being taken off a plane in handcuffs, accompanied by four masked men.
"Dubai has a smeared hand in this scandal that shows the Zionist regime wants to turn the region into a safe haven for terrorists with the help of America and Europe," Moslehi was quoted as saying.
The US, Britain and Pakistan all deny backing Jundollah, which operates in Sistan-Baluchistan Province.
Fars news agency had earlier quoted Interior Minister Mostafa Mohammad-Najjar as saying Rigi had been arrested abroad with three other rebels. Some lawmakers said Iranian warplanes might have intercepted Rigi's aircraft and forced it to land in Iran.
Comments will be moderated. Keep comments relevant to the article. Remarks containing abusive and obscene language, personal attacks of any kind or promotion will be removed and the user banned. Final decision will be at the discretion of the Taipei Times.