Eight baseballers listed as defendants
GAME-FIXING PROBE Minister of Justice Wang Ching-feng said prosecutors should weed out the bad apples to ensure a clean environment for the sport in Taiwan
Brother Elephants pitcher Tsao Chin-hui (曹錦輝), La New Bears pitcher Chang Chih-chia (張誌家) and six other players were listed as defendants yesterday in a game-fixing case under investigation by Banciao District prosecutors.
The six others are Hsieh Chia-hsien (謝佳賢) of the Sinon Bulls, Wang Chun-tai (汪竣泰), Liu Yu-chan (柳裕展),Wang Jing-li (王勁力), Wu Pao-hsien (吳保賢) and Li Hao-ren (李濠任).
Prosecutors said they have telephone records proving that Tsao, Chang and the others were in contact with Tsai Cheng-yi (蔡政宜), the alleged head of a criminal gang, and his middlemen. The players allegedly met Tsai or a middleman before throwing a game.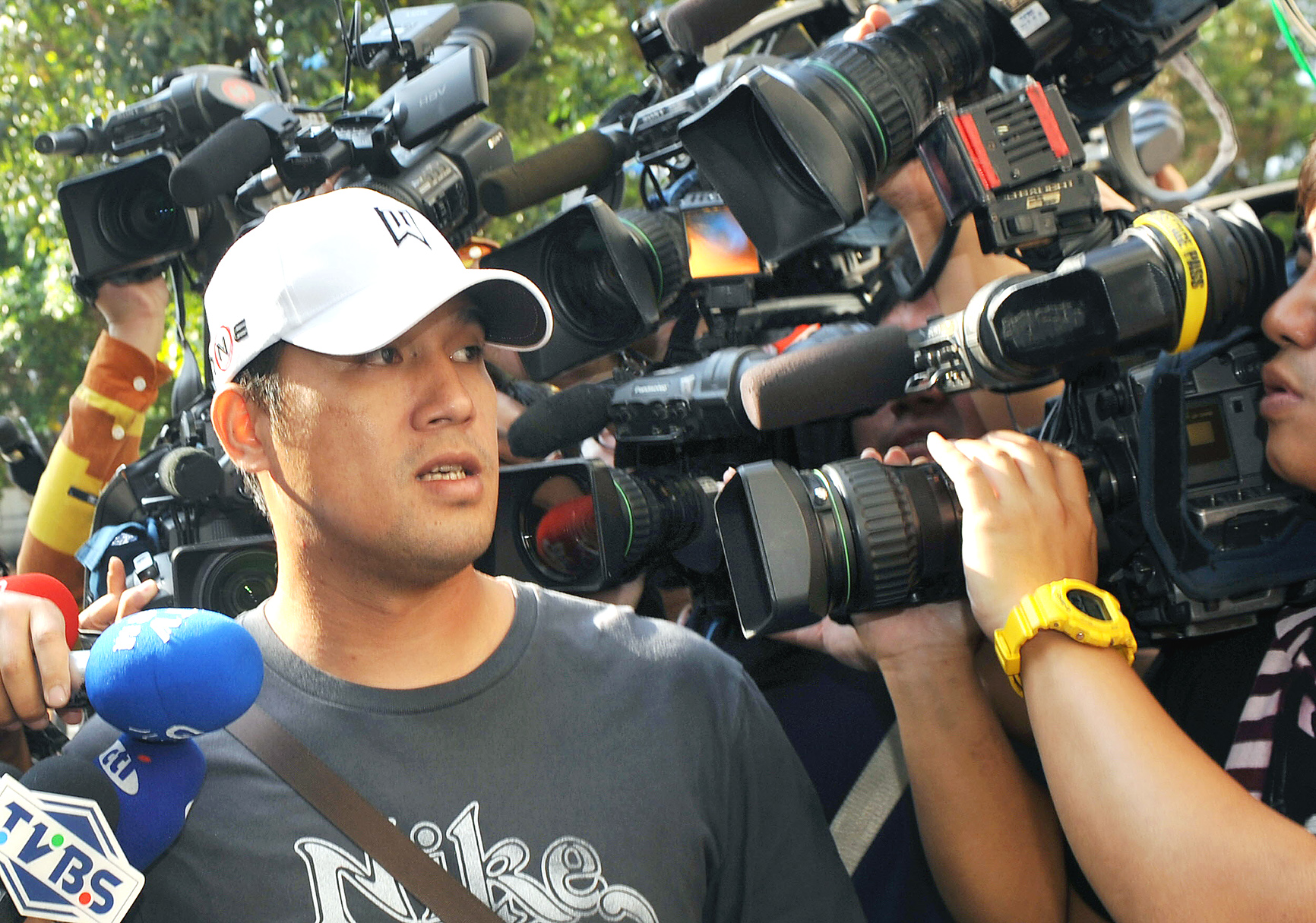 Sinon Bulls player Hsieh Chia-hsien is surrounded by reporters and cameramen as he arrives at the Taipei Investigation Bureau yesterday for questioning in connection with alleged game-rigging in the Chinese Professional Baseball League. Hsieh was one of eight players listed as a defendant in the case by prosecutors yesterday.
PHOTO: SAM YEH, AFP
Tsao and Chang responded to reporters' questions by denying any involvement in game throwing, although Tsao admitted having dinner with Tsai. The others declined to answer reporters' questions yesterday.
Meanwhile, there are widespread rumors that former Brother Elephants pitcher Chuang Yu-lin (莊侑霖) may seek a deal with prosecutors in exchange for leniency. Chuang allegedly bribed and threatened players to ensure their team would win or lose by a specific margin.
Media reports said Chuang, suspected of gambling, drug dealing and other crimes, might offer evidence that would incriminate baseball players under investigation.
Former baseball player Huang Chun-chung (黃俊中) has also reportedly told prosecutors he acted as a middleman between the gambling syndicate and players by meeting with the players to negotiate fixing games.
Prosecutors have declined to comment on the reports.
This is the fifth time in the past 20 years that professional baseball players in Taiwan have been investigated for throwing games. The latest probe began one day after the Elephants lost 5-2 to the Uni- President Lions in the Chinese Professional Baseball League (CPBL) championship.
In related news, Minister of Justice Wang Ching-feng (王清峰) urged prosecutors yesterday to weed out the bad apples in professional baseball so that players can enjoy a clean, lawful environment.
Speaking to reporters at a ministry event, Wang defended the Banciao prosecutors, who have been accused of ruining professional league baseball. The investigations are aimed at ensuring a clean environment for the sport, she said.
Commenting on the scandal, Detroit Tigers relief pitcher Ni Fu-te (倪福德), a former Chinatrust Whales pitcher, said: "This kind of scandal has happened so many times. The players must learn to protect themselves and reject any temptation."
In related news, the National Communications Commission (NCC) said it received about 100 e-mails from baseball fans this week complaining about coverage of the game-fixing scandal on CtiTV and other channels.
"They said that the TV station replayed archived news clips and seemed to imply that certain players were involved," said Chien Hsu-cheng (簡旭徵), deputy director of the communication content department.
Some fans also posted their complaints online and asked the public to stop watching CTi.
Chien said the commission would forward the e-mails to the Satellite Television Broadcasting Association (STBA), which will handle the complaints.
Article 30 of the Satellite Broadcasting Act (衛星廣播電視法) allows for requesting a correction within 20 days if a program or advertisement is found to be erroneous, Chien said.
The same article states that if the satellite broadcaster considers that there was no error, it must provide a written response, stating its reasons.
Comments will be moderated. Keep comments relevant to the article. Remarks containing abusive and obscene language, personal attacks of any kind or promotion will be removed and the user banned. Final decision will be at the discretion of the Taipei Times.