China ready to talk peace: Wen
DEJA VU The Chinese premier's speech to the opening ceremony of the NPC was almost a word-for-word revisiting of a speech President Hu Jintao made on Dec. 31
Chinese Premier Wen Jiabao (溫家寶) said yesterday that Beijing was ready to hold talks with Taiwan on political and military issues to end hostilities between the two sides.
In his opening address to the National People's Congress (NPC), Wen hailed a significant improvement in ties and a major reduction in tensions over the past year between China and Taiwan.
"Positive changes occurred in the situation in Taiwan, and major breakthroughs were made in cross-strait relations," Wen said in his annual "state of the nation" address.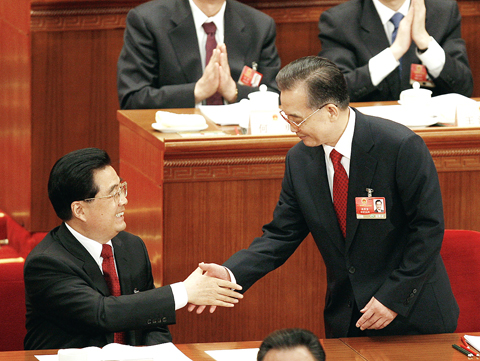 Chinese President Hu Jintao, left, shakes hands with Premier Wen Jiabao after Wen delivered his report to the National People's Congress in the Great Hall of the People in Beijing yesterday.
PHOTO: AP
"In the coming year, we will continue to adhere to the principle of developing cross-strait relations and promoting peaceful reunification of the motherland," Wen told the 3,000 NPC delegates.
"We are ... ready to hold talks on cross-strait political and military issues and create conditions for ending the state of hostility and concluding a peace agreement" between the two sides, he said.
Wen's remarks were a near word-for-word reiteration of offers made by President and Chinese Communist Party (CCP) General Secretary Hu Jintao (胡錦濤) in a Dec. 31 address.
Wen gave no additional details on the content of a peace agreement or what the talks on political and military issues would include. However, the tone of his remarks was far more conciliatory than the typically hawkish references to Taiwan contained in previous addresses to the congress.
Wen pointed to increased contacts between the two, particularly in the economic and financial fields, and vowed to provide financial and investment support for Taiwanese businesses operating in China.
"We will accelerate normalization of cross-strait economic relations and facilitate the signing of a comprehensive agreement on economic cooperation," Wen said.
He also referred to Taiwan's long ambition to participate in international organizations such as the UN, although he insisted the baseline criteria remained.
"We are ready to make fair and reasonable arrangements through consultation on the issue of Taiwan's participation in the activities of international organizations," Wen said.
But he said such participation would have to come under the "one China principle."
Turning to the economy, Wen said China was facing unprecedented challenges from the global crisis but he was confident the country would still achieve economic growth of about 8 percent this year.
He acknowledged the Chinese economy, the third-biggest in the world, was hurting and the climate was not expected to get better soon in the face of a global recession that has weakened demand for Chinese goods.
Wen also promised the government would be more open and listen to public opinion.
"We need to make government affairs more open and transparent. We will ensure the people's right to ... participate in, to express views on and to oversee government affairs," he said.
However, he also cautioned that the government would not tolerate anything that affected stability.
In addition, the military needed to be modernized "across the board," he said. The military would transform its training focus toward warfare tactics using more information technology applications, he said.
"We need to make our army more revolutionary, modern and standardized, focusing on enabling it to fully carry out its historic missions," he said.
At the end of its nine-day session, the NPC will be asked to approve a 15.3 percent increase in defense spending to 472.9 billion yuan (US$69 billion) this year, according to a budget report.
On Wednesday, a parliament spokesman said the defense budget was set to rise to 480.7 billion yuan, up 62.5 billion yuan or 14.9 percent from last year.
No explanation was given for the discrepancy.
Also See: China says 8% growth possible
Comments will be moderated. Keep comments relevant to the article. Remarks containing abusive and obscene language, personal attacks of any kind or promotion will be removed and the user banned. Final decision will be at the discretion of the Taipei Times.