Hsieh shrugs off bribery allegations
CONFIDENT Frank Hsieh said the Yu Huang Temple issue was an old case, adding that the cash given was a political donation and not a bribe
Democratic Progressive Party (DPP) presidential candidate Frank Hsieh (謝長廷) yesterday said he was confident that his name would be cleared in a bribery accusation against him.
Hsieh made the remarks after the Special Investigation Section (SIS) under the Supreme Court Prosecutors' Office told reporters yesterday that he was a defendant in the Yu Huang Temple (玉皇宮) case.
The Yu Huang Temple bribery allegations first came to light in 2002 when Hsieh was Kaohsiung mayor.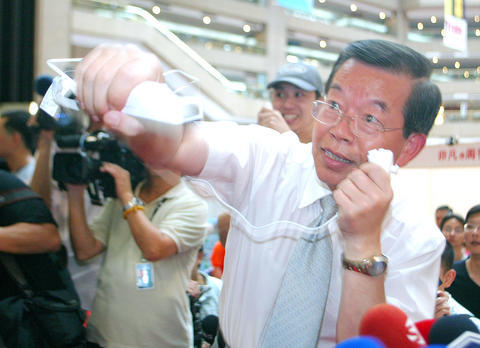 Democratic Progressive Party presidential candidate Frank Hsieh plays the popular Nintendo Wii video game system yesterday at the opening day of the Info Multimedia Taipei exhibition at the Taipei World Trade Center. The event runs through Monday.
PHOTO: CNA
Hsieh was accused of accepting NT$2.8 million (US$84,848) from Hsu Wen-liang (許文良), chief of the temple, in return for his approval of the construction of part of the temple. Hsieh has maintained that the NT$2.8 million was a political donation.
The Chinese-language United Daily News yesterday reported that the SIS had reopened the investigation and decided to list Hsieh as a defendant "because prosecutors had discovered a lot of new evidence, which may impact on Hsieh's presidential campaign."
Rebutting the report, SIS spokesman Chen Yun-nan (陳雲南) told the press that "[Hsieh] has been a defendant in this case since the start, when the case was still in the hands of Kaohsiung prosecutors."
He added that "what you read in the newspapers may not necessarily be accurate."
Chen said that what prosecutors are working on had nothing to do with Hsieh's presidential campaign activities.
"We will do what we are supposed to do. Whether or not this will impact on his [Hsieh's] presidential campaign is not our concern," Chen said.
DPP Legislator Hsu Kuo-yung (徐國勇), who is close to Hsieh, yesterday said that he suspected that "someone," in an attempt to hurt Hsieh's electoral outlook, was trying to play up Hsieh's role as a defendant in the case.
In his defense, Hsieh told the media yesterday that his support group had received the donation from the temple in Kaohsiung's Samin District, in 2003 but later returned the money to the temple because it feared the donation might be "controversial."
The temple later insisted on giving the money back to his support group, Hsieh said, so he decided to spend the money on buying two ambulances -- Yu Huang 1 and Yu Huang 2, which remain in use in Kaohsiung.
"It is my understanding that former Chinese Nationalist Party [KMT] chairman Lien Chan (連戰), KMT Secretary-General Wu Den-yih (吳敦義) and former KMT Kaohsiung mayoral candidate Huang Chun-ying (黃俊英) also accepted political donations from Yu Huang Temple," Hsieh said.
He added that "unlike me, they did not attempt to return the money."
"This is an old case. If I were guilty, I would have been put away behind bars already," Hsieh said. "Trust me. I will be fine."
Additional reporting by Flora Wang
Comments will be moderated. Keep comments relevant to the article. Remarks containing abusive and obscene language, personal attacks of any kind or promotion will be removed and the user banned. Final decision will be at the discretion of the Taipei Times.