Captured Israeli soldier urges Palestinians' release
ANNIVERSARY One year after Sergeant Gilad Shalit was nabbed by militants, a video was released in which he called on Israel to make a deal for his release
An Israeli soldier captured a year ago by militants from Gaza asked for medical treatment and urged Israel to release Palestinian prisoners, in an audio tape posted on the Internet yesterday.
Except for a handwritten letter to his parents last September, there had been no sign of life from Gilad Shalit since the tank gunner was spirited into the Gaza Strip by gunmen who tunnelled across the border into Israel on June 25 last year.
"I have been in prison for an entire year and my health is deteriorating. I need lengthy hospitalization," Shalit, speaking in Hebrew, said on the tape.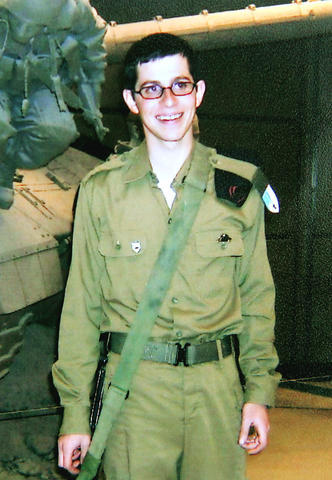 Israeli Sergeant Gilad Shalit, 19, is seen in a picture released by his family on Sunday. An audio message from Shalit was posted on a Hamas Web site yesterday.
PHOTO: AP
"I regret the lack of interest of the Israeli government and military in my case and their failure to meet the demands," he said.
Shalit's father, speaking to Israeli TV, confirmed the voice was that of his son, a conscript now aged 20.
Shalit was promoted to sergeant from corporal while in captivity.
Hamas, one of three militant groups that claimed responsibility for the joint operation in which Shalit was seized, said earlier it would release the tape to mark the first anniversary of his capture.
On the tape, Shalit called on Israel to make a deal for his release.
"Just as I have parents, a mother and father, thousands of Palestinian detainees have mothers and fathers whose sons must be returned to them," the voice said.
Negotiations brokered by Egypt have been suspended amid Palestinian internal fighting and Israeli-Palestinian violence.
Meanwhile, Israeli Prime Minister Ehud Olmert downplayed expectations ahead of the Egyptian summit bringing together Israeli and Arab leaders.
He said the meeting -- designed to boost Palestinian President Mahmoud Abbas in his struggle against Hamas -- would provide a launching point for renewed peace talks, not the venue for a major breakthrough.
"Don't wait impatiently tonight for the outcome as if at the end of the day you are going to see us sitting and signing a peace treaty. It will take time," Olmert said.
Also see story:
Palestine follies roll on as chances for a two-state solution fade
Comments will be moderated. Keep comments relevant to the article. Remarks containing abusive and obscene language, personal attacks of any kind or promotion will be removed and the user banned. Final decision will be at the discretion of the Taipei Times.