Mother died protecting her kids in quake
GUARDIAN A second person who was killed in Tuesday's quakes was a mother of twins. She was found in rubble shielding the children, who survived
Two people died and at least 42 suffered injuries during the two earthquakes measuring 6.7 and 6.4 on the Richter scale that shook southern Taiwan on Tuesday night, the National Fire Agency confirmed yesterday.
The quakes, which were felt throughout Taiwan, were followed by a series of minor tremors, including a 5.9-magnitude aftershock at 10:30am yesterday that was felt as far north as Miaoli County and Ilan County.
Three homes collapsed and 12 fires were triggered by the quakes, the agency said.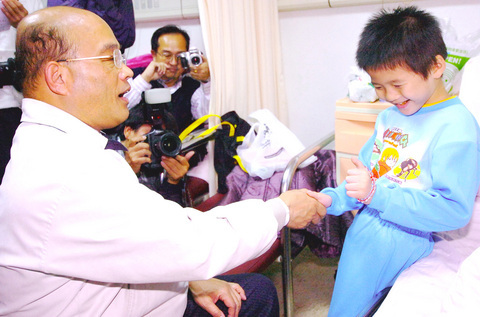 Premier Su Tseng-chang, left, shakes hands yesterday with Chen Yu-hsien, 7, a survivor of Tuesday night's earthquakes, in Nanmen Hospital in Pingtung County's Hengchun Township. Chen and his twin brother Chen Yu-jen survived the collapse of their house during the quakes. Their mother Fang Shu-chuan died as she shielded the twins with her body.
PHOTOS: HUANG CHIH-YUAN, TAIPEI TIMES
A mother was killed apparently trying to protect her twin sons when their four-story home collapsed in Hengchun Township (恆春), Pingtung County, which was nearest the epicenter of the first quake.
Fang Shu-chuan (方淑娟), 36, was shielding the seven-year-old twins with her body when the three-story furniture shop where they lived collapsed.
She was found by rescuers in the ruins of the building three hours after the quake.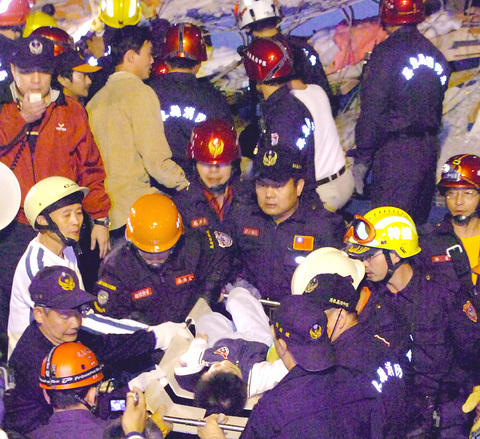 Police and firemen on Tuesday night carry Chen Yu-hsien from the rubble.
She was later pronounced dead at the hospital.
Fang's 34-year-old brother also died in the disaster. Four other family members survived.
One of the twins was seriously hurt and the other suffered minor injuries, the officials said.
Premier Su Tseng-chang (蘇貞昌) yesterday afternoon traveled to Pingtung County to visit families of the victims.
Minister of the Interior Lee Yi-yang (李逸洋) and National Fire Agency Director-General Huang Chi-min (黃季敏) accompanied him at the scene.
The Cabinet yesterday donated NT$250,000 to the injured and grieving families, while private donations and local government financial assistance to quake victims totaled NT$500,000 and NT$300,000 respectively.
NGO help
The Ministry of the Interior also urged non-governmental organizations to raise money to assist quake victims and relief efforts in the hardest-hit areas in Kaohsiung and Pingtung counties.
The Ministry of Education yesterday said that 134 elementary and middle schools were damaged by Tuesday's tremors.
The majority of the damaged schools were in Pingtung and Kaohsiung counties.
Ten of these have been closed because of severe structural damage, the ministry said.
"Student safety is foremost in our minds. If schools are deemed dangerous because of the damage, then students will not be allowed to enter them," Minister of Education Tu Cheng-sheng (杜正勝) said yesterday during a press conference.
"Much of the damage is minor -- broken glass, fallen structures and the like. This damage will be taken care of immediately," he said.
Relief efforts
The ministry said that it would contribute NT$10 million (US$304,000) to disaster relief efforts in Pingtung County, and was evaluating how much to allocate to schools and local-level governments in addition to that amount to repair the damage.
Nuclear power officials said yesterday that the Third Nuclear Power Plant's No. 1 reactor was operating at full capacity.
The No. 2 reactor, although not posing any danger, had been stopped manually after the quakes by plant personnel as a precaution.
At press time last night, the second reactor was being reactivated after approval was granted by the Atomic Energy Council just after 5pm yesterday.
The state-owned oil refiner Chinese Petroleum Corp said yesterday that operations at a refinery in Kaohsiung had returned to normal after output was reduced for about four hours.
A boiler at the refinery in Kaohsiung automatically shut down after the earthquakes. The company is now operating at about 85 percent capacity at its three refineries, which can process a total of 720,000 barrels of crude oil a day, company vice president Tsao Mihn (曹明) said by telephone.
Taiwan Semiconductor Manufacturing Co (TSMC), the world's largest made-to-order chipmaker, said yesterday in a press statement that the company's operations in Hsinchu were unaffected by the quakes.
But at the company's Tainan site, TSMC said it had halted operation of several pieces of equipment to protect materials and to conduct inspections, but production lines quickly resumed.
Geologists have warned that more and perhaps stronger earthquakes may follow.
"The stratum [where the epicenter is located] has accumulated too much stress, and this is unusual," said Hongey Chen (陳宏宇), a geology professor at National Taiwan University. "The stress has now been released. What concerns us is that it might induce a hidden source of energy inside the layers."
Wen Kuo-liang (溫國樑), a chief researcher at the National Center for Research Earthquake Engineering, said it was difficult to determine whether stronger earthquakes would occur in the near future.
He said a 5-magnitude earthquake had occurred near the epicenter of the first quake four years ago.
However, no quake of such magnitude had struck the area in the past 100 years, he said.
According to the Central Weather Bureau, a 6.8-magnitude earthquake struck Hengchun in 1959.
The bureau said yesterday that the earthquake was triggered by movement between the Eurasia and Philippine tectonic plates.
Additional reporting by Jimmy Chuang
Comments will be moderated. Keep comments relevant to the article. Remarks containing abusive and obscene language, personal attacks of any kind or promotion will be removed and the user banned. Final decision will be at the discretion of the Taipei Times.