Civilians slain as Hezbollah cries war
DOWNWARD SPIRAL Missiles continued to be fired between Israel and Hezbollah fighters, killing innocents, destroying infrastructure and threatening all-out conflict
Israeli air strikes killed at least 27 civilians yesterday as Israel battered Lebanon for a fourth straight day to punish it for letting Syrian and Iranian-backed Hezbollah fighters menace its northern border.
US President George W. Bush, who has declined to urge Israel to curb its attacks, said Syria should tell Hezbollah to stop cross-border attacks from Lebanon's mainly Shiite Muslim south, as Hezbollah's leader called for open war.
Eighteen civilians, including nine children, were burnt alive in an Israeli helicopter gunship attack yesterday on residents fleeing border villages in south Lebanon, UN peacekeepers and hospital sources said. The van was carrying families fleeing the village of Marwaheen after Israeli loudspeaker warnings to leave their homes. Seven of the dead were from a single family.
A burning fuel storage tank hit by Israeli warplanes is seen through the windows of an adjacent elementary school in Jiyyeh, southern Beirut, on Friday.
PHOTO: NY TIMES NEWS SERVICE
Israeli aircraft also destroyed the main Hezbollah office in Beirut, a nine-story building, and attacked roads, bridges and petrol stations in north, east and south Lebanon, killing at least 12 people and wounding 32, security sources said.
Israel's campaign, launched after Hezbollah captured two Israeli soldiers and killed eight on Wednesday, has killed 93 people, all but two of whom were civilians, and paralyzed the Lebanese economy.
It aims not just to force Hezbollah to free the soldiers, but to destroy its ability to launch rocket attacks on northern Israel, where four civilians have been killed this week.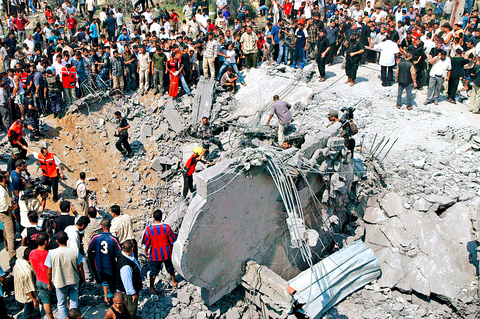 Palestinians inspect the remains of a destroyed house used by the Hamas movement after an Israeli F16 warplane strike in Gaza City yesterday.
PHOTO: EPA
French President Jacques Chirac and some other world leaders have sharply criticized Israel's assault on Lebanon as disproportionate. They have also condemned Hezbollah's tactics.
TARGETS
The Israeli army said yesterday it had struck about 150 targets in Lebanon so far, fewer than a dozen of them linked directly to Hezbollah. Most have hit civilian installations.
Israeli army chief Dan Halutz said on Friday that more targets would be bombed in a bid to remove Hezbollah from the border and replace it with a force answering to the Lebanese government.
He said Israel was also telling the Lebanese that "they swallowed a cancer that has to be regurgitated, and if not this country will pay a price as in the past" -- an allusion to Israel's 1982 invasion to drive out Palestinian guerrillas.
Israel was bombarding roads in the north and east to try to seal Lebanon's land border with Syria. It has already bombed Beirut's international airport and blockaded Lebanese ports.
Well over 100,000 people, many of them tourists, have fled to Syria since Israel's attack on Lebanon began, border officials said.
WAR CRY
Hezbollah leader Sayyed Hassan Nasrallah, speaking shortly after Israeli jets destroyed his Beirut home, declared open war on Israel following its bombardment of his Beirut home and stronghold.
"You wanted open war. We are going to open war," Sayyed Hassan Nasrallah said.
Nasrallah also said his fighters had hit an Israeli warship off Beirut.
The Israeli military recovered the body of one of four sailors reported missing after the warship was hit.
Israeli military commander Brigadier General Ido Nehushtan said the body was found at sea. A military source said Hezbollah had launched an Iranian-made missile at the vessel.
A senior Israeli intelligence official said yesterday that Iranian troops helped Hezbollah fire the missile that damaged the warship.
The official said about 100 Iranian soldiers are in Lebanon and helped fire the Iranian-made, radar-guided C-102 missile.
Initially, it was thought that Hezbollah used a drone to attack the ship. The Israeli intelligence official did say that Hezbollah does have drones and warned that they are more accurate than missiles.
Several Hezbollah rockets hit the Israeli town of Tiberias yesterday, the furthest they have landed so far. No casualties were reported in the town, 35km from the border, but several people were slightly wounded in other rocket attacks.
MISSILE RISK
Israeli officials warned yesterday that Hezbollah has missiles that could reach as far as 100km to 200km into the country, putting cities such as Jerusalem and Tel Aviv at risk if they are used.
A senior Israeli intelligence official said that Hezbollah has 150 missiles that could reach a distance of 45km, and another 20 with a range of 100km to 200km.
"They may hit Tel Aviv," the official said, adding that Israeli intelligence officials were not sure why Hezbollah has not used the missiles since it started firing rockets at Israel.
An army spokesman said that since Wednesday, more than 350 Katyusha rockets have been fired into Israel, including 40 on Saturday, and have killed four people and injured about 60.
Arab foreign ministers discussed the crisis in Cairo, but it was not clear what they could do. Syria has pledged to back Hezbollah and Lebanon against Israel's "barbaric aggression." Saudi Arabia has blamed Hezbollah for "uncalculated adventures."
PM RESPONDS
Lebanese Prime Minister Fuad Siniora on Friday accused Israel of cutting his country into pieces and demanded an immediate ceasefire.
In an interview with CNN, Siniora said Lebanon was being punished for something in which it had no hand -- the kidnapping of two Israeli soldiers and the killing of eight more.
"Israel is continuing its aggression against Lebanon and the Lebanese," Siniora said. "It's sparing nobody, in no area of Lebanon. Actually it is cutting the country into pieces, whereby more than 20 bridges in the country have been destroyed."
Siniora also accused Israel of being careless about civilian lives and of trying to cripple his recovering country's economy.
Foreign governments were drawing up contingency plans yesterday to evacuate their nationals from Lebanon.
France, Italy and Sweden followed Britain's lead on Friday in preparing a voluntary evacuation of their citizens, mainly by land to Syria or by ferry to Cyprus.
The US State Department also said it was working on a plan with the Pentagon to transport Americans to Cyprus, where they can board commercial aircraft for onward travel.
also see stories:

Israeli PM taking an enormous gamble

Gunmen seize Iraqi Olympic chief
Comments will be moderated. Keep comments relevant to the article. Remarks containing abusive and obscene language, personal attacks of any kind or promotion will be removed and the user banned. Final decision will be at the discretion of the Taipei Times.