Torpedo destroys target in latest drill
After a 12-minute journey, a torpedo launched from a Jianlong-class submarine hit its target ship yesterday, and officials at the Kaohsiung naval base hailed the drill as a success.
"The live drill proved that submarines are an effective and useful force, and the navy hopes that it can quickly establish an advanced submarine force," naval chief of operations Chen Pan-chih (陳邦治) said yesterday.
The drill was conducted in waters off Hsiao Liuchiu (小琉球), an island off the southwest coast. The Jianlong-class submarine launched the torpedo at 9am and hit the target in a violent plume of water. Chen and the other officials cheered as the torpedo hit the target.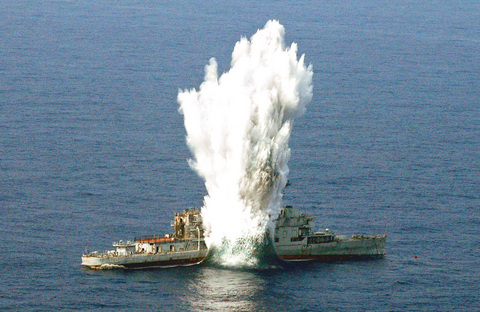 In this handout photo released by the navy, a torpedo launched from a Jianlong-class submarine strikes a dummy target during a military exercise off the southwestern coast yesterday.
PHOTO: AP
A half hour later, the smoking ship slowly sank.
The Navy broadcast the drill live at the Kaohsiung base. Chen admitted that he and naval officials were under pressure because variables in the sea environment might have affected the torpedo's path.
The navy has fired submarine-launched torpedoes five times in the last two years. Three of them hit the targets.
Chen said yesterday's drill used a large, wire-guided torpedo costing NT$100 million (US$3.2 million).
He then called for the formation of an advanced submarine force to deter China from engaging in a war.
Chen said that if China's submarines blockaded Taiwan's harbors and sea lanes, Taiwanese submarines would be able to counter-blockade in kind along the coast and in major harbors.
He said the currently stalled arms-procurement bill would, if passed, greatly increase the cost and risks for China if it attempted to start a war with Taiwan.
Comments will be moderated. Keep comments relevant to the article. Remarks containing abusive and obscene language, personal attacks of any kind or promotion will be removed and the user banned. Final decision will be at the discretion of the Taipei Times.