`We will not sit idly by,' president says
NON-PEACEFUL DARK CLOUDS Beijing should be careful not to misjudge the situation, Chen-Shui-bian said yesterday, and Taiwan may be forced to take action
President Chen Shui-bian (陳水扁) yesterday urged Beijing not to misjudge the cross-strait situation, saying that if it insists on enacting the proposed "anti-secession" law, the people of Taiwan would not stay silent and sit idly by.
Chen's remarks come as Beijing's readies to pass the law which is expected to pass on Monday during the final day of the National People's Congress -- China's rubber-stamp parliament.
"If the Beijing authorities really place their hope in the people of Taiwan -- as they like to claim -- then they should not misjudge the situation. Rather, they should try to rationally respect the Taiwanese people's free will," Chen said. "[China] should make constructive contributions in ameliorating cross-strait relations rather than attempting to unilaterally legislate laws that aim to `legitimize' a military attack on Taiwan."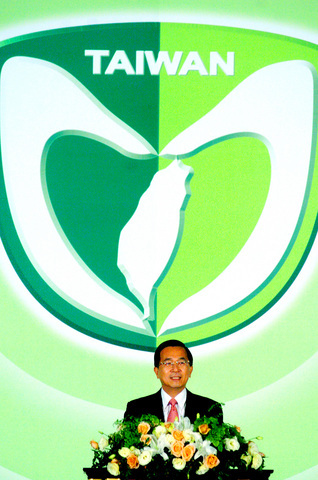 President Chen Shui-bian speaks at the second extraordinary meeting of the Democratic Progressive Party's 11th National Congress held at the Taipei International Convention Center yesterday. Chen said that if China insists on passing the anti-secession law, he will call for a one-million-strong demonstration on March 26 for democracy, peace and safeguarding Taiwan.
PHOTO: SEAN CHAO, TAIPEI TIMES
"In other words, the proposed anti-secession law will backfire, and end up only driving both sides of the Strait further apart," the president said in his speech yesterday at the Democratic Progressive Party's (DPP) provisional National Congress meeting.
Liberally paraphrasing Edmund Burke, Chen told his audience that history has often proven that evil powers will proliferate and even have a destructive effect when good and honest people choose to stay mute and do nothing.
"But when a non-peaceful dark cloud overshadows us, no one can stay clean from it," Chen said. "Should the other side of the Strait insist on passing the anti-secession law regardless of whatever results it might bring, I would like to call on a million people in Taiwan to join the March 26 `March for Democracy, Peace and Safeguarding Taiwan.'"
Chen asked rhetorically: Why was he not asking for a mere 500,000 people?
"Two years ago, 500,000 people in Hong Kong took their appeal to the streets in protest against China's intention of amending Article 23 of the Basic Law," Chen said, noting that Hong Kong has even accepted the "one country, two systems" policy.
"Hong Kong is part of the People's Republic of China, and yet they were not afraid, but dared to take their case to the streets," Chen said. "Taiwan is not a part of the People's Republic of China, and its population is three times bigger than that of Hong Kong. If people in Hong Kong can have 500,000 people on the streets to protest just one article in a bill, then can't Taiwan, opposing the 11 articles in China's anti-secession law, even do it with a million people?"
The past 10 years were the years in which China faced the smallest threat to its national security, yet China's annual defense budget has been growing at a double-digit precentage annually for the past 10 years. This was not to mention the 706 ballistic missiles deployed along China's southeastern coast within striking distance of Taiwan -- and that number is projected to keep growing at a rate of 120 annually, Chen said.
Chen added that "until China works to improve its human rights record and to implement true democratic elections, the EU has no justification for lifting its arms-sale embargo against China."
He said his administration would embark on a pragmatic approach of "reconciling but not flinching; standing firm yet avoid confrontation" in cross-strait relations.
"We'll continue our reconciliatory attitude, but we'll never compromise on our core values and basic stances. While we'll remain steadfast, we'll not be provocative or confrontational," Chen said.
"Taiwan's future must be decided by the people of Taiwan" is a firm belief upheld by the DPP, and this policy has been pivotal in steering the DPP since its founding 18 years ago, Chen said.
In related news, DPP caucus whip Lai Ching-teh (賴清德) said yesterday that Chen is expected to take part in the March 26 rally.
Lai said the DPP has decided to hold the rally in Taipei, and if it manages to draw a million participants, similar gatherings will be held in the northern, central and southern parts of the country.
Also see story:
Comments will be moderated. Keep comments relevant to the article. Remarks containing abusive and obscene language, personal attacks of any kind or promotion will be removed and the user banned. Final decision will be at the discretion of the Taipei Times.