Police detain, severely beat Zhao Ziyang mourners
INTENSE SECURITY Chinese security services arrested dozens of people for trying to mark the former leader's death, and a bystander captured police beatings on film
China has detained dozens of people, some of whom have been severely beaten, for trying to mark the death of former leader Zhao Ziyang (趙紫陽), witnesses told reporters yesterday. \nThe allegations came as the government intensified security to prevent mourners attending tomorrow's funeral in Beijing for Zhao, the former Communist Party secretary-general purged for opposing the 1989 military crackdown on the Tiananmen democracy movement. \nAt least three people, including a woman in her 70s, were punched and manhandled by police officers outside the government offices which receive complaints in the Chinese capital, witnesses said. \nThey were among some 60 people who pinned white paper flowers to their clothes -- a traditional Chinese symbol of mourning -- said a bystander, who took pictures of the beatings and posted them on overseas Web sites. \n"A man from Henan Province was beaten badly. His left eyeball looked like it was beaten out of its socket and he had a one inch cut to his right eye," said the man who requested anonymity. \n"An elderly woman from Shandong Province was beaten to a point where she couldn't move and a man from Hunan Province was also beaten," he said. \nPolice shouted at the petitioners that Zhao, who spent nearly 16 years under house arrest until his death last week, was a "political criminal," the witness said. \n"They said: `Why are you commemorating him? You're clearly opposing the government.' But the petitioners said `We think differently. We think he's a good person,'" the witness said. \nAlso last week, an estimated 80 to 90 petitioners were rounded up near Zhao's traditional courtyard home in Beijing for trying to get inside to pay respects and express condolences to his family, petitioners said. \n"In our petitioners' hostel, all 10 people who went were detained and held from from 9am to 11pm," said Bai Shuhua, one of the 10. \n"In the police station they said, `You don't seek leaders who are alive, but insist on seeking dead leaders. How can the dead help you?'" Bai said. \nOne of the petitioners, Liu Hongbo, was punched twice as he yelled "Zhao didn't do anything wrong," Bai said. \nZhao, premier and head of the Communist Party for much of the 1980s, died on Jan. 17 at the age of 85. \nThe authorities fear his death and funeral tomorrow will be a rallying point for dissidents, petitioners and people dissatisfied with the government. \nSources said invitations have been issued for the ceremony, following days of wrangling between party officials and relatives over the content of a eulogy to Zhao. \nThe government confirmed earlier that it would allow a "body farewell ceremony" for Zhao. It was not immediately clear how this would differ from a funeral. \nBut a government statement departed from the usual Chinese phrase for a funeral, apparently to reflect the lower status it accords to the event compared with the larger scale funerals normally arranged for former Communist Party leaders.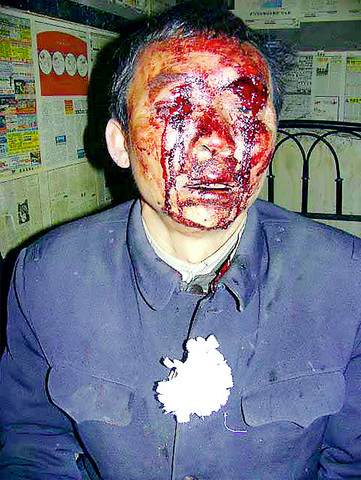 A picture of a man who was beaten after he was caught with a white paper flower pinned to his shirt, a traditional Chinese symbol of mourning, to mark the death of former leader Zhao Ziyang in Beijing. The pictures were posted on Web sites yesterday.
PHOTO: AFP
Comments will be moderated. Keep comments relevant to the article. Remarks containing abusive and obscene language, personal attacks of any kind or promotion will be removed and the user banned. Final decision will be at the discretion of the Taipei Times.