Starbucks eyes `imitator'
An alleged Starbucks copycat has caught the attention of the world's largest coffee retailer and might face a copyright-infringement suit. \nThe coffee giant's eyebrow has been raised by a local coffee shop's trademark and name -- Penland Star Coffee, or "star peninsula" in Chinese. \nPenland Star's logo, composed of a green circle and white English words surrounding a red pattern with Chinese characters in the middle, is similar to the Starbucks logo at first glance. \n"Compared with other coffee shops, there is a higher degree of imitation in the trademark [of Penland Star]," said Anita Jo (周怡君), a public-relations official with President Coffee Corp, the local firm in charge of operations for the Seattle-based Starbucks. \nEstablished in January 1998, President Coffee has helped develop Starbucks into becoming the nation's biggest coffee chain, with 140 outlets nationwide. Its success triggered a coffee-shop revolution, which has seen many firms mimic Starbucks' green halo. \nThe US headquarters is collecting information about Penland Star, but "there is no concrete legal action underway for the moment," Jo said. \nJoy Pan (潘昭仙), a lawyer with the law firm Baker & McKenzie, said an important factor in determining whether a company's intellectual property rights have been infringed is to see whether the trademark in question would cause confusion on the part of the customer. \nAccording to the Commercial Label Law (商標法), enterprise logos must be easy to distinguish. \nPan said that although Penland Star's trademark resembles the Starbucks logo, it would be less likely to mislead consumers as the colors and patterns of the two are different. \nShe said the more contested element would be Penland Star's Chinese name -- xing bandao (星半島) -- as it might mislead people into thinking that the shop is a subsidiary of Starbucks, which is pronounced xing bake (星巴克) in Mandarin, she said. \nPan also said that a slogan printed on the bottom of Penland Star's employees' name cards was highly misleading. \nThe slogan reads, "Starbucks: navigator of modern coffee. Penland Star: following navigation to perfection." \nPenland Star manager Jeff Hsiao (蕭傑夫) said the company wouldchange the slogan after a Chinese-language report accused it on Monday of infringing copyright. \nSituated in Taipei's bustling Ximending entertainment district, Penland Star was launched one month ago in a shop no bigger than five ping (16.5m2), Hsiao said. \nThe shop sells around 30 kinds of beverages at prices between NT$35 and NT$60, nearly one-half of the retail prices of Starbucks.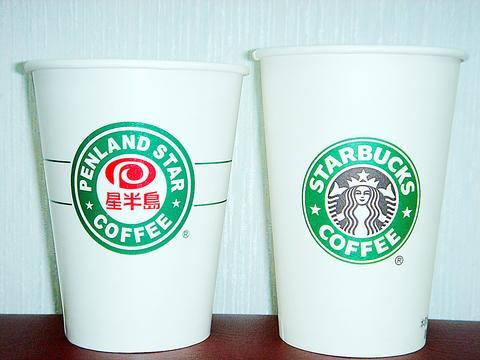 Pictured on the coffee cups are a Starbucks logo, right, and the offending logo of Penland Star Coffee, yesterday.
PHOTO: JACKIE LIN, TAIPEI TIMES
Comments will be moderated. Keep comments relevant to the article. Remarks containing abusive and obscene language, personal attacks of any kind or promotion will be removed and the user banned. Final decision will be at the discretion of the Taipei Times.