Chen replies to pan-blue rally request
ACTION Just hours after 468,000 people took part in a Taipei rally to demand that Chen hold an election recount, the president said he would welcome one
President Chen Shui-bian (陳水扁) responded to a massive Taipei rally yesterday, saying that as long as the pan-blue presidential contenders were willing to file either an annulment or a recount lawsuit, he would allow for an immediate and complete ballot recount regardless of whether evidence of election fraud is provided.
"I am not afraid of the recount, and it is my commitment to completely accept the results of the recount whether or not they are in my favor. I hope that [Chinese Nationalist Party] KMT Chairman Lien Chan (連戰) and [People First Party] PFP Chairman James Soong (宋楚瑜) will be able to do the same," Chen said.
"I will sign a letter of consensus to allow for an immediate recount. Lien and Soong will not have to wait for the case to be tried in court, nor will they have to provide evidence of election fraud," said Chen, explaining that it would be almost impossible for a recount to be mandated by a court based on evidence of legal violations.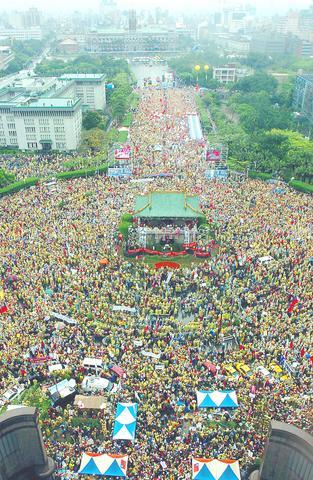 Tens of thousands of protestors flood Ketagalan Boulevard in front of the Presidential Office, creating a roaring sea of humanity and national flags yesterday.
PHOTOS: CHIANG YING-YING, TAIPEI TIMES
Chen made the remark late last night in response to the requests set forth by the pan-blue camp's rally yesterday.
Chen also retracted a previous request that Lien and Soong disperse the rally on Ketagalan Boulevard before meeting with him. Chen said that he hoped to meet with the two pan-blue leaders on Monday unconditionally since Lien and Soong had both said the crowds had been out of their control .
Chen went on the stress however that this did not mean that the protesters could continue to camp out on Ketagalan Boulevard forever, citing the needs of schools and hospitals in the area.
"I will order law enforcers to clear up the Ketagalan Boulevard on Monday," where an estimated 4000 pan-blue supporters still refused to leave, Chen said.
"I hope Mayor Ma [Ying-jeou (馬英九)] can keep his word and fulfill his promise [to dismiss the crowd after 6pm yesterday]," added Chen.
Earlier in the day, thousands of tour buses flooded in from parts of Taiwan to Ketagalan Boulevard in Taipei yesterday afternoon in support of Lien's call for a ballot recount.
Democratic Progressive Party Legislator Hsiao Bi-khim (蕭美琴) expressed disappointment that Lien and his running mate, People First Party (PFP) James Soong (宋楚瑜), didn't tell the crowd that the president has agreed days ago to a recount and an independent investigation into the attempted assassaination of Chen in Tainan.
Hsiao also noted that Lien and Soong didn't say whether they'd accept the results of a recount.
"This is really regrettable," she said.
At the rally, which was entitled "sustain justice, salvage democracy and we want the truth," Lien told the crowd that his appeals were not self-serving, but were part of his heartfelt concern over the entire country's democratization.
"What we are striving for here is not about an individual's position or a party's success or failure," Lien said. "We are here because we are concerned whether the country's ruling government has acquired its power through trickery, and thus its authority is ineffective, not real and deserves no respect."
Lien, who joined forces with Soong on a single ticket repre-senting the KMT-PFP alliance, lost the presidential race to Chen by less than 30,000 votes, or a margin of only0.2 percent.
Citing voting irregularities and questioning the official version of Chen's assassination attempt, Lien called the election unfair and refused to concede defeat.
"While the formal election might have ended, it leaves a big question mark in terms of the country's democratic history and development," Lien said, while standing before a backdrop that read "Democracy is dead."
Urging Chen to squarely face people who demand to know the truth about the assassination attempt, Lien said the KMT-PFP alliance will not cease its demonstration until their appeals have been addressed.
In rhetoric meant to underscore his support for Lien, Soong said he would give up his candidacy as the alliance's vice presidential candidacy should a re-election be necessary once the whole ordeal comes to an end.
A 5-meter-tall "crying Statue of Liberty" was erected at the venue to kick off the rally at 2pm yesterday before KMT Legislative Speaker Wang Jin-pyng (王金平) and Ma led the crowd in singing the national anthem.
Between speeches bashing Chen, delivered by prominent pan-blue figures including New Party Chairman Yok Mu-ming (郁慕明) and PFP Vice Chairman Chang Chao-hsiung (張昭雄), people in the crowd were led in a singalong by artists who performed popular and Taiwanese folk songs from the rally's command truck.
Many protesters wore national flag stickers on their faces and on their outfits, while others held up placards with slogans written in Chinese and English, reading "Fraud" and "Immediate recount."
Under the lead of the rally host, mass protesters waving Republic of China flags and Lien-Soong campaign flags at the rally from time to time called out slogans in English, such as "Justice, now!" and "Truth, now!"
According to the Taipei City Government's information, as of 5pm yesterday the rally had drawn a crowd of approximately 468,000 people.
In view of the events on Friday, in which scores of demonstrators scuffled with police and hurled bricks at the office of the Central Election Commission (CEC) to protest the official announcement of Chen as the winner of the election, police forces were a heavy presence around the Presidential Office, in addition to barbed wire barricades and numerous police vans for added security.
To everyone's relief, the rally, with the exception of an attempt by a handful of demonstrators to remove the barbed wire barricades when the crowd was asked to leave at 6pm, ended peacefully.
But police were tense, as a number of pan-blue legislators, mostly from the PFP, had warned prior to yesterday's event that they would carry out "dramatic action" at the rally. PFP Legislator Liu Wen-hsiung (劉文雄) even said he was planning to drive a bulldozer to the rally.
Also see story:
Comments will be moderated. Keep comments relevant to the article. Remarks containing abusive and obscene language, personal attacks of any kind or promotion will be removed and the user banned. Final decision will be at the discretion of the Taipei Times.