A sea change in Taiwanese politics
The decades-long use of 'dirty tricks' in Taiwan's elections may be on the decline as the 'Han tide' in Kaohsiung shows
When Democratic Progressive Party (DPP) Kaohsiung mayoral candidate Chen Chi-mai (陳其邁) announced the day before last month's nine-in-one election that he would end his rally sooner than the Chinese Nationalist Party's (KMT) candidate Han kuo-yu (韓國瑜), pundits speculated that Chen was going to smear his opponent.
There was good reason to believe this. While working as campaign director on the 2006 Kaohsiung mayoral campaign for then-candidate and current Presidential Office Secretary-General Chen Chu (陳菊), Chen Chi-mai at a last minute press conference on the night before the election publicly accused the KMT's candidate, Huang Chun-ying (黃俊英), of vote-buying.
Chen Chu won the election by a razor-thin margin of 0.14 percent. The rumors against Huang were later proved false.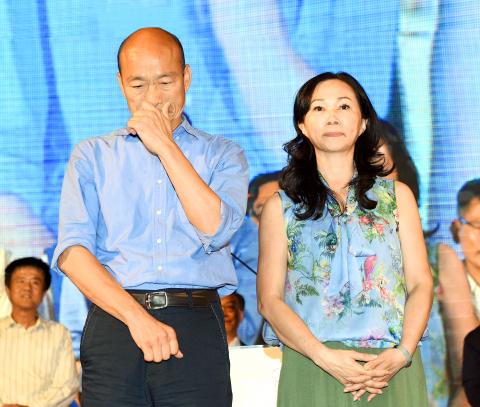 Chinese Nationalist Party (KMT) Kaohsiung mayoral candidate Han Kuo-yu, left, waits to give his victory speech on Nov. 24.
Photo: Chang Chung-yi, Taipei Times
In the days leading up to last month's nine-in-one election, Han's camp learned that the DPP had given Chen Chi-mai information on Han's January 2004 conviction for negligent manslaughter in relation to a car accident. The DPP candidate, however, kept silent.
The following day Kaohsiung residents elected Han, after the DPP had controlled the city for two decades. Chen Chi-mai surprised many by giving a concession speech that was notable for its grace.
"No matter blue or green, no matter if you support Chi-mai or Kuo-yu, from today we are all people of Kaohsiung," Chen Chi-mai said in his concession speech. "I beg those of you who are friends of Chi-mai, from tomorrow everybody should help Han Kuo-yu. Let's do it for Kaohsiung."
Democratic Progressive Party Kaohsiung mayoral candidate Chen Chi-mai, center, at his concession speech on Nov. 24 following the nine-in-one elections. Chen told his supporters to throw their support behind mayor-elect Han Kuo-yu of the Chinese Nationalist Party (KMT).
Photo: Huang Chia-lin, Taipei Times
Chen Chi-mai's good sportsmanship was echoed by Han, who later congratulated his opponent for running a clean campaign and avoiding the "dirty tricks" that have plagued Taiwanese politics for decades.
"I want to thank Chen Chi-mai for discussing Kaohsiung's future... [of] love and tolerance," Han said in his victory speech.
That Han and Chen Chi-mai ran campaigns largely free of negative campaigning — as did Taichung mayoral candidates Lin Chia-lung (林佳龍) of the DPP and the KMT's Lu Shiow-yen (盧秀燕) — suggests that the practice may be coming to an end.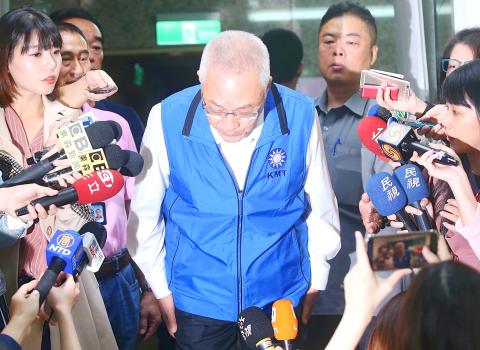 Chinese Nationalist Party (KMT) chairman Wu Den-yih apologies last month for making misogynistic remarks about Presidential Office Secretary-General Chen Chu in the lead up to the nine-in-one elections on Nov. 24. Han Kuo-yu, the KMT's candidate for Kaohsiung mayor, criticised Wu for the remarks.
Photo: CNA
'DIRTY TRICKS'
Taiwan has a long tradition of candidates engaging in negative campaigning in the days before an election. Whether smearing an opponent (抹黑), saying they are China bootlickers (抹紅) or are involved in an extramarital affair (抹黃), the tradition dates back to the Martial Law era, when the KMT maintained power by transferring resources gained through its monopoly on the central government to local factions, either through pork barreling or black-gold politics (vote buying, official corruption, gang-related politics), which meant the party and its candidates for elected office were easy targets for DPP politicians, who often sloganeered on an anti-corruption platform.
Eric Yu (俞振華), an associate research fellow at National Chengchi University's Election Study Center, says negative campaigning by politicians and their supporters involves crafting a narrative to manipulate the outcome of an election.
Citing a litany of examples from the past two decades — the attempted assassination attempts of incumbent presidential candidate Chen Shui-bian (陳水扁) in 2004 and former KMT Central Standing Committee member Sean Lien (連勝文) in 2010, the Chung Hsing Bills Finance (興票案) and Yu Chang Biologics Co (宇昌生技股份有限公司) cases that derailed, respectively, the presidential campaigns of James Soong (宋楚瑜) in 2000 and Tsai Ing-wen (蔡英文) in 2012 — Yu says that it was an effective practice to employ by those running for office.
Most recently, candidate Han had to fend off accusations that he was buying votes, was pro-China and that an assassination attempt was going to be made on him. He declined to sue talk show host Cheng Hung-yi (鄭弘儀) for spreading false information about him because he was "advocating love and tolerance," an approach that spoke to Kaohsiung voters.
"Both candidates have a lot of baggage," Yu says, referring to Han's negligent homicide charge for a car accident, and the jailing for corruption of Chen Chi-mai's father, former Presidential Office deputy secretary-general Chen Che-nan (陳哲男).
"Both candidates benefited from not going negative."
REACHING A BROADER AUDIENCE
Yu says that academic research over the past decade has shown that negative campaigning has become less effective. Citing two studies, Responding to Political Crisis During Campaigns: A Classification of Political Crisis Situations (選舉危機情境分類之探討) by academics Yao Hui-chung (姚惠忠) and Wang Rui-xiang (汪睿祥) and Party Identification, Negative Information and Voting Choices: An Empirical Analysis of Municipal Mayoral Elections in 2010 (政黨認同、負面資訊的競爭與選民投票抉擇:2010年五都選舉的實證研究) by Alex Chang (張傳賢), Yu says that dirty tricks only appeal to a candidates base.
"Negative campaigning can only consolidate their own supporters, not attract supporters from the middle," he says.
Yu cites the example of Taipei City mayoral candidate Pasuya Yao (姚文智). Relentlessly negative in his attacks on independent candidate Ko Wen-je (柯文哲) and KMT candidate Ting Shou-chung (丁守中), Yao was only able to shore up his base in Taipei, and ended up coming a distant third.
"[Yao's] base is smaller than [his] opponent's. Going negative is not a good strategy," Yu says.
Evidence-based accusations, however, are a different story. Yu gives as an example DPP Legislator Lo Chih-cheng's (羅致政) alleged extramarital affair with a close aide last year. Media reports showed photographs and videos of Lo and his office deputy director, Nien Pei-ying (粘珮瑩), allegedly checking into a motel. He later bowed out of the race for New Taipei City mayor.
Negative campaigning about a candidate's health or a scandal involving a family member but unrelated to the candidate are the kinds of negative campaigns that voters are fed up with.
"Voters see negative campaigns in a different way — they only accept evidence-based and scandals related to public issues," Yu says.
And candidates are increasingly loath to associate themselves with party heavyweights who make groundless accusations or controversial statements on the campaign trail.
When KMT chairman Wu Den-yih (吳敦義), recalling the 2006 Kaohsiung elections and the accusations leveled against Huang, made outrageously misogynistic comments about Chen Chu, Han immediately condemned Wu for his comment — an unheard-of display by a relatively unknown candidate against his political party's chairman.
At a campaign rally for Han, Wu apologized for his comments, saying that he was still angry over Huang's loss, and hoped that the elections would be "clean, honest" and "free of unethical moves."
That Han felt confident there would be no backlash to criticizing Wu points to another change: political heavyweights exert less control over candidates — especially within the KMT — because they don't control the same kind of resources they once did.
"The candidates are on their own. That's why they can criticize the party chairperson. You don't give me anything else, so if there is some possibility that your speech will hurt my campaign, I will just simply fight back or ignore the traditional hierarchy," Yu says. "That's why I think Han Kuo-yu doesn't care much about Wu Den-yih. And I think that other candidates feel the same about KMT [party headquarters] as well."
Combined with shrinking support for both major political parties, candidates have to concentrate more on addressing the needs of the voter than the parties backing them.
"If you want to appeal to the middle-of-the-road voters — the majority of voters — you have to provide something that gives people hope," Yu says.
The fact that the victors and losers in Kaohsiung and Taichung were gracious in their post-election speeches points a way forward for the 2020 presidential and legislative elections.
"People respect the system and the other side's voters, rather than just pleasing their own voters," he says. "I think it is a good political culture."
Comments will be moderated. Keep comments relevant to the article. Remarks containing abusive and obscene language, personal attacks of any kind or promotion will be removed and the user banned. Final decision will be at the discretion of the Taipei Times.