Crossing political and cultural divides
The Internationaal Theater Amsterdam's 'Kings of War' is drawn from five of William Shakespeare's history plays, while Taiwan's Shakespeare's Wild Sisters Group and Japan's Dainanagekijo are wrapping up their three-year Note Exchange collaboration with 'Cafe Lumiere'
The International Theatre Festival comes to a close this week with another mammoth production by Belgian director Ivo van Hove and the Internationaal Theater Amsterdam, Kings of War, at the National Theater.
The company is making its third visit to Taipei, although on its earlier visits it was known as the Toneelgroep Amsterdam (TGA). The name change came at the start of this year when TGA merged with the Stadsschouwburg Amsterdam, the city's municipal theater where it was the in-house troupe.
While the company's name is new, Van Hove's predilection for long, elaborate productions and William Shakespeare is not. His 2014 Kings of War is a compilation of the bard's Henry V, the three Henry VI plays and Richard III, with a touch of Henry IV, Part II.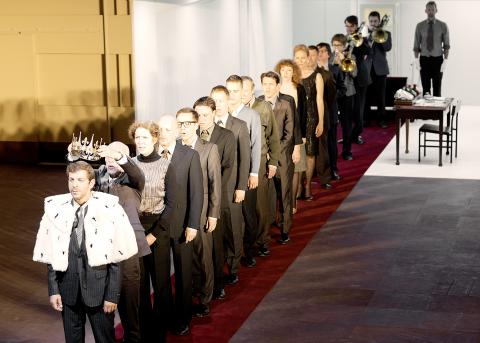 The Internationaal Theater Amsterdam's production of Ivo van Hove's Kings of War opens tonight at the National Theater in Taipei for a three-show run.
Photo: Jan Versweyveld
The play runs for about four-and-a-half hours, with a 20-minute intermission.
Van Hove was interested in exploring the impact of a country's leadership on the nation as a whole.
His play depicts a nation being torn apart at the seams through the ego of its leaders and would-be leaders, factionalism, cynicism, corruption and sex.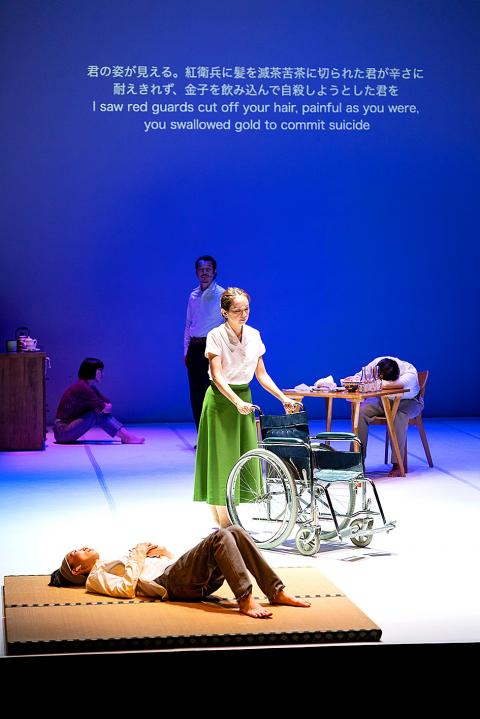 Cafe Lumiere, which opens at the Cloud Gate Theater in New Taipei City's Tamsui District on Saturday for an eight-show run, is a collaboration between Taiwan's Shakespeare's Wild Sisters Group and Japan's Dainanagekijo.
Photo: Song Yuan-feng
By eliminating huge swathes of history, he leaves the focus of the show on the machinations of power, bids for the crown and the waging of wars, but set in a claustrophobic throne room and among family and friends instead of on the battlefield.
Kings of War might be based on centuries-old plays, but the set features a variety of giant screens, cameras and telephones, using technology to air recorded and real-time video footage, including a lot of close-ups.
Most of the cast play multiple roles, including Ramsey Nasr, who portrays Henry V, Eelco Smits (Henry VI) and Bart Slegers (Edward IV), but Hans Kesting has just one, Edward IV's brother Richard III, and he dominates the latter part of the play.
Van Hove's frequent collaborator Jan Versweyveld designed the set based on former British prime minister Winston Churchill's war room, while the score was composed by Eric Sleichim, who also scored the company's production of The Fountainhead.
Given the play's length, the performances of Kings of War tonight and tomorrow begin at 7pm. The play will be performed in Dutch, with Chinese surtitles.
CROSS-CULTURAL CREATIONS
At at the Cloud Gate Theater (淡水雲門劇場) in New Taipei City's Tamsui District (淡水), the Shakespeare's Wild Sisters Group (莎士比亞的妹妹們的劇團) has taken up residence for the Taiwan debut of Cafe Lumiere (珈琲時光), its final collaboration with Japanese theater troupe Dainanagekijo. The play was written by Shakespeare's Wild Sisters director Wang Chia-ming (王嘉明) and directed by Wang and Dainanagekijo founder Kouhei Narumi.
Both the 23-year-old Taipei-based troupe and Dainanagekijo — which is resident company at Theatre de Belleville in Mie Prefecture — have built their reputations on unconventional works that cross cultures and artistic genres and explore the universality of societies and people.
It is no surprise that their three-year Note Exchange project launched in 2016 aimed to push theatrical boundaries.
The project resulted in one new work each year, performed at the Theatre de Belleville and elsewhere in Japan as well as in Taiwan.
Cafe Lumiere, which premiered at the Tokyo Festival last month, is a fitting coda, as it pays tribute to an earlier Taiwanese-Japanese collaboration — director Hou Hsiao-hsien's (侯孝賢) widely lauded 2003 film of the same name.
Hou was hired by Shochiku Films to make the film, his 16th, as an homage to commemorate the birth centenary of Japanese film great Yasujiro Ozu. A longtime fan of Ozu, Hou's film was a retelling of the former's 1953 masterpiece, Tokyo Story. Shot in Japan with Japanese actors and an original screenplay by Hou and Chu Tien-wen (朱天文), Cafe Lumiere told the story of a young Japanese single mother working as a freelance writer, who is doing research on Taiwanese composer Chiang Wen-yeh (江文也).
While the play might share a title with the film, its story is completely different. The production depicts encounters between Japanese and Taiwanese in the present day, while paying homage to Ozu's film aesthetics.
Narumi designed the set, while costumes are by Chin Pin-pin (靳萍萍). The show stars Fa, Ju Anli (朱安麗), Hiroshi Kosuge, Yukako Sajiki, Mariko Suzuki and Hiroaki Nishimoto and is performed in Mandarin and Japanese, although there are also English surtitles.
THEATER MASKS
For those in the south who might favor lighter fare than what's on offer in Taipei, the National Kaohsiung Center for the Arts (also known as Weiwuying, 衛武營國家藝術文化中心) is hosting the famed non-verbal mask troupe Mummenschanz from Switzerland, which will perform You and Me in the Playhouse tomorrow night and Saturday afternoon.
While Saturday's show is sold out, there are still a lot of NT$300 and NT$500 tickets for tomorrow night.
Tickets can be purchased at Weiwuying, online at www.artsticket.com.tw and convenience store ticket kiosks.
Performance Notes
WHAT: Kings of War
WHEN: Tonight and tomorrow at 7pm, Saturday at 2:30pm
WHERE: National Theater (國家戲劇院), 21-1 Zhongshan S Rd, Taipei City (台北市中山南路21-1號)
ADMISSION: NT$900 to NT$3,000; available at NTCH box offices, Eslite ticket desks, online at www.artsticket.com.tw and convenience store ticket kiosks
WHAT: Cafe Lumiere
WHEN: Saturday at 3pm and 8pm, Sunday at 3pm, Dec. 6 to Dec. 8 at 8pm, Dec. 8 and Dec. 9 at 3pm
WHERE: Cloud Gate Theater (淡水雲門劇場), 36, Ln 6, Zhongzheng Rd Sec 1, Tamsui District, New Taipei City (新北市淡水區中正路一段6巷36號)
ADMISSION: NT$600 to NT$1,200; available at NTCH box offices, Eslite ticket desks, online at www.artsticket.com.tw and convenience store ticket kiosks
Comments will be moderated. Keep comments relevant to the article. Remarks containing abusive and obscene language, personal attacks of any kind or promotion will be removed and the user banned. Final decision will be at the discretion of the Taipei Times.