Two weekends to paint the town red
The Red Room is celebrating its eighth birthday with a massive line-up of workshops, performances, art, discussion groups, music and fashion
The Red Room is marking its eighth anniversary this month with 8Fest: four days of fun, creativity and sharing in Taipei, spread out over two weekends, starting on Saturday.
The founders, supporters and followers of Red Room certainly have reason to celebrate, for what began as a once-a-month gathering to share and support a love for the written word and musical talent has become a non-profit organization with an ever-growing schedule of events and a home at the Taiwan Air Force Innovation Base.
The Red Room is the fruit of one of the most devastating typhoons to ever hit Taiwan: Morakot, which ravaged southern Taiwan in early August 2009.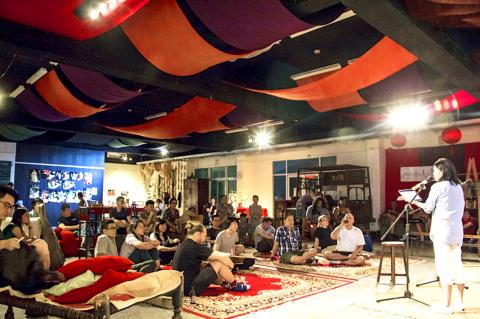 A performance during Stage Time & Wine on Aug. 19 at the Red Room International Village in the Taipei Air Force Innovation Base, Taiwan Air Force Innovation Base in Taipei.
Photo courtesy of Eann
A chance encounter during a post-typhoon clean-up effort in Taitung County between Taipei-raised singer Ayesha Mehta and entrepreneur Ping Chu (朱平) and their discussion about poetry and literature-reading nights and a desire to create a space for sharing led to the first Stage Time and Wine@Red Room event three months later.
Word of mouth and posters encouraged people to bring something they had written or read, or instruments to play, to share — in five-minute allotments — with others.
The once-a-month Saturday night events, in a space provided by Ping — under whose Ripplemaker Foundation the Red Room is now a registered entity — have become a cross-cultural hub that attracts Taiwanese and foreigners, both short-term visitors and long-term expatriates.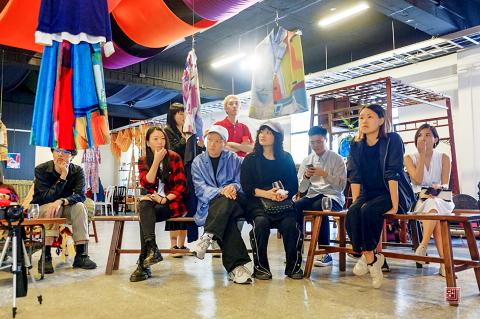 Vistors attend the Visaual Dialogues XVII featuring works by artists Ya Hong and Chieh Hong under the theme "Space-Mis…" that was held at the Red Room International Village in the Taipei Air Force Innovation Base, Taiwan Air Force Innovation Base in Taipei from May 7 to June 3.
Photo courtesy of Eann
The key to the Red Room success are that it is volunteer-organized and community driven, fueled by the desire to share and to support creativity, and perhaps most importantly, to listen.
Each expansion over the years has been created by the people who attended Stage Time and Wine events and were motivated to help do something more: a time and place for children to share their creativity (Stage Time & Juice), invitation-only curated performance evenings (Aside@Red Room), a readers' theater (Red Room Radio Redux) and art exchanges (Visual Dialogues).
Just as Red Room has grown exponentially, so have birthday parties.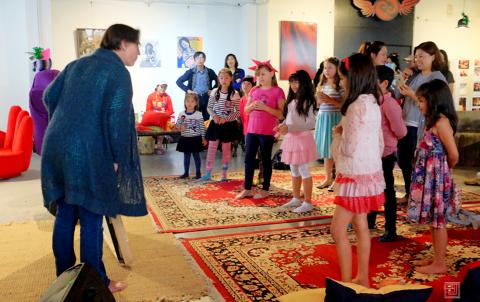 Artist Constance Woods, left, talks to participants at the Stage Time & Juice event on March 18 at the Red Room International Village in the Taipei Air Force Innovation Base, Taiwan Air Force Innovation Base in Taipei.
Photo courtesy of JJ Chen
This year's party is divided into four sections: "Articulate" on Saturday, "Narrate" on Sunday, "Create" on Nov. 25 and "Elevate" on Nov. 26.
"Articulate," which aims to show the potential of audience-turned-performer events, consists of two parts: Stage Time & Juice for children (and their parents) aged five to 18 from 2pm to 5pm and Crimson Octopus (赤紅八爪魚) from 6:30pm to 10pm, a collaborative performance by randomly assigned groups of people who have to come up with an eight to 10-minute work.
"Narrate," which runs from 2pm to 9pm, has six events aimed at bringing together publishers, speakers and the public: a book fair; a salon that will host discussions in Mandarin and English on immigration law, the cultural identity of Taiwan's Indigenous peoples and a holistic look at a sustainable ecosystem; three panel discussions — "How to Move Forward in Taiwan (如何在台灣前進) from 2pm to 3pm, "Mother Island: a Talk on Indigenous Culture Today (母親島嶼:現今原住民文化的對話) from 4pm to 5pm and "Think East Grow Regenerate (思、食、農、再生) from 6pm to 7pm — a screening of the documentary Apology & Justice: Voices from Taiwan (道歉與正義:台灣之聲) that begins at 3:15pm and a performance, A Tale of Two People (兩個人的故事), that begins at 5:15pm.
"Create," the fifth "Artists Bridge the Gap," is a day of live painting and music that begins at 11am and ends at 10pm.
"Elevate" is aimed at blending cultures and art forms and encouraging creativity with a workshop for children, a workshop on creative journaling, an "Art Explosion" workshop and a fashion show with live music that will feature the work of young designers using "upcycled" materials, including Meghna Nayak, whose LataSita line is based in Kolkata, India.
All of the 8Fest events are at the Red Room International Village, Taipei Air Force Innovation Base (空總創新基地), 177, Jianguo S Rd Sec 1, Taipei City (台北市建國南路一段177號).
While many of the activities are free, there are patronage charges for the workshops, performances and the fashion show and some events require advance registration — such as those who want to participate in the Crimson Octopus.
Registration details, prices and more information on 8Fest can be found on the Web at redroomtaipei.com.
This story has been amended since it was first published to correct the spelling of LataSita.
Comments will be moderated. Keep comments relevant to the article. Remarks containing abusive and obscene language, personal attacks of any kind or promotion will be removed and the user banned. Final decision will be at the discretion of the Taipei Times.