Taiwan in Time: Return my true name
The careless assigning of Chinese names to Aborigines in 1946 resulted in clan and family members taking different surnames, leading to weakened familial ties and in the worst case, unintentional incest
Oct. 23 to Oct 29
It may be strange to hear that the Ispalidav Clan Association was founded in 2015 to prevent incest, but for Aborigines, it was and remains a sad reality of Han Chinese domination.
"Our clan is dispersed across Taiwan," association head Lanas Sokluman told Taiwan Indigenous TV during its first meeting. "In Nantou, their [Han Chinese] surname is Lu (呂). In Taitung, they are Yen (顏) and Yu (余). If our descendants meet and don't know about their ancestry, they might start a relationship."
Faracung Piday presents his new ID card in March 2006 after being the first person in New Taipei City's Tucheng District (then Tucheng Township) to revert to his Aboriginal name.
Photo: CNA
An tragic example is featured in the 2002 documentary, What's Your Real Name? (請問貴姓) by Mayaw Biho, where two Bunun lovers with different Chinese surnames learn that they are relatives and face familial pressure to end their relationship.
It was exactly this problem that led 12 Aborigines to stage a protest on Oct. 27, 1985 in front of the Wushe Incident Memorial (霧社事件) in Nantou, requesting that the government return them their true names (還我姓名). The date was not a coincidence: it was the 55th anniversary of day when hundreds of Sediq warriors descended on an athletic competition at the local elementary school and killed 134 Japanese. The Japanese retaliated and quelled the rebellion in two months with about 600 Sediq dead.
MANY SURNAMES IN A FAMILY
Mayaw Biho, second from left, proudly displays his ID with his Aboriginal name. He is known for his 2002 documentary, What's Your Real Name? which focuses on the Aboriginal name issue.
Photo: Tsung Chang-chin, Taipei Times
While Aborigines had been adopting Chinese names since the Qing Dynasty through the government's assimilation policy, the name issue really began as the Japanese forced all Taiwanese to take Japanese names starting in the 1940s.
In May 1946, the newly-arrived Chinese Nationalist Party (KMT) gave Taiwanese three months to revert to their original names after few people heeded their earlier attempts. Of course, this did not include Aborigines, who were forced to "revert" to a new Chinese name. Many of these names were assigned to them at random by household registration officials. Possible incest was not the only problem — the weakening of family and clan ties caused many Aboriginal societal functions to deteriorate.
According to a 1962 National Chengchi University field study report on Aboriginal communities in Yilan County, they "were assigned names by household, meaning each household received one surname, paying no attention to their extended family relations. Therefore, siblings who had already established their own families ended up with different surnames … For example, Peng Hsi-yue's (彭細月) father is Peng Han-tang (彭漢黨), but his paternal grandfather is Chen Nai-kan (陳乃干)."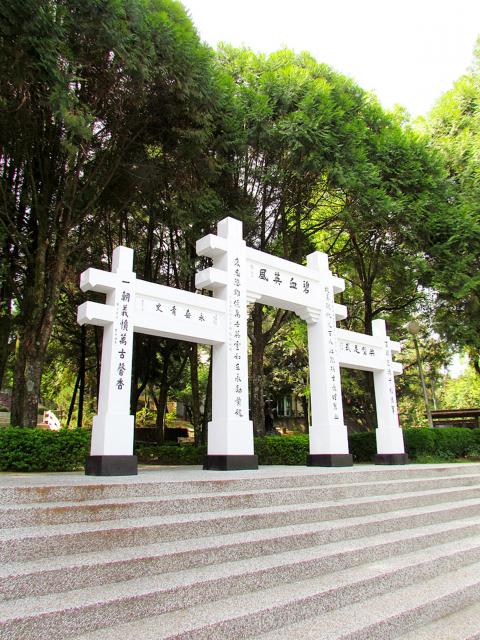 In 1985, 12 Aborigines staged a protest at the Wushe Incident Memorial for the right to revert to their Aboriginal names.
Photo courtesy of Wikimedia Commons
The report added, "Fortunately, the Aboriginal population is low, their household registration data is still relatively complete and they live in concentrated areas. It's not too late yet. It wouldn't be too monumental a task to remedy this situation, and we hope that the government can address this issue."
Unfortunately, nothing would be done for several more decades.
Neqou Sokluman details his complicated relationship with his identity in a 2002 article for the Liberty Times. (the Taipei Times' sister newspaper) Born in 1973, he used his Aboriginal name at home — but to everyone else he was Chuan Chen-jung (全振榮).
"There are very few people surnamed Chuan in Taiwan, so everyone thought I was Korean. I couldn't be bothered to explain and told them that [former] South Korean president Chun Doo-hwan [who shares the same character] is my uncle."
Other times, he would simply tell people he was a foreign student. "Behind my replies was a sense of inferiority, that I should hide my real identity."
RETURN MY NAME
The 1985 protest was just the beginning, as the Aboriginal movement had just taken off with the 1984 formation of the Taiwan Aboriginal Rights Association (台灣原住民權利促進會), whose members published material under their Aboriginal names.
In 1988, several Aborigines attempted to change their names, but their applications were rejected because they had too many Chinese characters. In the next few years, more and more Aborigines refused to register their households unless they were allowed to use their real names. The movement kicked into high gear in 1991 as few demands were being met.
Ironically, one of the arguments against the use of Aboriginal names was that it would lead to incest since Aborigines did not have surnames. This opinion was even voiced by the Department of Household Registration Affairs Director Chien Tai-lang (簡太郎) in 1993.
Current Lan An Cultural Foundation CEO Maraos, who was assistant to an Aboriginal legislator back then, scoffed at the notion. He is quoted in the book, 400 Years of Taiwan Humanities (台灣人文400年): "That's completely the imagination of the government, and seen from a Han Chinese perspective. All Aboriginal naming systems are based on family and clan. Once you see their name, it's easy to deduce their identity."
After a long struggle, the indigenous people of Taiwan finally had their official designation changed from Mountain Compatriots to Aborigines in late 1994. "Permission" to revert to one's Aboriginal name was next, and in January 1995, Aboriginal activists got their wish. However, the government mandated that they had to use Chinese characters since "one country should not use two kinds of writing." It was only in 2001 that they could legally use Romanized versions of their names.
UNPOPULAR DECISION?
By 2002, however, only 595 people had taken advantage of the new law, with 32 reverting back to their Chinese names. A Taiwan Indigenous TV report shows that by June of last year, only 24,731 have made the change — amounting to 4.52 percent of the Aboriginal population. The report cites three reasons: lack of Aboriginal identity, discrimination in society and complicated name change procedures.
Neqou Sokluman was one of the few who couldn't wait to change his name, doing it immediately after he finished his military service in 1999.
"But don't think that once I became Neqou Soklaman that my life was filled with brightness and that I immediately stopped feeling inferior," he writes, adding that the nightmare had just begun.
First of all, many people could not pronounce his name because he chose a rare character. And whenever he went to a hospital or to a government agency, the staff would ask him in English, "Are you Taiwanese? Can you speak Chinese?" and treat him as a migrant worker from Southeast Asia. Also, since his name has six characters and most computer systems only had five, it was frequently truncated.
"It wasn't even two months and I desperately wanted to revert to my Chinese name," he writes. "I felt that my Aboriginal name was just an embarrassment. I started feeling that everyone was looking down on me, and I started seriously doubting myself."
Neqou Sokluman eventually recovered and started taking the name with pride, but his initial difficulties offer a clue as to why many Aborigines were reluctant to make the move. But with Aboriginal identity becoming more mainstream and the government taking moves to simplify the process, this may change in the near future.
Taiwan in Time, a column about Taiwan's history that is published every Sunday, spotlights important or interesting events around the nation that have anniversaries this week.
Comments will be moderated. Keep comments relevant to the article. Remarks containing abusive and obscene language, personal attacks of any kind or promotion will be removed and the user banned. Final decision will be at the discretion of the Taipei Times.