Theater: LAB Space kicks off the year with 'I, Claudia'
It's a New Year and LAB Space has prepared a new, jam-packed season.
The year starts with I, Claudia by Kristen Thomson, a poignant play about a young girl struggling with the many challenges that life presents as she comes of age.
Claudia is about to enter the teen years, and her troubles are just beginning. First there is puberty, and then her parents are getting a divorce. To add to that she is not with the popular in-crowd at school. And if that is not enough, Claudia has a dreaded science project due and her schoolmates, who were supposed to help, have bailed out. What more problems can one have in life's personal journey?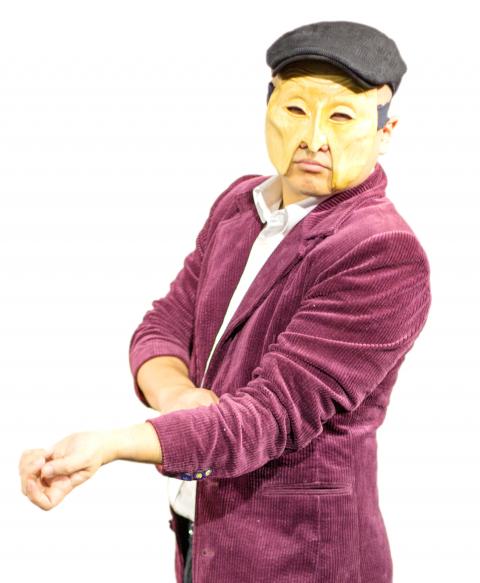 I, Claudia will be performed this weekend at The LAB Space in Taipei City.
Photo courtesy of LAB Space
Theater wise, this is a one-person show where all four roles (two male and two female) are played by one actor using masks to change roles. Those four are Claudia the protagonist, Leslie (her father's girl friend), Douglas (her grandfather whose wife just passed away) and Drachman, the school custodian who knows that Claudia's refuge for sorting life out is the school basement.
Derek Kwan (關顯揚) who played in Michael, the "Neanderthal-type" blue collar, self-made man in last year's God of Carnage takes on this challenge as well as the play's theme that we only discover our true selves when we, like Claudia, reflect on our sorrows.
Book early for this show for it only runs for two weekends.
And then what about the rest of this? LAB Space has a lot more in store for all. A.R. Gurney's star-crossed Love Letters and an intimate cabaret happen in February just before Valentine's Day. Next come the tempestuous, The Blonde, the Brunette, and the Vengeful Redhead in the summer and the all-familiar 24 Hour Theater Festival in the fall. Closing the year are The Diary of Anne Frank and Twas the Night Before Christmas, a Christmas story as told by a mouse who realizes his house was missed last Christmas. This will be an eventful year and the LAB has other special activities planned as well.
Publication Notes
Theater notes
What: I Claudia
Where: The LAB Space (實演場), 3F, 9, Beitou Rd Sec 1, Taipei City (台北市北投路一段9號3樓)
When: Today, tomorrow and Saturday and Jan. 20 to Jan. 22
Admission: NT$650, available through www.accupass.com
On the Net: www.thelabtw.com/go/Claudia
Comments will be moderated. Keep comments relevant to the article. Remarks containing abusive and obscene language, personal attacks of any kind or promotion will be removed and the user banned. Final decision will be at the discretion of the Taipei Times.