Red Room throws a blowout 7th birthday party
While its previous anniversary celebrations were day-long affairs, this year the Red Room team has joined forces with Pow! Wow! Taiwan for a three-day extravaganza
From a chance encounter in typhoon-ravaged Taitung County in August 2009 a great creative movement has come, and this weekend its organizers are celebrating with a three-day bash in downtown Taipei.
Long-time Taipei resident Ayesha Mehta, founder of ayamamusic, and Canmeng AVEDA founder Chu Ping (朱平) came up with the idea of the Red Room, a space for creative sharing, be it poetry, short stories, monologues, music or visual arts — and more importantly, listening.
Their first Red Room was held in November 2009 and from humble beginnings, it has become a Taipei institution and the launching pad for many performers. The Stage Time and Wine events on the third Saturday of each month quickly gained something of a cult following; participants who wanted to share could sign up for a five-minute slot and know that they would have a respectful audience.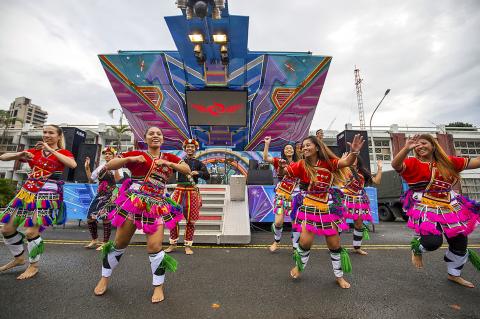 The Taiwan Indigenous Dance and Song troupe performs during the Red Room anniversary Renaissance Festival at the Taiwan Air Force Innovation Base in Taipei on Nov. 21 last year.
Photo Courtesy of Brian Wiemer
Then came Stage Time and Juice to encourage children and their parents to explore their creativity. Red Room Radio Redux began performing radio plays, both as part of Red Room events and in collaboration with International Community Radio Taipei. Aside@Red Room offers a more curated evening, with featured performers chosen from among the scores who started out just by showing up one Saturday night with something they wanted to share. Last year saw the launch of Visual Dialogues, a monthly art show.
Red Room's first five anniversaries were celebrated with day-long events at the Huashan 1914 Culture Park (華山文化園區), but last year's opening of the Red Room International Village space at the Taiwan Air Force Innovation Base gave organizers a chance to broaden the scope for their birthday parties.
This year's anniversary, the second one to be held at the old base, has blossomed into a three-day extravaganza of art, music and the spoken word.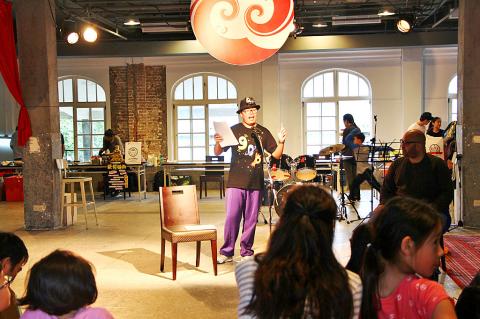 One of the performers at the Stage Time and Juice event that was part of Red Room anniversary celebration in Taipei on Nov. 15, 2014.
Photo Courtesy of Julie Kao
Ayesha is now an occasional visitor to Taipei, but her brother, Manav, has become the Red Room curator, while their graphic artist mom Roma serves as a director.
Roma Metha said the original idea had been for another one-day gathering, but then Pow! Wow! Taiwan — organizers of graffiti art and music festivals — wanted to join forces.
"Pow Wow wanted to do this massive thing and wanted to do three days of it," she said.
A performance during Red Room's anniversary party on Nov. 21 last year.
Photo Courtesy of Stephanie Chen
So the two groups collaborated, organizing the POWOW Art Fair (園遊會) that will run from 2pm to 9pm tomorrow, Red Room's anniversary events on Saturday and then "Secret Walls/Live Art" showcase and an Indie Music festival on Sunday. Everything is free, except for the Indie Music Festival.
"They [Pow! Wow!] are creating three trusses [to hold canvases], 4mx4mx4m, they will have some tremendous artists painting from 10am to 6pm each day," Roma Mehta said.
Tomorrow's art fair will also include a performance by Taiwan Indigenous Dance and Song troupe (台灣原住民舞蹈樂團) from 7:10pm to 8pm and then the Flat Fives & Public Swing Party, a dance party that starts at 8:10pm and runs until 9:30pm.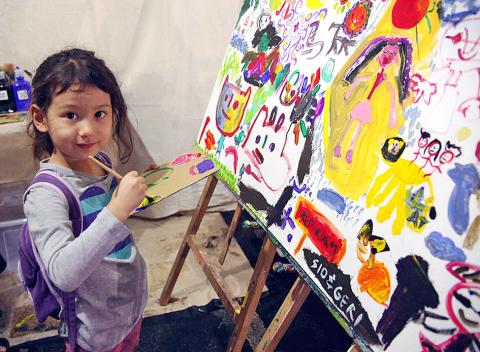 A little girl explores her artistic talent during the Stage Time and Juice event as part of Red Room anniversary celebrations in Taipei on Nov. 15, 2014.
Photo Courtesy of Julie Kao
Saturday's line-up begins at 2pm with Stage Time and Juice XX for the kids, a Red Room Radio Redux performance of Jack and he Beanstalk and Rangoli Street Art Painting, followed by Paint to the Music from 5pm to 7pm and then Stage Time and Wine LXXXIII at 7:30pm.
During "Paint to the Music," anyone who wants to can put brush to a canvas hanging on the stage as musicians perform, Roma Mehta said.
"There's a really good lineup for Stage Time and Wine, bringing back people who have come on in the past seven years and gone on to do other things. It's bringing the old community back and connecting with our new community," she said. "It will also include a short fashion show by indigenous designers."
"LEO37 + SOSS played at the first Red Room anniversary party and he has organized Sunday's music festival line-up. It is the only ticketed event," she said.
Among the DJs and performers for the free "Secret Walls/Live Art" showcase, which will run from 3pm to 6pm on Sunday, are DeeJay RayRay, Sonia Calico + Rgry and BenjaminSe7en + Friends.
The four-hour Indie festival starts at 6pm and features six groups, including SmashRegz (違法), LEO37 + SOSS, blues outfit EggplantEgg (茄子蛋) and hip-hop artists Chiu and Love (丘與樂).
There will also be an Art & Craft Fair open all three days, while Visual Dialogues will present Red Room's history through a collection of artwork and photographs.
Publication Notes
Performance Notes
What: Red Room 7 Year Anniversary
When: Tomorrow, Saturday and Sunday from 2pm to 10 pm
Where: Taiwan Air Force Innovation Base (TAF 空總創新基地),177, Sec 1, Jianguo S Rd (台北市建國南路一段177號) (intersection of Jianguo and Jinan Rds)
Admission: Free on afternoons. For the Indie Music Festival on Sunday, NT$600 or NT$1,000 for two advanced tickets, otherwise NT$800 at the door; available online at www.accupass.com/go/powwowindieconcert or check festival Web site for list of store outlets
On the Net: www.facebook.com/redroomtaipei and www.facebook.com/events/1292326557486772 for the Indie Music Festival
Comments will be moderated. Keep comments relevant to the article. Remarks containing abusive and obscene language, personal attacks of any kind or promotion will be removed and the user banned. Final decision will be at the discretion of the Taipei Times.