Taiwan in Time: From assassin to outstanding alumnus
Even though Peter Huang attempted to assassinate Chiang Ching-kuo in 1970, he is now seen as a human rights champion
Taiwan in Time: Sept. 26 to Oct. 2
It's not every day that someone who tried to assassinate a key political figure — namely the president's son — would be honored in the same country 30 years later.
But this is Taiwan, where people's fortunes and reputations drastically rise and fall as the political climate shifts. And such is the story of Peter Huang (黃文雄), a Taiwanese student studying in the US who attempted to assassinate Chiang Ching-kuo (蔣經國) in 1970. After 26 years on the run, Huang returned to Taiwan in 1996 and in 2012 he was honored by National Chengchi University as an "outstanding alumnus," stirring up quite a bit of controversy.
Peter Huang graduated with a journalism degree from National Chengchi University in 1961. He was named an outstanding alumnus in 2012 despite attempting to kill Chiang Ching-kuo in 1970.
Photo Courtesy of National Chengchi University
Huang left Taiwan in 1964, and he writes in an article for the World United Formosans for Independence organization that he was influenced by the various social movements in the US, which greatly contrasted with what he called the "super stable" situation in Taiwan under martial law and one-party rule. At the University of Pittsburgh, he took part in the anti-nuclear and civil rights movements and protested the Vietnam War.
Soon, he met Taiwanese independence activists and "quickly agreed with their views." He also writes that there had been talk about assassinating Chiang each time he visited the US.
Huang and his brother-in-law Cheng Tzu-tsai (鄭自才) decided to take on the task in 1969, when there were rumors that Chiang was planning to visit the US again. While waiting, he wrote the following manifesto: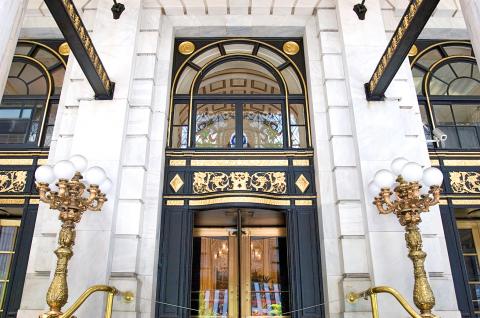 This photo shows the entrance to the Plaza Hotel in New York City, where the attempted assassination of Chiang Ching-kuo took place.
Photo Courtesy of Wikimedia Commons
"First of all, the assassination of Chiang Ching-kuo is political in nature, and must be done by an ordinary Taiwanese to highlight the political meaning of such an action. If we hire someone else to do it, or use a sniper rifle, it would not send as strong a message to the world that we Taiwanese do not accept the rule of the Chiang family, nor the imperial-style hereditary succession they have planned," Huang wrote.
"The KMT will not collapse with the assassination of Chiang Ching-kuo, but there will be power struggles that will disturb the 'super stable' one-party familial rule, and will open up some possibilities for Taiwanese society and politics," he added.
Among the conspirators, Huang insisted that he do the job because he was the only one who wasn't married and didn't have children. After three days of observing Chiang in New York City, Huang approached Chiang as he was about to enter his hotel. As he fired the first shot, a Diplomatic Security Service agent saw him and knocked his arm upward, and the bullet flew over Chiang's head. He fired again, but Chiang had already entered the building, and Huang was tackled to the ground by several police officers. Cheng, who was distributing flyers nearby, rushed to help Huang and was also taken away.
THE AFTERMATH
Huang was charged with attempted murder and conspiracy and was released on bail. But before sentencing, he fled the US and went into hiding in Canada. Cheng was also arrested but fled to Sweden while out on bail.
In 1996, after the statute of limitations expired, he returned to Taiwan. In 2003, he was sentenced to four months in prison in 2003 for illegally entering the country, the only punishment he would receive.
Since then, Huang has served as head of Taiwan Association for Human Rights (台灣人權促進會), Amnesty International, and the Peacetime Foundation for Taiwan (台灣促進和平文教基金會). He was even appointed national policy adviser on human rights issues to then-president Chen Shui-bian (陳水扁) in 2000. When he was honored by his alma mater in 2012, it sparked an outrage as he indeed had committed a crime.
The National Policy Foundation wrote in an editorial on their news Web site, "A crime is a crime. The failed assassination attempt on late president Chiang Ching-kuo in New York on April 24, 1970, could not be justified by saying that the assassination was against an institution, not against the individual."
However, Lin Yuan-hui (林元輝), chair of NCCU's Department of Journalism, told the press, "Huang can be said to be the most important human rights fighter in this country. The fact that Taiwan's society can enjoy freedom now is the result of Huang and other human rights pioneers risking their lives … He definitely deserves the title."
Some scholars, such as historian Lee Hsiao-feng (李筱峰) argue that Huang's assassination attempt spurred Chiang to gradually loosen the KMT's iron grip. But Huang is not too sure, stating that it was simply the most dramatic and not necessarily the most important act, as other activists continued to push for democracy well into the 1990s. "It's hard to define the role and effect my assassination attempt played in this road to democracy," he concludes the article.
Taiwan in Time, a column about Taiwan's history that is published every Sunday, spotlights important or interesting events around the nation that have anniversaries this week.
Comments will be moderated. Keep comments relevant to the article. Remarks containing abusive and obscene language, personal attacks of any kind or promotion will be removed and the user banned. Final decision will be at the discretion of the Taipei Times.