Duel to the death…sort of
A Historical European Martial Arts club in Taipei is keeping the traditions of Medieval and Renaissance sword masters alive
Last month, I participated in my first duel. Armed with my 19th-century-style Italian saber, I attempted to follow the instructions of my teacher, Michael Knazko.
Maintain a distance of approximately two feet, right leg bending slightly.
Grip the steel weapon firmly with the right hand.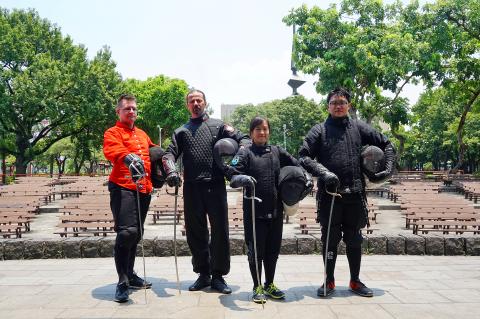 After a training session of Historical European Martial Arts at the 228 Peace Memorial Park in Taipei on July 23.
Photo: Dana Ter, Taipei Times
Keep the left hand affixed to my waist.
Use legwork to project my body weight to the tip of the sword.
Most important: do not execute cuts to my opponent's legs. He will swoop in and slice my face.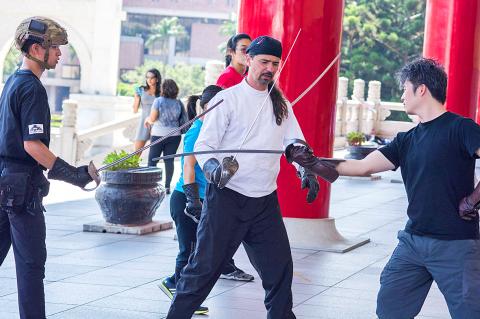 Michael Knazko, a Historical European Martial Arts instructor from the Ars Dimicatoria in Prague, duels with members of the Lionheart Historical European Swordsmanship club at Chiang Kai-shek Memorial Hall on July 16.
Photo courtesy of Jonathan Burke
Execute circular cuts instead. Strike at the torso.
I repeated this in my head as I sweated through my protective gear. Padded jackets made with heavy cotton might have been built to withstand at least 350 Newtons of force — and harsh European winters — but they are unforgiving when worn in the sweltering Taipei summer.
The duel was about as real as 19th-century Italian duels in Taiwan come, except the conclusion was less dramatic: My opponent and I shake hands and both of us walk away unscathed.
Historical European Martial Arts (HEMA) founder, Huang Chun-yi, parries at a training session at Chiang Kai-shek Memorial Hall on July 16.
SEEKING AUTHENTICITY
The Lionheart Historical European Swordsmanship club (獅心歷史歐洲劍術) was holding a public training session at the 228 Peace Memorial Park that day. Members meet two to three times a month, usually on Saturdays, at parks and public venues around Taipei, to practice Historical European Martial Arts (HEMA).
Last month, the club invited Knazko, an instructor from the Ars Dimicatoria (Latin for "Art of Fencing"), a HEMA school in Prague, to train them. Knazko, whose long hair is held back in a ponytail, likes to describe dueling as "playing a game of 3D chess" — you're reacting to your opponent's moves using a combination of instinct and technique.
Huang Chun-yi and Michael Knazko exchange a handshake after a "duel."
Photo: Dana Ter, Taipei Times
HEMA is big in Europe. Florentia, the HEMA conference held in Florence, Italy every May, brings together HEMA instructors, students and enthusiasts from all over Europe for three days of tournaments, lectures and workshops. Knazko has been attending the conference for years and he tells me that while they recreate duels, it's really about "enjoyment and friendship."
Competition and spectatorship are de-emphasized in HEMA, distinguishing it from Olympic-style sports fencing. Also unlike live action role-playing or cosplay, where the participant assumes the role of a fictional character, HEMA seeks authenticity in the form of recreating various styles of European sword fighting over the last few centuries — from Medieval times to the Renaissance — using real steel weapons modeled closely after historical weapons (the Lionheart club imports most of their weapons from Knazko's school in Prague, while their protective gear is ordered online and shipped to Taiwan).
Beyond being a hobby, HEMA's purpose, according to its practitioners, is keeping history and tradition alive — all the while ensuring safety through several layers of protective clothing, a deliberate restraint of force and rules against striking people at vulnerable places such as the back of the head.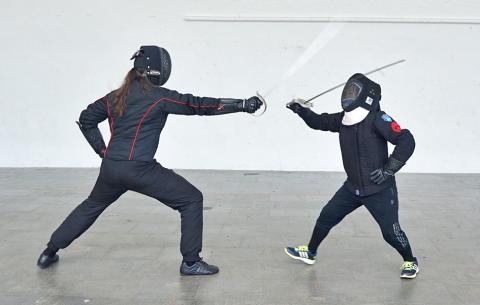 Michael Knazko, a HEMA instructor from Prague, left, duels with founder of the Lionheart Historical European Swordsmanship club, Huang Chun-yi, at the 228 Peace Memorial Park in Taipei on July 23.
Photo: Dana Ter, Taipei Times
EN GARDE
Of course, there's also the thrill of handling a real weapon.
"I believe anyone would be lying if they said they didn't partly start doing HEMA to have fun with steel swords," says club member Kevin Yang (楊凱文).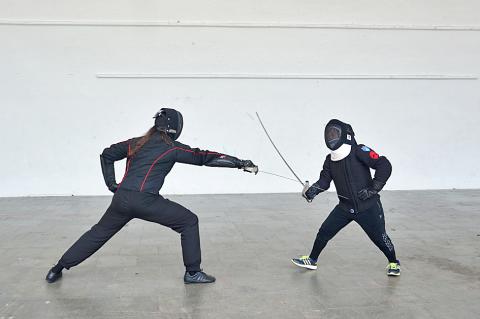 Michael Knazko, a HEMA instructor from Prague, left, duels with founder of the Lionheart Historical European Swordsmanship club, Huang Chun-yi, at the 228 Peace Memorial Park in Taipei on July 23.
Photo: Dana Ter, Taipei Times
Yang's interest in swords started with Dungeons and Dragons, the role-playing board game: "I was wondering what the difference is between a long sword, a bastard sword and a short sword," he says.
This led him to watch YouTube videos of "burly men chopping up objects with huge swords," which led him to a HEMA Kickstarter project.
The club's founder, Huang Chun-yi (黃郡儀), was drawn to HEMA the way most practitioners are: consuming popular culture. In particular, watching sword fighting movies and reading Alexandre Dumas' The Three Musketeers. Huang did some online research on sword fighting where she found a trove of historical fencing manuals.
"I started my practice with a stick," says the pint-sized 25-year-old.
Huang joined her university's fencing club to learn more about distance and technique, but after a while, grew disillusioned with the artificiality of the sport, feeling that the point-scoring system was designed for sheer spectator amusement.
In 2014, she founded the Lionheart club, where the focus, like any other HEMA club, is on recreating duels and battlefield moves. The idea, Huang says, is that "you should hit others without being hit."
HISTORY BUFFS
Most of the club's members are history buffs and have experience in either sports fencing or Chinese martial arts. In HEMA, like in Chinese martial arts, it's about channeling the right mindset. To fight like a Medieval or Renaissance sword master, you need to think like one — hence why HEMA practitioners devote much of their time to studying historical manuals written by sword masters.
Yang has a pdf file of the 14th-century Italian knight and fencing master Fiore dei Liberi's fencing manual, Fior di Battaglia (or "The Flower of Battle") on his smartphone, which he tries to consult regularly.
"I do not spend enough time studying," Yang reprimands himself.
Jonathan Burke, another member, agrees that it's about striking a balance between studying and practicing. He prefers reading commentaries which interpret the historical documents, as a lot of the original manuscripts are written in Spanish, French or Italian.
That being said, a big part of HEMA is knowledge application. As Burke puts it: "If you can't use your weapon properly, then it's not going to feel exciting at all; it's just going to feel like a clumsy, awkward mess, and you'll end up frustrated and disappointed."
He thinks pop culture has failed them in the sense that sword fighting is nothing as what you see on television.
"All those enthusiastic baseball bat-style swings you see in the movies are pure fantasy," Burke says.
After studying the texts, Burke concludes that sword fighters in the past could not have used their weapons that way because it would have been a waste of time and energy. Striking a medieval sword, he says, is an action more akin to "throwing a punch."
Preserving tradition comes at a hefty price. HEMA jackets built to withstand 800 Newtons of force can cost up to 350 Euros (NT$12,500). Next month, the club will receive an order of swords from a swordsmith in Hungary. The six swords and two scabbards come at a whopping total of 1,605 Euros (NT$57,300).
It's totally worth it for the club's members, though.
"We study, practice and have fun together," Yang says.
After my first duel, the verdict is in: wielding more than 1kg of steel is fun.
Comments will be moderated. Keep comments relevant to the article. Remarks containing abusive and obscene language, personal attacks of any kind or promotion will be removed and the user banned. Final decision will be at the discretion of the Taipei Times.