Six years of poetic simplicity
Red Room celebrates its sixth anniversary with a Renaissance Festival on Saturday
A little over six years ago, Ayesha Mehta and Ping Chu were caught in a downpour in Taidong. These strangers started chatting over cups of tea, and the concept for a place where experimenting, creating and listening was hatched. Soon after, the doors of Aveda Learning Kitchen were opened and 100 people showed up, communal bottle of wine in hand, and Red Room was born. Red Room will celebrate its sixth anniversary with Renaissance Festival, a free event on Saturday at the Taiwan Air Force Innovation Base (TAF 空總創新基地).
Over the past six years, the monthly Stage Time and Wine has become the cornerstone event of Red Room. Everyone has five minutes to do whatever he or she pleases, and no one can do wrong. The stage has been witness to many unforgettable moments of silence, dance, song, poetry readings, long sobs, mass hugs and more. The only rule of the performances is that they are authentic and vulnerable.
Stage Time and Juice was later added to the docket for children. The same rules were applied and Red Room quickly realized that this was an excellent idea because the positive impact of creating and sharing with adults is increased tenfold with kids.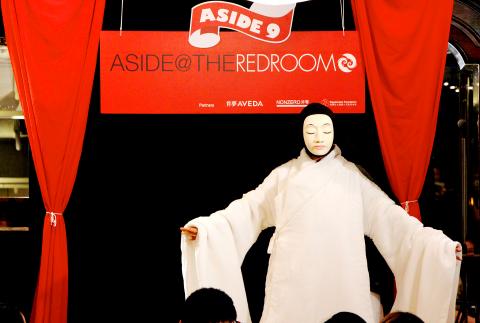 A performer captivates the audience at a Red Room event.
Photo courtesy of Red Room
Red Room also runs Aside and Red Room Radio Redux every month, along with many other specialized events focusing on the arts.
BRIGHT FUTURE
Thousands of people have come through Red Room's doors over the past six years and many return over and over.
A juggler catches a lot of balls with his face at a Red Room event.
Photo courtesy of Red Room
"In a world so hectic, it's important to set aside some quality time to nourish what is really important — beauty and love," said Julia Kao (高子晴), a long time Red Roomer who is now working for the company.
"By actively celebrating what gives us depth as sentient beings through stories, songs and movement, we are fulfilled in our search for meaning and connection," Kao said.
In September, Red Room relocated to the second floor of the library at the Taiwan Air Force Innovation Base. With Roma Mehta as director and Manav Mehta as curator, and many others pitching in, the new space is called Red Room International Village.
Organizers say the goal is to have a welcoming place for the international creative community to gather and create. There have been events going on in the space for the past two months, but Saturday's Renaissance Festival, with 24 booths, all day live music and all the regular Red Room shows, is the first big step toward its bright future.
Performance Notes:
What: Red Room Renaissance Festival (文藝復興紅房六週年慶)
Where: Taiwan Air Force Innovation Base (TAF 空總創新基地),177, Sec 1, Jianguo S Rd (台北市建國南路一段177號)
When: Saturday from 11am to 9pm
Admission: Free
On the Net:www.facebook.com/redroomtaipei
Comments will be moderated. Keep comments relevant to the article. Remarks containing abusive and obscene language, personal attacks of any kind or promotion will be removed and the user banned. Final decision will be at the discretion of the Taipei Times.