A vegantastic honor
Taiwan's Mianto and Bio AtPeace Cafe are the only establishments in Asia that made this year's Vegans Are Cool's best restaurants list
As famous as it is for its meat dishes such as braised pork rice, Taiwan has also been quietly emerging as a hotspot on the international vegan scene.
Yet it still came as a surprise for the owners of Taipei's Mianto (米愛多) and New Taipei's Bio AtPeace Cafe (愛在蔬食) when they saw that not only did their establishments make this year's Vegans Are Cool's outstanding restaurants list, they were also Asia's only representatives.
Based in Australia, Vegans Are Cool is a Web site that features interviews and articles by prominent people ranging from actors to doctors who do not consume or use any animal products.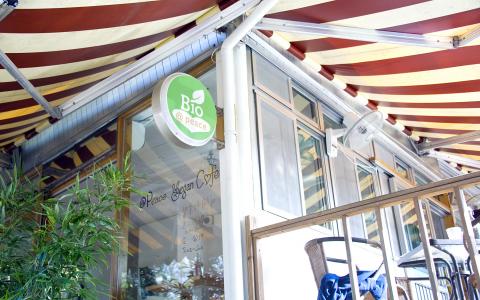 Bio AtPeace Cafe was transformed from a steel shack into a cozy mountainside eatery.
Photo: Han Cheung, Taipei Times
"It is a pure coincidence that the winners are both from Taiwan this time, although it is no surprise that good quality vegan restaurants can be found in Taiwan as veganism is a growing movement in Taiwan," says Vegans Are Cool founder Kathy Divine.
VEGANISM IN TAIWAN
South African expat Michel Cason opened Mianto — which is also free of genetically modified organisms (GMO) — in Taipei about a year ago with interior designer Antonio Chen (陳豐秀).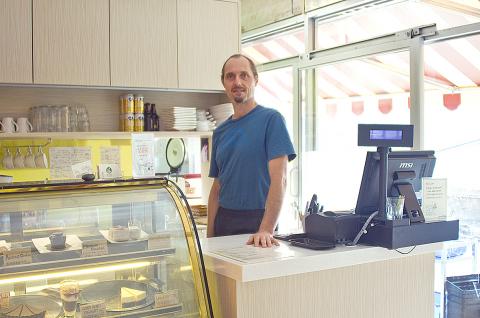 Andrew Nicholls, co-owner of Bio AtPeace Cafe, in the mountains of Sindian.
Photo: Han Cheung, Taipei Times
Cason agrees that Taiwan is a convenient and friendly place for vegans, and attributes traditional religious practices such as Buddhism for the popularity of vegan food.
"People [follow] ... this diet due to religion so their attitudes are pro it. It's not some foreign concept," she says
The Food Industry Research and Development Institute says at least 10 percent of Taiwanese are either committed or part-time vegetarians. Not only does the country have tons of meatless restaurants, it also boasts a newly-opened vegan supermarket as well as one of the world's strictest labeling laws for vegetarian food.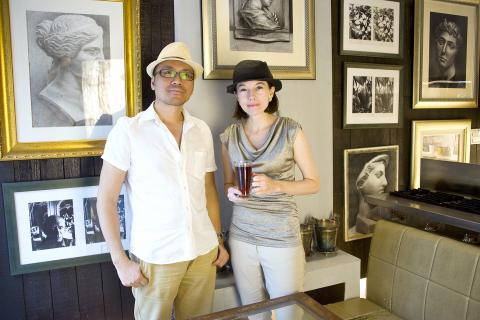 Mianto owners Michel Cason, right, and Antonio Chen pose for a photo in the front room of their vegan restaurant in Taipei.
Photo: Han Cheung, Taipei Times
"People here are open to veganism ... You can even get vegan food at 7-Eleven," Cason quips.
Kelly Nicholls grew up in China, but later moved to Singapore, where she met her Australian husband Andrew. The couple came to Taiwan six years ago, settling in the Gardens City (花園新城) community nestled in the mountains of New Taipei City's Sindian District (新店).
Both longtime vegans, they started using an abandoned steel shack overlooking a valley in the community to experiment with vegan recipes, which eventually turned into Bio atPeace Cafe.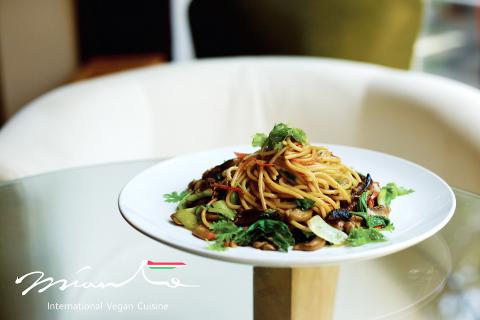 Mianto's spaghetti al funghi.
Photo couresy of Sung Guo John
Kelly Nicholls says that while vegan awareness has been increasing, there remains a lack of recipes and vegan chefs. She hopes to eventually use the restaurant to provide a place for training and sharing.
WHAT'S IN A KITCHEN
Cason calls her food "International Vegan Cuisine." The current menu is mostly Italian, featuring a variety of pastas and build-it-yourself pizzas with homemade dough and soy cheese, but there are also Indonesian and Thai offerings and she plans to create a fiery dish from China's Hunan province.
Cason says it's hard work running a vegan restaurant because she needs to carefully purchase her ingredients — even wine can be non-vegan as it often involves animal-based fining agents. She also makes her own bread and cake.
"I check the ingredients, and if I don't know then I Google it immediately, and if I'm still not clear I'll e-mail the manufacturer," she says. "It's not like I don't see any animals so it's okay."
Even though Cason has to import some GMO-free items, such as flour, she locally sources her vegetables, which she changes according to the season. For example, in the winter, she uses spinach in her tomato mushroom pasta, but bok choy in the summer.
Bio AtPeace serves mostly organic food, and vegetables are also sourced from local farmers. The seasonal menu is mostly Western — pitas, risotto, sandwiches — with some Asian and fusion dishes. Kelly Nicholls says they are constantly experimenting with combining Eastern and Western ingredients, such as their pate, which includes dried bean curd, soy sauce and lemon juice. Another favorite is their raw cheesecake, which consists mainly of coconut oil, lemon juice and cashews.
ROAD TO VEGANISM
One may become a vegan for health as well as ethical and environmental reasons. Some simply believe it is morally wrong to harm another living being, while others refuse to be involved in meat production, which they say is harming the environment through the amount of land and resources it requires as well as livestock emission of greenhouse gasses.
Andrew Nicholls grew up on a farm, where killing animals was an everyday chore. During university, he met a vegan and read the book Diet for a New America, which completely changed what he knew.
"As I did more research, I was like, 'Who am I to exploit anything in this world?'" he says. "First I have to look at what I'm taking before I can give. If I can minimize the need to extract life and energy from this planet while trying to maximize my output, it makes sense on every level."
Cason became a vegetarian about 14 years ago after a friend explained how animals suffer in the livestock industry. Later, she became vegan because of her health, and she says she hasn't been to the doctor since.
"It started with my health, but when you get into it you find out so many things," she says. "I didn't know [livestock production] was a major cause of global warming."
PROMOTING THE CAUSE
Both restaurants operate with a mission to show the public that vegan food can be delicious.
"If I just give you a piece of meat to eat, it's going to be awful with no salt, pepper or spices," Cason says. "It's the same with broccoli and carrots. It should taste just as delicious."
Andrew Nicholls says only when people realize that they, for example, like the vegan cheesecake as much as or more than a regular one, will they be more willing to learn about the lifestyle.
"You empower people by giving them options," he says. "Give people good food, then let them ask questions."
Cason says the best way is for people to do their own research, discuss it with her on their own accord and decide for themselves.
Andrew Nicholls says while he does believe that animals have souls and the right to life, he can't prove it, so he uses science to talk to people about veganism.
"If I talk about ethics, it's like making you feel guilty about what you're doing," he says. "The real research is that meat production is destroying the earth, absolutely and utterly."
Comments will be moderated. Keep comments relevant to the article. Remarks containing abusive and obscene language, personal attacks of any kind or promotion will be removed and the user banned. Final decision will be at the discretion of the Taipei Times.