A red room to call their own
Red Room gets its own space for at least the next six months, and is expanding its program with music events and an east-meets-west monthly art exhibition set to begin today
The Red Room was never a room in the literal sense.
Since its inception six years ago, the nonprofit organization, which aims to provide a platform that brings together Taiwan's creative community, took form through its array of events, held in various locations around Taipei.
"People would call and ask, 'Hey, where's the Red Room?'" curator Manav Mehta says. "And we're like, 'Sorry, the next event is in two weeks.'"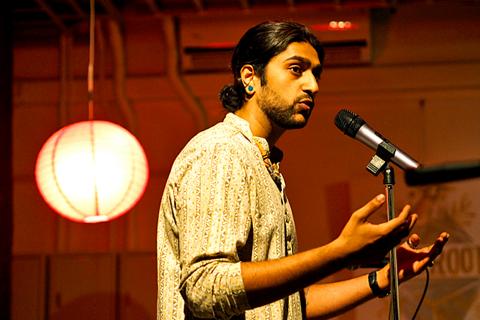 Red Room International Village curator Manav Mehta speaks during Stage Time and Wine on the opening day of Red Room's new space on Sept. 19.
Photo courtesy of Chris Walters
Under the new name Red Room International Village, the organization opened the doors of its new space at the former Taiwan Air Force Command Center-turned-cultural park on Sept. 19 with the 71st installation of its monthly signature open mic event, Stage Time and Wine.
Red Room is only guaranteed to have the space for six months, but Mehta hopes they can extend their stay next year.
Mehta says they can now host new activities they weren't able to before, such as the Spirits of the Night Aboriginal performance series, which debuted on Sept. 24.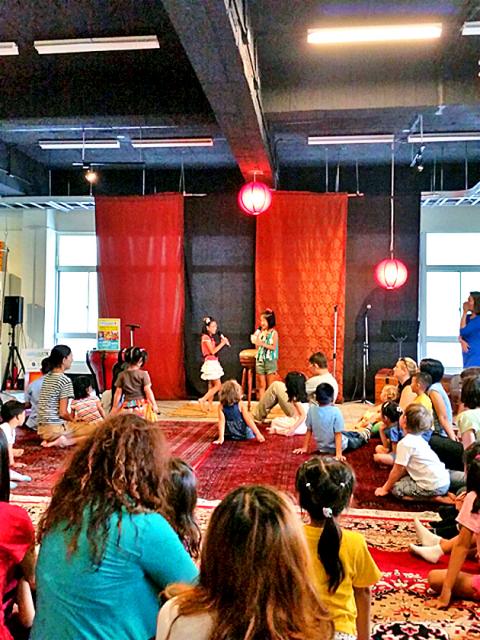 A scene from Stage Time and Juice, a children's open mic held on the opening day of Red Room's new space on Sept. 19.
Photo courtesy of Chris Walters
An art exhibition is also something that wasn't possible without a regular venue. This afternoon, Red Room presents the opening of its first Visual Dialogues (中西對畫), a monthly art show that features a Western and Eastern artist living in Taiwan. This month's artists, Canada's Charles Haines and Taiwan's Fang Yao-chung (房耀中), will be present at the event, held from 3pm to 7pm with artist introductions at 4:15pm.
Mehta says that he frequently hears about foreign artists wanting to collaborate with Taiwanese and vice versa, but that there's something stopping both parties.
"With Red Room being a community of so many different types of people, we wanted to mix the cultures and show that there's less of a contrast and more of a similarity," Mehta says.
The "dialogue" will be further reinforced by not separating the two artists' work but placing them side by side on the Red Room walls. The paintings will stay up until the end of the month.
Mehta has been involved with the Red Room since its inception, as it was started by his sister Ayesha with the help of Aveda Taiwan founder Chu Ping (朱平), who supports young entrepreneurs through his Ripplemaker Foundation. Mehta's mother, Roma, a designer and painter, has also contributed her talents and connections to the venture.
Over the years, Red Room grew into a community with a number of regular events and collaborators, but to Mehta it was always something he did on the side.
"We always opened up shop for an event, closed down and went on with our lives," he says.
Mehta moved to New York City about seven months ago, but when he heard that the proposal he helped write for Red Room's new space was approved, he packed up and came home immediately.
"I grew up here," he says. "For me, it's like I get to come home and do my dream job."
It's an open space taking up the entire second floor of a building. There are no partitions, with a working table and bar to one side and a stage on the other. Much of the decorations, which include antique furniture and paintings, are provided by fellow collaborators, for example, the bar is custom made by a longtime "Red Roomer."
"We're sourcing our people, our friends and community," Mehta says. "They make our space look beautiful, and we provide a platform for them. Everyone has a piece of the pie, and everyone is making this happen."
Mehta envisions the space to be an artist hub, where people can hang out, read, paint, play music and even use it for their own events. He's also adding more children-friendly events, such as a family art activity every fourth Sunday of the month.
In the future, Mehta is thinking of hosting workshops — ideas include the way of tea, calligraphy and cocktail mixing.
Check out their Facebook page for hours and a full list of events at www.facebook.com/redroomtaipei.
Publication Notes
Event Notes
What: Visual Dialogues (中西對畫)
When: Today, 3pm to 7pm
Where: Red Room International Village, Taipei Air Force (空總創新基地), 177, Jianguo S Rd Sec 1, Taipei City (台北市建國南路一段177號)
Admission: Free
On the Net: www.facebook.com/events/133711173648658
Comments will be moderated. Keep comments relevant to the article. Remarks containing abusive and obscene language, personal attacks of any kind or promotion will be removed and the user banned. Final decision will be at the discretion of the Taipei Times.