Movie review: Our Times 我的少女時代
The teenage romantic comedy should prove a hit at the summer box-office
Adolescent love and the 1990s come under the microscope in Our Times (我的少女時代), an ambitious movie that could become a summer blockbuster.
Frankie Chen (陳玉珊), in her directorial debut, revises the "ordinary girl meets Prince Charming" tale, injecting a welcome dose of feminine perspective into the overused genre to touch upon the life experience of a girl becoming a woman in 1990s Taiwan. The comedy is supported by an appealing cast of novices, veterans and big-name stars.
It's present-day Taipei, Truly Lin (Joe Chen, 陳喬恩) is in her thirties and stuck in a dead-end job. One night Lin suddenly recalls her first love, a high school romance that took place in 1994. The younger Lin, played by Vivian Sung (宋芸樺), is a plain, clumsy girl who spends her high-school days goofing around with friends and fawning over the most popular boy in school, Ouyang (Dino Lee, 李玉璽). An unfortunate incident leads Lin to become an errand girl for the school's much-feared troublemaker Taiyu (Darren Wang, 王大陸).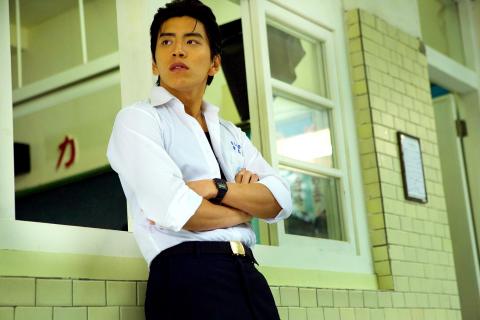 Darren Wang makes a handsome troublemaker at school.
Photo courtesy of Hualien Media International
It doesn't take long, however, before Lin sees Taiyu for who he really is: a kind, smart young man. As their friendship evolves, they agree to help each other attract the people they are interested in and in the process Lin and Taiyu soon fall in love.
Meanwhile, Taiyu's tough behavior results in a clash with school authorities and several street fights. Concerned, his parents send him to the US before he has a chance to say goodbye to Lin.
Fast forward two decades, Lin quits her job and breaks up with her boyfriend. Across town, a sold-out Andy Lau (劉德華) concert is set to take place at the Taipei Arena, where two surprises await our heroine.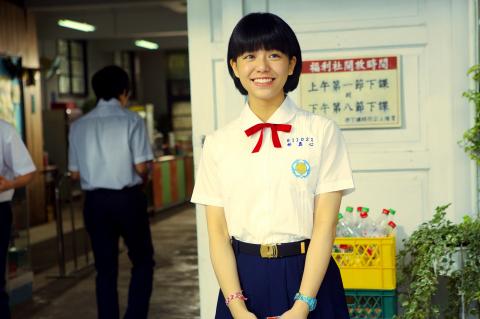 Vivian Sung grows from an ugly duckling into a swan in Our Times.
Photo courtesy of Hualien Media International
The light-hearted, briskly-paced film is a collaboration between Chen, a seasoned producer of soap operas and top-notch film producer Yeh Ju-fen (葉如芬). The experiences of these two veteran producers show in how well they can pick their cast, which, not to give the film away, include two Asian heartthrobs.
Another pleasant surprise is up-and-coming actress Sung, who captured the public's attention with her performance the romantic comedy Cafe. Waiting. Love (等一個人咖啡) last year. Sung comes off as a lovable ugly duckling growing to become a strong, attractive girl, while playing well with the comic effect without caricaturing her role.
Chen and her crew have also done a fine job with their attention to detail of the era. Hairstyles, pop songs, sports drinks, tea houses, scary chain letters circulated in school and teenage obsessions with pop stars Lau and Aaron Kwok (郭富城) all create the right 1990s vibe. But the movie isn't set in the 1990s simply for fun and decoration. It recalls a society that has just emerged from almost 40 years of martial law, an experience that makes the heroine who she is today.
With the screening time exceeding two hours, however, the movie could have used some pruning to keep its structure tighter and story snappier. Plotlines revolving around the two protagonists become repetitive at times, adding no new meaning to the narrative.
Publication Notes
Film Notes
Our Times 我的少女時代
Directed BY:Frankie Chen (陳玉珊)
Starring:Vivian Sung (宋芸樺) as Truly Lin, Darren Wang (王大陸) as Taiyu, Dino Lee (李玉璽) as Ouyang, Dewi Chien (簡廷芮) as Min-min
Language:in Mandarin with Chinese and English subtitles
Running time:134 minutes
Taiwan release:In theaters
Comments will be moderated. Keep comments relevant to the article. Remarks containing abusive and obscene language, personal attacks of any kind or promotion will be removed and the user banned. Final decision will be at the discretion of the Taipei Times.