Night market, reconstructed
Two Israeli designers spent more than two months in Taiwan looking at night market culture and exploring ways to make improvements while preserving traditions
Imagine walking into a typical Taiwanese night market. Everything feels as it should — the sounds, the smells, the sights, the crowd, the vendors — all blending into a comforting atmosphere of familiar, ordered chaos.
Suddenly you notice that something's different. You're still sitting on a good old metal stool — but it's elevated, and comes with a red basket to throw your trash in. Another metal stool of the same type is attached to the one you're sitting on, serving as a table to place your bowl. Even though you never complained about the night market furniture in the past, you suddenly find sitting down and eating much more comfortable and convenient.
Israeli designers Ori Ben-Zvi and Maya Ben David created a series of similar constructs using existing night market objects during their two-and-a-half-month designer residency in Taipei as part of a series of government-sponsored events for the city's designation as World Design Capital 2016. The designers presented their prototypes at Chungshan Creative Hub (中山創意基地) last Saturday followed by a design workshop with local professionals and students.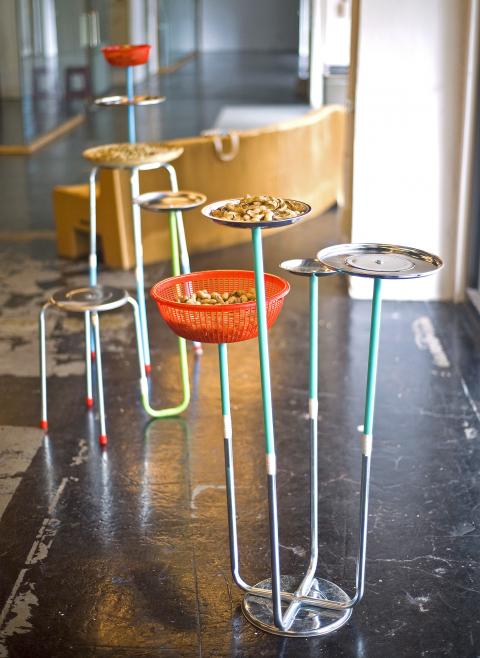 A few prototypes of modified night market stools are on display at Chungshan Creative Hub.
Photo: Han Cheung, Taipei Times
INTERNATIONAL EXCHANGES
The two designers are the first of five foreign residencies that will take place this year. Sponsored by the Taipei City Government Department of Cultural Affairs and executed by Art Happening Ltd (宜東文化), the project will also send Taiwanese designers abroad for similar residencies. In addition, there will be shorter-term programs later this year where international designers come to Taipei to help solve various urban problems.
World Design Capital CEO Wu Han-chung (吳漢中) said he felt that residencies should not be limited to fine artists. He added that while the designer residency program is not as large scale as many of their international events such as the upcoming Taiwan Designers' Week, it facilitates an in-depth exchange that other programs may not offer.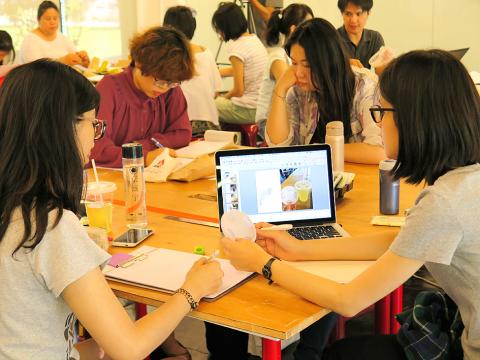 Scenes from last Saturday's workshop the Israeli designers hosted for local designers on modifying night market utensils.
Photo courtesy of Art Happening, Ltd
"Many ... foreigners [are] just here for a conference or event," he said. "Residencies are important because they live here and look for inspiration here. To me, it's an immersion process. I'm more concerned about what they'll experience in Taipei, how they feel and what inspires them."
Wu said that while a few designers did residencies last year, this is the first complete program with funding for materials, presentations and workshops.
"This event matched our goal to facilitate interaction between international designers, local designers and the public," project manager Chen Ying-lin (陳映霖) said.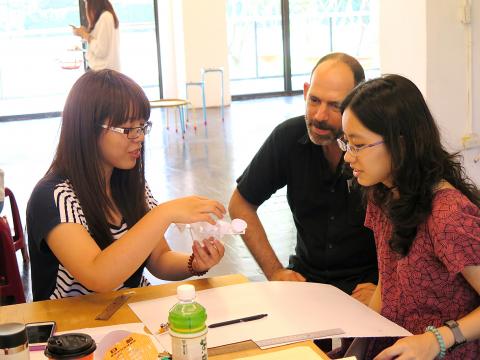 Scenes from last Saturday's workshop the Israeli designers hosted for local designers on modifying night market utensils.
Photo courtesy of Art Happening, Ltd
Wu said public engagement is an essential part of the World Design Capital designation, which he sees as a movement for change.
"We hope design is the transformation process," he said. "We're combining education and design, and pushing for ways to allow the public to collaborate with designers to co-create and solve the city's problems."
Ben-Zvi and Ben David knew that food was big in Taiwan before coming but didn't realize how essential it is to local culture. When they visited a night market, they were blown away by the rich tradition in the food-making process.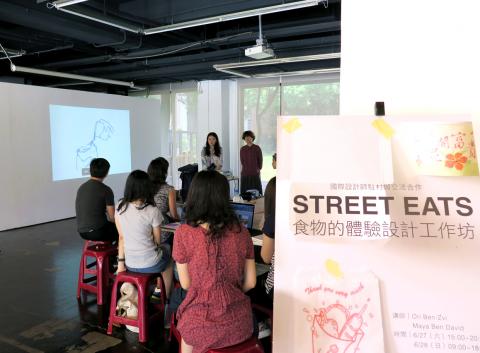 Photo courtesy of Art Happening, Ltd
"It brings a lot of added value to what you eat when you see the whole process of making and you see the person's hand movements," Ben David said. "You first understand it, then you also appreciate it more."
"It's almost a doorway to the past," Ben-Zvi added. "You can see the same movement happening a generation before and generation before. You go, 'Is what I'm eating a dumpling or the fossil of a dumpling which has been going on for 2,000 years, just through different hands?' We're seeing something that is a live tradition."
They learned about how many Taiwanese don't like night markets in their neighborhood and think they are dirty and noisy. They learned about what happened to Shihlin Night Market, which, despite being cleaner and safer, has lost much of its original flavor and appeal. As such, they wanted to do a project that would make changes in small ways while preserving traditions.
FILLING THE GAPS
Ben-Zvi and Ben David came up with a metaphor to their approach while watching a vendor pour soup into a dish filled with fish balls and vegetables.
"The soup will fill the gaps," Ben-Zvi said. "But the soup doesn't push the balls or vegetables out. We feel the project needed to be something like this — infiltrating the existing system and not go about changing it … It's part of liking what you see and wanting to add something in but not interfere very much."
Thus, only existing objects and flavors were considered in designing their prototypes.
"It's not really new, it's just a different interpretation of what's already there," Ben David said. "We chose the stool because it's something quite common — part of the DNA of the market."
CULTURAL DEBATE
Unlike fine artists, designers often work for clients, and their products usually lean toward the practical. At a design residency, though, they can fully explore their area of interest without worrying too much about the result.
They haven't given much thought in mass producing the product, although about 10 of their prototypes are being made in a factory and will be on display during Taiwan Designers' Week in October.
Ben David said that their approach was less about problem solving.
"People can handle it," she said. "They've handled it until now. We aren't solving anything — we are just creating added values, just expanding the options."
Ben-Zvi said instead of a product-oriented debate such as whether their creations are producible and marketable, they wanted to stimulate a cultural debate about modifying and preserving traditions.
"It's not that you should maintain everything as it is," Ben David said. "You can make things more suitable for today's life. The question is how you do it? [The markets] can be made more clean and organized but to keep the spirit of the place is quite challenging … So what kind of experience do we want to have? Then you have a talk and you can create this new configuration of night market that won't be like the new Shihlin … If you combine people from the neighborhood in planning those visions, then it's even better."
The design workshop focused on eating utensils at night markets, as the designers noticed that most vendors provide the same type of utensils.
They went with students to a night market and had them make observations about what they thought could be improved. Then, the group returned to the studio to create designs and prototypes using actual food items.
Chen said she is very satisfied with how this residency went.
"We did provide them with some funding, but it has already exceeded our expectations that they're actually producing the prototypes," she said.
Chen says she is looking forward to seeing the results of the next designer, Yoni Lefevre from the Netherlands, who will have a similar presentation and workshop later this month.
Comments will be moderated. Keep comments relevant to the article. Remarks containing abusive and obscene language, personal attacks of any kind or promotion will be removed and the user banned. Final decision will be at the discretion of the Taipei Times.