When artists and farmers meet
Lovely Taiwan Foundation continues its work of reviving the country's towns and villages by bringing an artistic vibe to the farming village of Chihshang
Rice, biandang (boxed meal, 便當) and, more recently, the Takeshi Kaneshiro (金城武) tree are usually what come to mind when one thinks of Taitung County's Chihshang Township (池上). But if a plan to attract artists goes well, several years from now, the idyllic farming village will come to be known as an artist commune where painters, musicians, writers and other creative types live in harmony with their rural neighbors amid vast rice fields.
THE PROJECT
The Lovely Taiwan Foundation (台灣好基金會), founded in 2009 to revive the country's small towns and villages, officially launched the artist-in-residence program in Chihshang earlier this month. The organization has been doing work in Chihshang for the past six years, most notably the annual autumn harvest concert featuring performances by top-notch artists such as Cloud Gate Dance Theatre (雲門舞集), U-Theater group (優人神鼓) and A-Mei (張惠妹).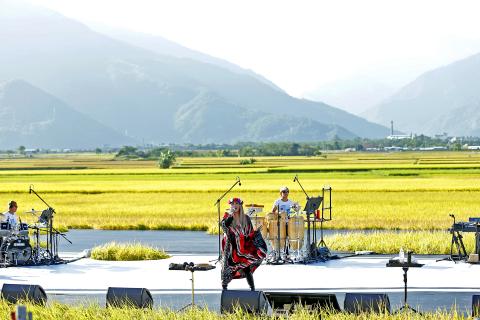 Lovely Taiwan Foundation has been organizing an annual autumn harvest concert in Chihshang since 2009.
Photo courtesy of Lovely Taiwan Foundation
Many of Chihshang's houses have long been vacant due to residents moving to bigger cities in search of a better life. Two such farmhouses have been renovated as lodging for artists. And an old dormitory at Chihshang Junior High School (池上國中) is now the home and studio of literary icon and painter Chiang Hsun (蔣勳), the project's chief adviser and first artist-in-residence.
Chiang says he has been painting since the day he arrived six months ago.
"I feel right at home. Living here [reminds me of] many of my childhood memories," he says. "Every day, I observe the ever-changing light and colors of the rice field. When I was little, it was a sight I saw all the time and I didn't think much of it. Now I want to capture Chihshang's kaleidoscope of light and colors."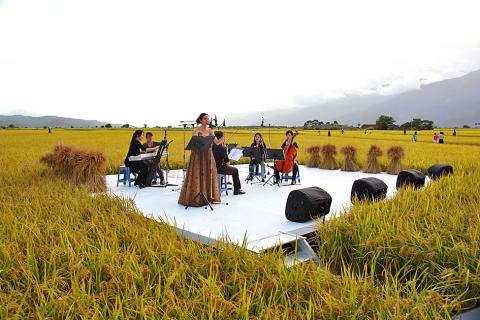 Lovely Taiwan Foundation has been organizing an annual autumn harvest concert in Chihshang since 2009.
Photo courtesy of Lovely Taiwan Foundation
Chiang adds that the residency could help form a much-needed connection between cities and the countryside.
"City people always dream of a pastoral lifestyle. But I think we need both, that is, a balance between the two. In Taiwan, the two have stopped communicating with each other so that it feels they are both lacking something," he says.
Ko Wen-chang (柯文昌), Lovely Taiwan Foundation's chairman, says connecting the two requires years of planning and working with locals to meet their needs. Many towns and villages in Taiwan, including his hometown of Chaojhou, Pingtung County, are in decline — their people gone, along with the traditional culture.
Literary icon Chiang Hsun has taken up residency in Chihshang for the past six months.
Photo courtesy of Lovely Taiwan Foundation
"There is not enough happiness there," Ko says. "There are a few pretty, new buildings popping up in town, but they have nothing to do with [the residents'] past and future. Hopefully we can find a way to connect a town's past, present and future."
As a venture capital mogul and chairman of the WK Technology Fund (普訊創業投資), Ko has urged his entrepreneur friends to invest in his endeavor. Fuh Hwa Securities Investment Trust (復華投信) has contributed funds to the Chihshang project.
The residency program is currently in its experimental phase, available only to those invited by Chiang and the foundation. Those on the invitation list include metal artist Tseng Yung-ling (曾永玲), Paris-based Taiwanese painter Xavier Wei (魏禎宏), choreographer Lu Han-ping (魯漢平) and Lin Chuan-chu (林銓居), a painter and installation artist. After a year of trial and error, the program will be open to application next year, Ko says.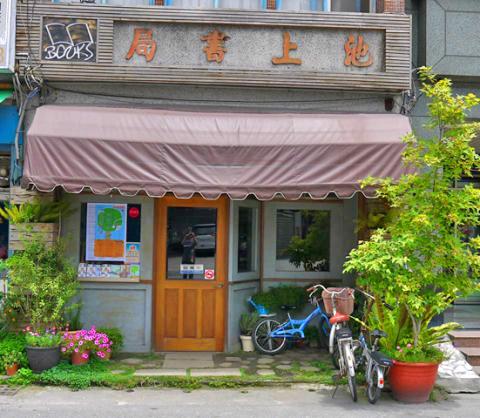 Chihshang Bookstore, a 60-year-old establishment, is struggling to survive.
Photo courtesy of Lovely Taiwan Foundation
The length of the residency will be three months — artists are not simply invited to work and live in Chihshang, but are expected to immerse themselves in the local culture and rural life as well as forming a close connection with villagers.
With Hakka people accounting for nearly half of the town's population and the Bunun (布農) and Amis (阿美) people comprising 30 percent, Chihshang has a lot more to offer than an idyllic lifestyle, Chiang says. Artists can explore an array of cultural resources such as traditional Hakka operas and folk songs, indigenous natural dyeing techniques, as well as disappearing industries such as ironware, brick kilns, silk farming and silk weaving.
Meanwhile, Chen Kuan-hua (陳冠華), architect and assistant professor at Yuan Ze University's Department of Art and Design, has been leading a team of college students in working with Chihshang locals to transform an old barn into the Duoli Rice Art Space (多力米藝術展示空間). Envisioned as a local art museum, the space currently contains an exhibition of Chihshang's history created by Chen's team and local residents.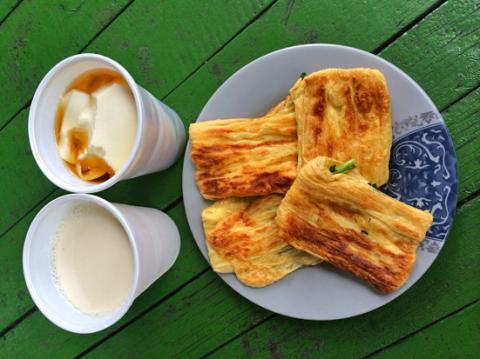 Dachih Tofu Skin Shop makes tofu skin the traditional way.
Photo courtesy of Lovely Taiwan Foundation
THE TOWN
Long noted for the rice grown in nearby rice paddies, Chihshang is blessed with plenty of other natural assets. Dapo Lake (大坡池) is an important part of local residents' childhood memories as a place for fishing and bamboo rafting. While today the area looks more like a park than a natural wetland, locals still like to stargaze and watch the morning mist rising over the lake, says local guide Chen Chiu-chu (陳秋菊).
More recently, Chihshang received national attention for a red cedar tree by a rural road winding through the town's extensive rice paddies. The tree became famous after an EVA Airways commercial portrayed Taiwanese-Japanese actor Takeshi Kaneshiro riding a bicycle along the road and stopping next to it to drink a cup of tea.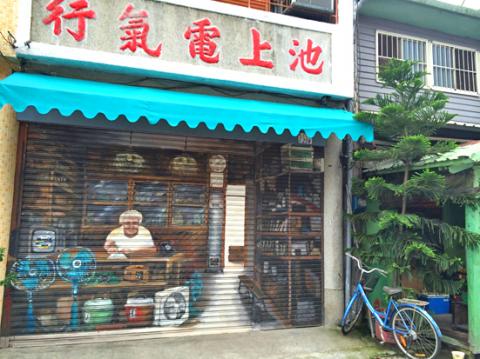 A couple of businesses in Chihshang have painted their storefronts with colorful murals.
Photo courtesy of Lovely Taiwan Foundation
It was dubbed the "Takeshi Kaneshiro Tree," and attracted swarms of tourists. Traffic is now banned on the road running alongside the red cedar so that tourist vehicles won't disrupt agricultural activities.
To Chen, protecting the environment and local way of life is far more important than uncontrolled tourism.
"We locals are quite self-disciplinary. Even with so many tourists, there is not a single street vendor in sight," she says.
Chihshang's residents are persistant in doing what they believe is good for their town. Chen, for example, taught herself to make soap using local, natural ingredients, which she sells at her shop, Soapohlala (秋菊皂坊). A 60-year-old establishment, Chihshang Bookstore (池上書局) has struggled to maintain its dwindling client base. Fortunately, several writers, including Chiang, Kevin Tsai (蔡康永) and Hou Wen-yung (侯文詠), have come to its assistance by providing their books and other items from their collections. At the bookstore, visitors are welcome to take a break and read a book while having a cup of homemade coffee.
LOCAL GOODIES
A trip to Chihshang isn't complete without tasting the town's street food and specialties. For tofu lovers, a must-visit spot is Dachih Tofu Skin Shop (大池豆皮店), a 40-year-old establishment which still makes tofu skin the traditional way. On the other side of town, Fuyuan Tofu (福原豆腐) is known for its crispy fried tofu and tofu pudding (豆花). Meanwhile, Chipen Rice Meatball (吉本肉圓) specializes in meatballs wrapped in sticky rice.
For refreshments, visitors can head to Tianweijia (田味家), noted for its almond tea and traditional Hakka sweet mochi (麻糬). Close to the train station, Buda Banai (曬穀場) is a cozy coffee shop known for its cake, which goes well with its signature mulberry leaf tea.
For serious diners, Mei's Hakka Kitchen (翠華小館) is a popular spot for Hakka-style home cooking. But Chihshang's most famous specialty is its biandang, available in several shops located on a short street outside the train station. The history of Chihshang's biandang dates back to the Japanese colonial era when locals started selling boxed meals on the railway platform to weary travelers.
Comments will be moderated. Keep comments relevant to the article. Remarks containing abusive and obscene language, personal attacks of any kind or promotion will be removed and the user banned. Final decision will be at the discretion of the Taipei Times.