Taipei Watcher: Election time
Where the contenders for Taipei mayor stand on gay marriage
On Aug. 1, 28 same-sex couples attempted to register their marriages at Taipei's Zhongzheng Household Registration Office (中正區戶政事務所) on the eve of Chinese Valentine's Day. And to no surprise, the office rejected their marriage registrations, because same-sex marriage is not yet allowed in Taiwan.
In response, the Taiwan Alliance to Promote Civil Partnership Rights (TAPCPR, 伴侶盟) emphasized that the right to marriage is a basic human right protected by the Constitution. "The nation cannot and shall not deprive same-sex couples of their right to get married," said the alliance, which organized the group registration.
The rejection is a reminder of the Legislative Yuan's delay in putting the draft bill for marriage equality (婚姻平權草案) on its agenda. Last year, seven opposition legislators jointly proposed the draft bill to amend the Civil Code. But Chinese Nationalist Party (KMT) legislators Liao Cheng-ching (廖正井) and Lu Hsueh-chang (呂學樟) — co-chairs of the legislature's Judiciary and Organic Laws and Statutes Committee (司法及法制委員會) — have not scheduled meetings to review it to this day, and they seem to have no intention of doing so. Liao even signed a petition against the amendment and threatened to block it at the KMT's Central Standing Committee meeting. This dereliction of duty is absolutely unacceptable.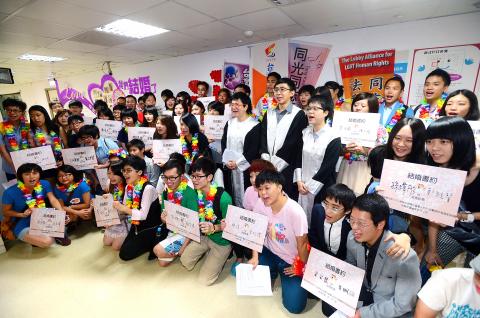 On Aug. 1, 28 same-sex couples attempted to register their marriages at Taipei's Zhongzheng Household Registration Office on the eve of Chinese Valentine's Day.
Photo: Wang Yi-sung, Taipei Times
As the year-end elections are only three months away, perhaps it is a good time for us to examine some major candidates' stances on marriage equality. Take the Taipei mayoral hopefuls for example. Thwarted primary candidate Ting Shou-chung (丁守中) of the KMT is the most hostile to the lesbian, gay, bisexual and transgender (LGBT) community. As vice president of the Buddha's Light International Association, ROC (國際佛光會中華總會), Ting actively participated in a large anti-gay demonstration in November last year and gave a speech at the rally against same-sex marriage.
"We respect homosexuals, but exceptions should not become the norm," said Ting before the anti-gay demonstration.
"The amendment to the Civil Code will destroy family ethics, and such a threat to Taiwan's traditional family values is intolerable," the lawmaker added, pledging to make all efforts to block the draft bill.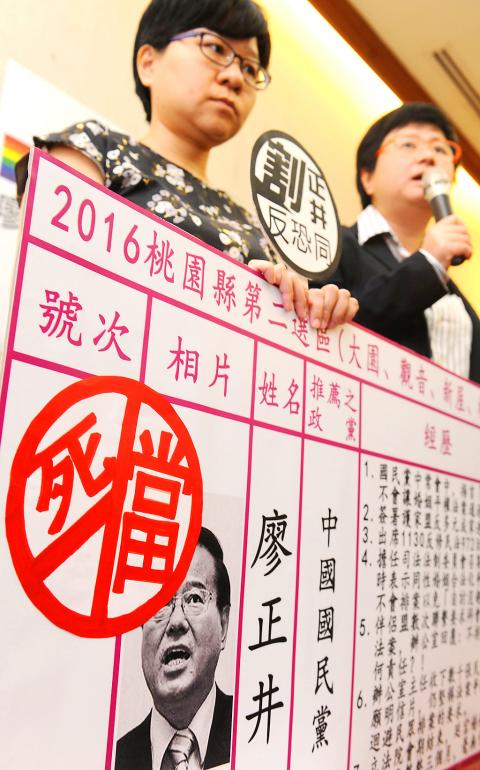 The Taiwan Alliance to Promote Civil Partnership Rights holds a press conference on May 29 to urge the public to recall Chinese Nationalist Party Legislator Liao Cheng-ching for his dereliction of duty.
Photo: Chang Chia-ming, Taipei Times
Ironically, he repeatedly stressed in his campaign advertisements that he was a candidate with an "international view" because he obtained a PhD from Tufts University in the US. Is he unaware that Massachusetts, where the school is located, was the first US state to issue marriage licenses to same-sex couples over a decade ago? Did he learn nothing from the state?
The LGBT community was initially relieved when Ting was defeated by former Taipei EasyCard Corp (悠遊卡公司) chairman Sean Lien (連勝文) in the KMT's primary. Lien has said that he is strongly opposed to any discrimination against homosexuals and that the legalization of same-sex marriage is up for discussion, but he has refused to support gay marriage to this day and his logic sounds odd to me. Isn't the deprivation of certain people's marriage rights based on their sexual orientation a kind of discrimination? That being so, shouldn't he support marriage equality because he is strongly opposed to any discrimination?
Actually, Lien has repeatedly refused to receive representatives of the Taiwan International Association for Gay Rights (同權會) and other LGBT groups ever since he was nominated in April, but he has been shaking hands with religious leaders notorious for their oppression of homosexuality. During a live question-and-answer campaign event on Facebook earlier this month, he intentionally skipped all the questions about marriage equality proposed by netizens. How long will he continue to avoid the issue?
Meanwhile, independent candidate Neil Peng (馮光遠) is the friendliest to the LGBT community. Peng is a co-scriptwriter of director Ang Lee's (李安) 1993 film, The Wedding Banquet (喜宴), the first mainstream gay movie in Taiwan. Soon after social group Watchout (沃草) called on all the candidates to express their views on marriage equality, he was the first to show support.
"I always take actions to support marriage equality and even served as a chief witness at a wedding ceremony for a gay couple on Feb. 28 this year," Peng said, promising to keep participating in Taipei's gay parade every year, revise school textbooks to increase students' understanding of the issue and lobby the legislature to pass the draft bill promptly.
As for independent candidate Ko Wen-je (柯文哲), who is backed by the Democratic Progressive Party (DPP), he drew some criticism at first.
On Feb. 8, Ko told the Storm Media Group (風傳媒) that he planned to cast an "invalid vote" (廢票) on marriage equality, claiming that the law already covered most of the rights of gays and lesbians. The physician also used the contentious and pejorative word "mutation" (突變) to describe them, instead of the word "variation" (變異) that is commonly used. But Ko quickly learned from the LGBT community and made a U-turn on the issue. When attending a music festival held to mark the 228 Incident three weeks later, he walked to the stand of the TAPCPR at the event to show his support for marriage equality and signed a postcard at the stand to urge the legislature to put the draft bill on its agenda soon.
Interestingly, DPP Chairwoman Tsai Ing-wen (蔡英文) also attended the event and showed her support. As she wrote on a postcard, "To legislators: Please support the draft bill for marriage equality, and put it on your agenda for discussion as soon as possible."
Can President and KMT Chairman Ma Ying-jeou (馬英九) and Lien learn from Tsai and Ko in a timely manner before the Nov. 29 elections? Let's wait and see.
Comments will be moderated. Keep comments relevant to the article. Remarks containing abusive and obscene language, personal attacks of any kind or promotion will be removed and the user banned. Final decision will be at the discretion of the Taipei Times.