Tea trade
Oollo Tea, which opened last year, sells hand-rolled tea leaves sourced from micro farms from throughout Taiwan
Operating in the back of a small fabric shop in Vancouver, tea connoisseur Jenny Lo (羅靖茵) opens a bottle of cold oolong tea made from leaves sourced from Taiwanese farmers, whose tea would have never found a fair market overseas.
While visiting Taiwan, Lo remembers sitting around her grandfather's large, heavyset tea table with collections of cups and kettles for steeping while he taught her about different aromas and how to tell the difference between tea varieties.
Inspired by her family's four generation history in the Taiwanese tea business, Lo and her family launched Oollo Tea last year. The company sells hand-rolled tea leaves sourced from micro farms such as North Dongyan Mountain (北東眼山) in Nantou County and Pinglin District (坪林區) in New Taipei City.
The teas sold by Oollo Tea are cultivated in places like North Dongyan Mountain in Nantou and New Taipei City's Pinglin District.
Photo courtesy of Oollo Tea
Oollo Tea operates out of booths at festivals and special events around Vancouver. But instead of bringing teas to her customers this summer, Lo is collaborating with budding Taiwanese designers in a joint pop-up store starting next month in Vancouver's West End.
Oollo Tea proudly promotes the direct trade model which gives farmers more pay than they would receive working with dealers.
According to Fairtrade Canada, 90 per cent of the tea market in North America is controlled by seven transnational corporations. Consequently, Lo says, farmers are "struggling through the system."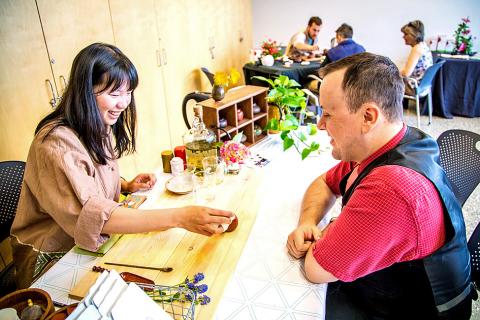 Aside from an online store Jenny Lo also introduces the teas at festivals and community events around Vancouver.
Photo courtesy of Oollo Tea
"They're really dedicated, but they're so busy making good tea, they don't have the energy to market themselves. So they're kind of pressed to sell to big corporations … they're not really being paid what I think it's worth."
Although Oollo Tea pays farmers higher prices, Lo stresses their self-regulating approach is different from the Fairtrade model which costs farmers additional money and paper work to get certified.
Tea hunter and Jenny's father Tang Lo (羅賴堂) says they negotiate prices for each batch of tea based on the temperature, season and quality at harvest time.
Tang Lo also says the farmers are supportive of young entrepreneurs who create an international platform for Taiwanese tea.
"It's enabling them to access outside Taiwan because most of them speak Mandarin and I am able to help them and be able to access the English-language market," Jenny Lo added. For more information, visit oollotea.com
Comments will be moderated. Keep comments relevant to the article. Remarks containing abusive and obscene language, personal attacks of any kind or promotion will be removed and the user banned. Final decision will be at the discretion of the Taipei Times.