In the flesh
Barbie comes alive with a new musical production that brings the iconic blonde bombshell to Taiwan
Barbie and Ken, live and in the flesh. Well, almost. Last week Chelsea Bernier and Randy Dierkes were in Taipei to promote the musical Barbie Live!, a touring show that brings the Mattel character to the stage for the first time. The show, which is currently touring in Indonesia, will come to Taiwan in January to play 15 shows in Taipei, Hsinchu and Greater Kaohsiung, opening at the Taipei International Convention Center (台北國際會議中心) on Jan. 3.
The Barbie doll was launched in 1959 and as one of the world's best-selling dolls, has been part of many children's childhood. Barbie's animated movies have been a major aspect of building the brand, linking Barbie with contemporary music and literary classics, and Barbie Live! will draw on some aspects of the most popular movies, particularly Swan Lake and Barbie: The Princess and the Pop Star (loosely based on Mark Twain's The Prince and the Pauper). These will be known by fans of the copious Barbie animation output (a total of 25 feature films, a minor role in Toy Story 2 and 3 and numerous other celebrity appearances).
POSITIVE MESSAGE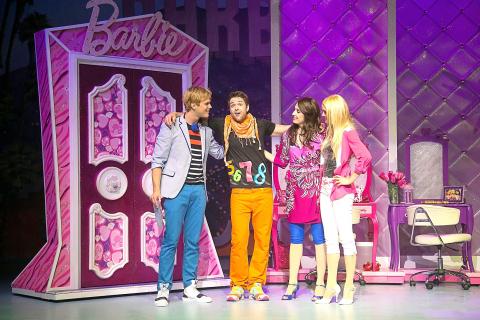 Barbie Live! follows Barbie and her friend Teresa on a journey through some of Barbie's best-known movies.
Photo courtesy of Kham
Speaking with Bernier and Dierkes last week, it was hard not to think that I had not already fallen into Barbie World, so committed to the show were the two stars.
Bernier, slim, blond and blue-eyed could easily have been Barbie even out of costume, and her enthusiasm for the positive message about "being strong, being yourself and embracing the power of friendship" was infectious.
The power of the Barbie brand has at various times received the ultimate marketing accolade of both generating controversy and being lampooned. Bernier said that performing around Asia since the Singapore premiere in September, the response to the show had been very positive. "We haven't had any negativity, and I think that is because we do speak a positive message in the show, and that is really where the emphasis is."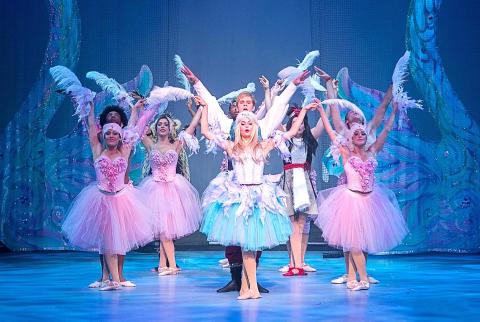 Barbie Live! follows Barbie and her friend Teresa on a journey through some of Barbie's best-known movies.
Photo courtesy of Kham
Dierkes added that producers had emphasized the personalities of the cast to make sure the show was not "just about our appearance, but our inner beauty as well."
Those familiar with the Barbie animated movies will have a pretty good idea about the tone of the show, which is very different from that of child-oriented shows created by many Taiwan's theater companies. Bernier said that while it was a show for children, it "wasn't a children's show," and its overall staging puts it much closer to being a fully-fledged musical than purely children's entertainment.
Stage manager and resident director Pip Loth said that Barbie Live! was to some extent drawing on the resurgence of musicals for teens and tweens that has been spearheaded by the success of shows such as Glee. This is a subgenre that takes its inspiration from pop culture, differentiating it from the more operatic tone of musicals by Andrew Lloyd Webber and others.
Among the musical numbers, there is a mix of material taken from the Barbie movies and original music by Robbie Roth, the composer for the Flashdance soundtrack, which incorporates a wide range of musical styles.
"The story takes place on a Hollywood soundstage where Barbie and her best friend Teresa are filming a brand-new movie musical and Teresa is not feeling so confident in her theatrical abilities so Barbie takes her through a journey through Swan Lake, Mariposa and the Fairy Princess and Princess and the Pop Star. These are some of the movies Barbie has starred in and it has female characters who go through a journey and learn about themselves. And through hearing about their stories, Barbie teaches Teresa to be brave and be confident and be herself," Bernier said, summarizing the show.
Drifting from the main story into recognizable elements of the movies is one of the highlights of Barbie Live!.
"The stage design by Stanley Meyer (who has created stage designs for the likes of Alice Cooper and Cyndi Lauper) allows the story to flow from a Hollywood soundstage into these dream sequences (that play out elements from the DVDs)," Bernier said.
Dialogue for the stage show will be dubbed in Mandarin, but songs will be sung directly by the cast. There are sections when the cast interact with the audience, and Bernier said that with each new country she learns a small number of lines in the local language so that she can interact with the audience. So far her greatest challenge has been with Thai.
Barbie Live! will perform seven shows between Jan. 3 and Jan. 5 at the Taipei International Convention Center, followed by two shows (Jan. 8 and Jan. 9) at the Performance Hall of Hsinchu City's Bureau of Cultural Affairs (新竹市文化局演藝廳) and six shows at the Kaohsiung Cultural Center (Jan. 11 and Jan. 12). Tickets are NT$500 to NT$2,000 and are available through at www.kham.com.tw or through 7-Eleven, Hi-Life and OK-Mart convenience store ticketing systems.
Comments will be moderated. Keep comments relevant to the article. Remarks containing abusive and obscene language, personal attacks of any kind or promotion will be removed and the user banned. Final decision will be at the discretion of the Taipei Times.