All in the family
In the same family for three generations, the Lien-Cheng Saxophone Company may have to close up shop as it struggles to find a new generation of saxophone makers
Chang Tsung-yao's (張宗瑤) future was pretty much determined at the moment of birth. When it came time for the Taiwanese custom of sitting the four-month-old in front of several objects so that he might choose his own destiny, there was actually only one item placed before him.
"My grandfather made me grab a saxophone," quips Chang. "They even took photos as proof."
Asked if he ever considered doing anything else his reply is quick, and alludes to a deep sense of family loyalty as well as a hefty set of expectations placed on his shoulders. "Not a chance," he states. "My father wouldn't allow it."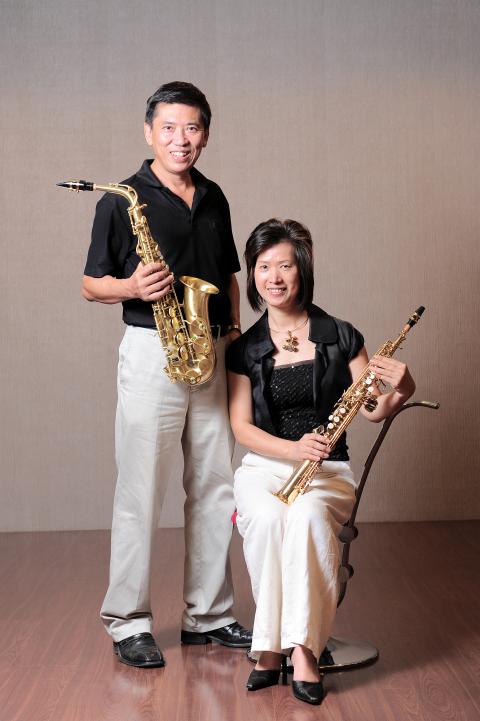 Chang Tsung-yao, left, and Wang Tsai-jun run Lien-Chang Saxophone Company.
Photo courtesy of Lien-Cheng Saxophone Company
Chang Tsung-yao is the third generation of the Chang family to take over Lien-Cheng Saxophone Company (張連昌薩克斯風), a business that his grandfather started nearly 70 years ago.
BUILDING FROM SCRATCH
Chang Lien-cheng (張連昌), Chang Tsung-yao's grandfather, built his first saxophone in the mid-1940s. His work was based on the design of a Japanese sax, that of a friend whom he played in a jazz ensemble with. When the Japanese instrument was rendered unplayable by a house fire, the Chang patriarch decided to rebuild it out of bare necessity — no one in the group could afford to buy a new one, and without a saxophone the band's continued existence looked grim.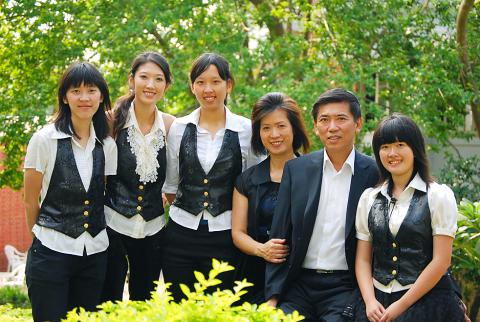 Chang Tsung-yao and Wang Tsai-jun are pictured with their four daughters, who are set to take over the company.
Photo courtesy of Lien-Cheng Saxophone Company
The process of restoring the damaged saxophone took three years of painstaking work. Chang Lien-cheng was blinded in one eye by a flying piece of metal at one point, and had to put the saxophone together using scrap materials. But the finished product eventually sold for a price that was enough to bankroll the start of the company.
Though it got off to a fairly auspicious start, the company has gone through its share of ups and downs over the years. The 1980s saw several Taiwanese instrument manufacturers pull up stakes and relocate to China for its lower production costs.
MADE IN TAIWAN
The Lien-Cheng Saxophone Company was one of the few that remained in Taiwan, and transformed itself from making saxophones purely for other well-known brands from overseas to promoting its own unique made-in-Taiwan brand.
The company also held to its family-run business ideals, choosing to keep day-to-day operations entirely within the Chang clan. This came to include Chang Tsung-yao's wife, Wang Tsai-jui (王彩蕊), who now manages the business alongside her husband. For Wang, it was a steep learning curve.
"I started out knowing nothing about [the company] and became an expert," Wang says proudly. "I've learned everything from manufacturing to promoting and selling."
But not everyone is so eager to take up the trade with the same enthusiasm that Wang and Chang Tsung-yao have displayed — a fact which could bode ill for the future of the business.
TRICKS OF THE TRADE
Whereas Chang Tsung-yao has become an authority on manufacturing and assembling each of a saxophone's 400-odd parts, he says that young people today are less willing to enter into an apprenticeship that sees them start at the bottom and work their way up slowly as he was made to by his father.
"Most of the young people nowadays don't like to do factory work," he says. "But making saxophones requires high-level skills to achieve the elegant look and beautiful sound."
Fortunately for the company, Chang and Wang have four daughters anxious to help out. These up-and-coming executives have not only embraced the business end of the family heritage, but the artistic side as well.
OLD HABITS DIE HARD
Each plays a different variety of saxophone, and they perform together as a quartet. But according to their father, he still has a bottom line to consider, and although he respects his daughters' abilities, he says he owes it to his grandfather's legacy to do what is best for the business. So will the company, which has been passed down for generations from father to son, eventually be taken over by one of Chang Tsung-yao's daughters?
The second-youngest of the four, Chang Yu-fang (張瑜峰), has no reservations about continuing the family business.
"I grew up surrounded by the music of the saxophone, and the sounds of making saxophones," she says. "It's the most familiar sound and the most comfortable environment for me, so I will take over my father's business one day."
Comments will be moderated. Keep comments relevant to the article. Remarks containing abusive and obscene language, personal attacks of any kind or promotion will be removed and the user banned. Final decision will be at the discretion of the Taipei Times.