The Vinyl Word
In the superstar DJ blogosphere, there is a war of words brewing between vinyl-oriented DJs and the so-called button pushers who mostly use their computers to play music. A month ago, one of electronic music's biggest artists, deadmau5, threw the gauntlet down with an entry on his Tumblr account entitled "we all press play." He stated that people don't care where the sound comes from and that he plays pre-mixed tracks so that his music and visuals will sync to give audiences the most gripping experience. Last week, producer and turntablist extraordinaire, A-Trak weighed in on the controversy on the Huffington Post. His opinion was much different since he grew up going to stores and actively searching out records that would blow people's minds. Tomorrow night, Themba Child is having an art show at Revolver called Baker's Dozen that is billed as a celebration of vinyl with a crateful of Taiwan's top collectors — Vicar, Twohands, and Charles — spinning their collections.
Child believes that button pushers are passable, but he prefers the sound of the needle dropping onto the record. "I grew up only going to shows where the DJs would mix live and put together an original set that plays to the crowd. Every DJ would take personal pride in having rare and unique music, as well as in showcasing their skills," he said in an email interview with the Taipei Times.
"Since there are fewer and fewer all-vinyl shows around, I feel that the new generation is heading for a less personal vibe. DJs have always had a special spot in my clubbing history, and in my mind nobody should be called a DJ unless they have the foundation to prove it."
Twohands will have to be careful carrying all his vinyl records this Saturday night.
Photo courtesy of Joe Russo
As an avid record collector and all around vinyl junkie, DJ Twohands (birth name Daniel Lambert) agrees with Child's sentiment. "I grew up with vinyl. I like the way you manipulate it. I love the scratches and the gritty sound you can get from it. I don't wish for vinyl-only deejaying, though, as I injured my back recently and that might have ended my career," he said jokingly in an email exchange.
With the mainstream acceptance of Scratch Live, Traktor, and Ableton, DJs nowadays can learn how to mix, beat match and scratch without ever having smelled the dusty corners of thrift stores where low-priced records can be found.
"Times they are a-changin'," said Twohands. "There are definitely more DJs these days. Hence, there are more good DJs and a whole bunch of wack ones. I hope there will always be a place for vinyl DJs. It really comes down to simple supply and demand. If the kids still want it, there are still some great vinyl DJs who will supply it."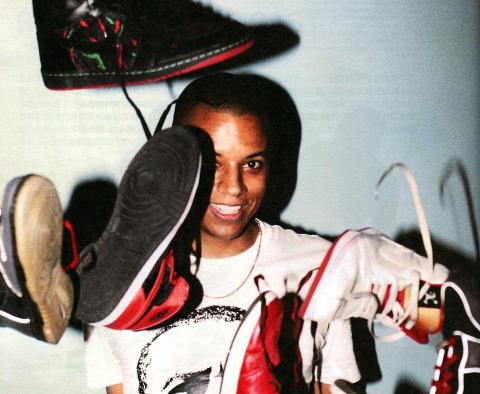 Themba Child and some of his Air Jordan collection.
Photo courtesy of Themba Child
After Child's eighth art show in January, he was trying to figure out what theme he could do next and came up with donuts.
"I heard a friend of mine tell me that when J-Dilla (hip-hop producer) made his album Donuts he was referring to vinyl records," said Child. "So I started thinking that it would be cool if there was a chocolate donut that had green and red sprinkles to represent the colors of A Tribe Called Quest, and from there the whole idea just blossomed into a whole show. I decided that vinyl would be the perfect way to link the theme of the artwork with the party aspect of our event."
Child's art is a spirited mixture of 1980s and 1990s pop culture goofiness, golden era hip-hop references, and anything related to Air Jordans. For Baker's Dozen, he has tried to push his own artistic boundaries.
"I am making a conscious effort to plant many seeds in my head and see what grows. So far I am quite happy with where it's leading me," Child said. "I also wanted to work with different mediums. My previous shows have centered mainly around watercolor paintings, so for this show I got out of my comfort zone and challenged myself by using oil paint. I have also added some non-painting work to this show such as T-shirts and graphic design work that I think people will enjoy."
Bulletproof Toast presents Baker's Dozen Art Show with DJ Twohands, Vicar, and Charles is tomorrow night at Revolver from 10pm to 4am, 1-2, Roosevelt Rd Sec 1, Taipei City (台北市羅斯福路一段1-2號). Admission is NT$300, which includes a drink.
Comments will be moderated. Keep comments relevant to the article. Remarks containing abusive and obscene language, personal attacks of any kind or promotion will be removed and the user banned. Final decision will be at the discretion of the Taipei Times.