Pop Stop
The media has been closely following the trials and tribulations of Taiwanese baseball sensation Wang Chien-ming (王建民), who last week became the center of attention after revelations surfaced that he had an extramarital affair with an Asian American woman two years ago. Efforts to give the story legs have been largely unsuccessful, as Wang's wife, Wu Chia-ling (吳嘉姈), though keeping a low profile, is said to have forgiven him this transgression. Rumors that Wang may have been the victim of blackmail sparked interest for a while, putting the spotlight on Cyndi Cho, Wang's erstwhile lover.
This week, Next Magazine published a report dealing with Cho's side of the story, and concluded, "after interviews with the principals and extensive investigation," that Cho is innocent of any wrongdoing.
The affair came to light after the publication of photos of Wang together with Cho taken when the pitcher was recovering from a shoulder injury in 2009.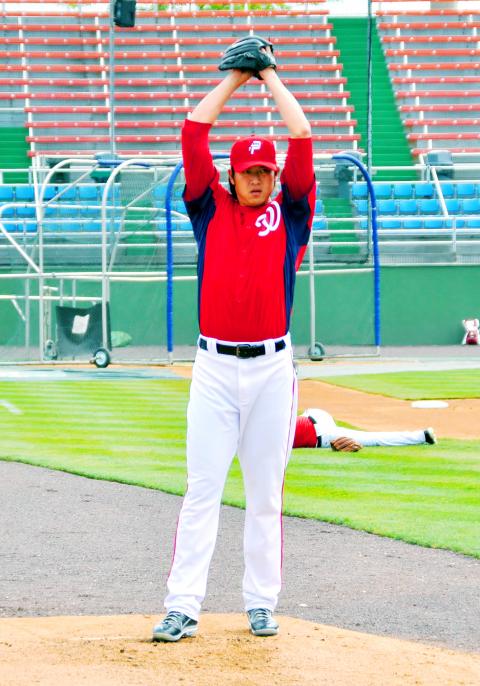 Wang Chien-ming is in scoring position.
Photo: Taipei Times
According to the report, Cho had in fact used the publicizing of photos on her cellphone as a threat when seeking to maintain a relationship that Wang was trying to break off. It added that the leaked photos did come from Cho's cellphone, but that this phone had been lost and Cho was not the person who tried to sell the photos to the media. Cho said she had never extorted money from Wang, though he had always been generous in his gifts of jewelry and designer fashion accessories.
There remain suspicions that the person who leaked the photos was someone close to Cho, or who was familiar with her background. Next revealed that the blackmailer had originally sought a payoff from Wang of US$180,000 (approximately NT$5.24 million), but having been refused, had hawked the pics to media outlets for US$10,000 (NT$290,000). Cho is quoted in the magazine as saying that she felt Wang was both a "good man and a good father to his son." That and other positive aspects of Wang's acceptance of blame and apology seem to have ensured that he will emerge from this crisis unscathed.
Pop star Edison Chen (陳冠希) is still hurting from the effects of his sex scandal. It is hard to believe that it is nearly three years since graphic details of his sexual exploits with a number of celebrities, some married, hit the Net. Since then, Chen has been in the wilderness, trying every possible means to get back into the charmed circle of Asian celebrity life from which he was expelled for his impropriety. He is not without strong supporters, including Taiwan's pop superstar Jay Chou (周杰倫) and Hong Kong singer Sammi Cheng (鄭秀文). He is now hanging on the skirt of Lady Gaga, who is visiting the region for her sellout Born This Way Ball tour, posting photos of himself with the pop star.
"You see, I consort with the biggest stars in the business," he seems to be saying to anyone who will listen. Unfortunately, he still seems a long way from being welcomed back as a prodigal son.
Another person who seems unable to stay out of the media is TV entertainer Frankie Kao (高凌風). His separation from his third wife Chin Yu-chuang (金友莊) kept entertainment editors busy until February, after which Kao has been relatively quiet. Last week, he burst onto the pages of the gossip rags once again after announcing to media in China that since February he has had two one-night stands, and talking expansively about the profound impact of these encounters. When subsequently contacted by the China Times for confirmation, Kao denied these exploits, saying that he thought the Chinese media would be too conservative to print this material and he had made up the encounters so he would not look like he had lost his virility. Whether they are true or not, the whole affair seems to suggest that Kao is losing his grip. The situation is given an ironic twist by the fact that Kao is in China as a regular guest of the dating show whose title translates as Mad About Marriage (結婚也瘋狂).
Ukrainian-born model and wannabe actress Larisa Angela Bakurova (瑞莎) may not be making a huge impact in her professions of choice, but her active love life has certainly drawn media attention. Next Magazine's intrepid paparazzi have been on her heels and have come up trumps as they caught her getting it on with former boyfriend Jiro Wang (汪東城) after seeing current boyfriend Mike off in the morning of the same day. Bakurova has no scruples about playing the field, and why should she: the boys are fair game.
Comments will be moderated. Keep comments relevant to the article. Remarks containing abusive and obscene language, personal attacks of any kind or promotion will be removed and the user banned. Final decision will be at the discretion of the Taipei Times.