Restaurant review: Addiction Aquatic Development (上引水產)
The fish market located on Taipei's Minzu East Road, close to the intersection with Jianguo North Road, has long been popular with foodies seeking quality seafood. But the cooked food section, a rather grubby, haphazard affair, was a letdown.
This is about to change as management of a large swath of the market has been handed to the Mitsui Food and Beverage Enterprise Group (三井餐飲事業集團), which operates a number of top Japanese restaurants across town. The company's first move was to open Addiction Aquatic Development, a sophisticated sushi and Japanese grill restaurant that mixes high-end styling with an edgy marketplace atmosphere.
The first thing that visitors are likely to notice is that the sushi bar does not provide seating. (The grill section has seating located outside, under a high awning.) This is a bold move, but one that clearly works. Arriving for lunch at 3pm on a weekday, the bar was still over three-quarters full, and no one seemed in any hurry to leave.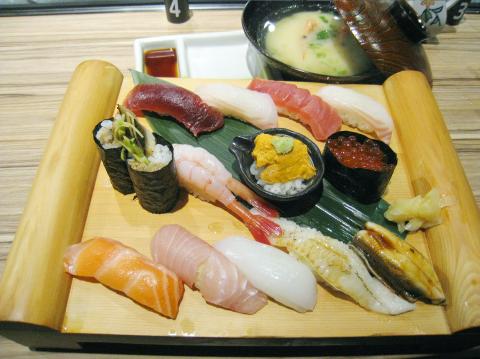 The nigiri selection provides a great introduction to the wide variety of seafood nigiri that Addiction Aquatic Development has to offer.
Photo: Ian Bartholomew, Taipei Times
For anyone not familiar with the arcana of raw fish cuisine, the restaurant's selection could easily be overwhelming.
If ordering your own nigiri (raw fish on rice) platter is too much of an ordeal, the special nigiri selection (特選握壽司, NT$600) is highly recommended. It consists of around 14 pieces and is a perfect introduction to what Addiction Aquatic Development has to offer.
The nigiri platter can be ordered with a variety of other menu options, including items from the grill. (In the sushi section, grilled items are cooked in the kitchen, but in the grill section, diners have their own super-heated stones on which to cook their selection.)
A charcoal grilled medium-sized rosy sea bass with salt (中紅喉鹽燒, NT$200) was a finally judged piece of work: tender, juicy, flavorsome and perfectly seasoned. The low-end Pacific saury prepared in the same fashion (秋刀魚鹽燒, NT$50) revealed that the kitchen has as an assured touch with cheap fish as it does with the more refined types.
Nigiri takes pride of place at the sushi bar, and it is worth noting that Mitsui has brought in an award-winning nigiri chef from Japan to oversee operations. The style of nigiri served at Addiction Aquatic Development, which favors large pieces of fish over a very small dab of rice, is described as being rather "macho" (男子漢氣魄的握壽司) by food writer Wang Ray-yau (王瑞瑤). Fishy flavors are allowed a pretty free rein. I found the salmon roe and sea urchin to be particularly fine. While there might be some room for argument about the exact ranking of Addiction Aquatic Development in Taipei, a city with many outstanding Japanese restaurants, the general agreement on the Web is that the price-to-quality ratio is admirable.
Service was adequate but a ridiculous system by which you need to pay with each new order seriously disrupts the natural rhythm of dining. I ended up with four separate checks, as I added to my order when I saw or tasted something that took my fancy.
Friends visiting during the lunchtime rush experienced mistakes in their orders and long delays in delivery. The use of particularly low-quality, disposable chopsticks also seems an unnecessary concession to the street, especially when few diners would be paying less than NT$500 for their meal, with many forking out considerably more.
A variety of sakes is available, though nothing of any exceptional quality can be found on the menu. This is aggravating given that the supermarket section just outside the restaurant (where various Japanese culinary materials and raw and frozen seafood is available) stocks a fine selection.
Many Web sites show the restaurant as opening until 9pm, but according to staff, during the soft opening currently in effect, both sushi and grill segments will only open until 5pm.
Publication Notes
Addiction Aquatic Development (上引水產)
Address: 18, Alley 2, Ln 410, Minzu E Rd, Taipei City (台北市民族東路410巷2弄18號)
Telephone: (02) 2508-1268
Open: 10am to 5pm (sushi), 11am to 5pm (grill)
Average meal: NT$600 and up
Details: Cash only, Chinese menu
Comments will be moderated. Keep comments relevant to the article. Remarks containing abusive and obscene language, personal attacks of any kind or promotion will be removed and the user banned. Final decision will be at the discretion of the Taipei Times.