Pop Stop
This week's gossip rags were filled with the unusual trio of marital woes, adultery and a turd on a table. Yes, we said turd on a table. But first, the meltdown of Cecilia Cheung (張柏芝) and Nicholas Tse's (謝霆鋒) marriage continues to make headlines, with reports that the couple-turned-enemies finally confronted each other after a two-month separation.
The meeting took place at Cheung's home in Hong Kong on Friday last week. Tse reportedly spent much of the 90-minute rendezvous playing with his two sons, whom the star had not seen for more than 50 days, while engaging in sporadic exchanges with Cheung. Gossipers opined that despite its peaceful appearance, the meeting demonstrated the pair's unwillingness to communicate.
Some Chinese-language media have reported that Tse and Cheung have agreed to share joint custody of their two small children, while others claim Tse is determined to fight for sole custody after one of the kids screamed that he wanted to come home with daddy during the actor's visit.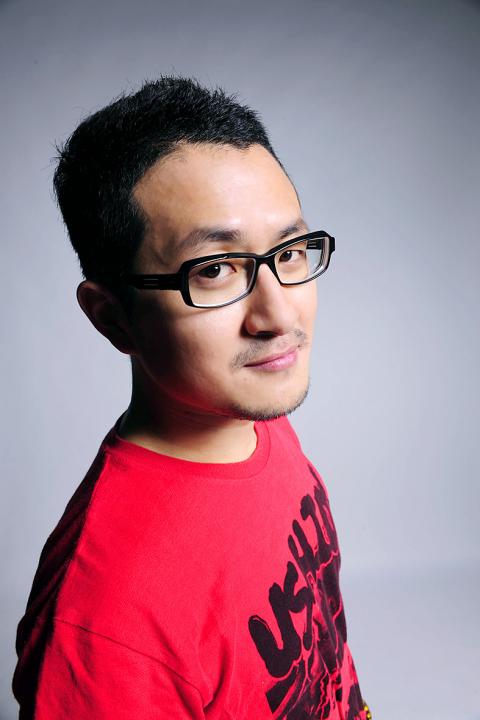 Jiubadao is dumping for joy.
Photo: Taipei Times
The Apple Daily provided a financial angle on the dispute, speculating that Tse's NT$2.2 billion fortune has shrunk significantly because Cheung has transferred a large amount of savings and real estate to her name over the past two months.
The Liberty Times (the Taipei Times' sister newspaper) focused on their domestic arrangements, reporting that Cheung trusted her two children and mansion to her siblings and flew back to China after the meeting to shoot a television drama. On the husband's side, Tse's family is reportedly trying to dig up dirt by hiring a private detective who once served as an FBI agent.
The ongoing saga wouldn't be complete without a mention of Edison Chen (陳冠希), now regarded as the "last straw in the marriage of Tse and Cheung" after the "airplane incident" (機上事件), which refers to a chance encounter between ex-lovers Chen and Cheung on a flight in May.
In town last week for the Taipei Toy Festival, Chen refused to answer tasteful questions from the local media such as, "Do you think Lucas [Cheung's first son] looks like you?" and "Will you pursue Cheung after she divorces?"
In other marital news, former model Flora Sun (孫正華) has chosen to forgive her billionaire husband Miao Hua-pin (苗華斌), the heir to electronics company MiTAC (神通集團), after Miao admitted that in 2009 he had a sexual relationship with another woman, possibly resulting in a love child.
Sun filed a suit against the mistress, Liu Weixin (劉韋欣), after Next Magazine published an expose about the affair. The wife recently told the Liberty Times that she believes Liu is involved in an elaborate blackmail scam and only after Miao's money.
As for Liu, the paramour insisted that her baby is Miao's daughter and said that she was willing to prove it in court.
Yes, love stinks, but not as bad as the tabletop monkey-tail promised above. Best-selling writer Jiubadao (九把刀 or "Nine Knives," real name Giddens Ko, 柯景騰) has taken the director's seat for his feature debut You Are the Apple of My Eye (那些年,我們ㄧ起追的女孩), which is slated to hit the big screen next month. The novice filmmaker has reportedly worked hard on the film, so when it ran into trouble with the Government Information Office (GIO, 新聞局) over a masturbation scene, Jiubadao made a "pledge to God" that if the movie received a PG rating instead of an R, he would "take a dump on producer Argie Chai's (柴智屏) desk," according to a Liberty Times report. (A PG rating bans viewers under 12 and requires those under 18 to be accompanied by an adult, while only people aged 18 or older are allowed to view R-rated films.)
Why the director thought God would be interested in him having a bowel movement on someone's furniture is unclear.
Nevertheless, the GIO rated the movie PG and Jiubadao made good on his promise.
Chai reportedly found Jiubadao's behavior "kind of cute."
Comments will be moderated. Keep comments relevant to the article. Remarks containing abusive and obscene language, personal attacks of any kind or promotion will be removed and the user banned. Final decision will be at the discretion of the Taipei Times.