Pop Stop
Hong Kong pop diva Sammi Cheng (鄭秀文) and Canto-pop heartthrob Andy Hui (許志安) are back together, but despite the media's excitement, their future together is far from certain. The two singers have had an on-and-off relationship since the mid-1990s, and most recently split up in 2004.
Still, Hui was looking "radiant with happiness," according to the Apple Daily, as he confirmed the rekindled romance to reporters earlier this week during a press conference held to promote an upcoming concert.
The announcement came days after the Apple Daily's photographers in Hong Kong spotted the pair in a cafe enjoying a "romantic" afternoon tea.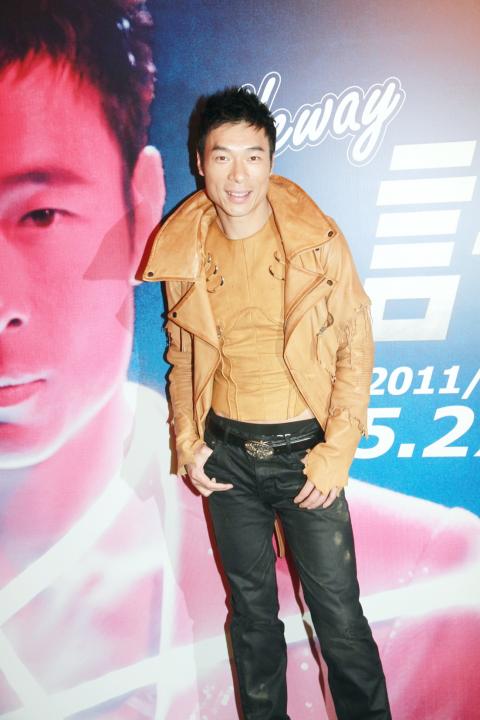 If at first he doesn't succeed, Andy Hui tries, tries and tries again.
Photo: Taipei Times
"She and I have recently come to an understanding," Apple quoted Hui as saying. "We have come to an agreement to let everyone know that we are back together, and are getting to know each other again."
Cheng, on the other hand, remained tight-lipped despite being hounded by reporters. Instead, she posted an essay on her microblog at t.sina.com.cn (新浪微博), the Twitter of the Chinese-speaking world, in which she confirmed the two were starting over, but said she felt wary because of the media's portrayal of their relationship as a "fairy tale" with a "perfect ending."
"I am afraid of this kind of pressure," she wrote. "I don't want a earth-shaking romance. I just want to build a normal relationship."
Cheng also complained about being bombarded with questions about when they were planning to get married (rumors have already been doing the rounds about a wedding in the south of France next year) and when they were going to start a family.
"In the past 10 years, we've only run into each other several times," she wrote, before pleading for "space" to let their new relationship to take its course.
Another public figure taking to the microblogging soapbox is Richard Chang (張承中), fiance of Selina Jen (任家萱) from popular girl band S.H.E. Chang, a 38-year-old lawyer, has gone from being the shy, reclusive boyfriend to becoming the de facto spokesman for Jen, who continues to recover from a severe burns injury sustained when an explosion scene went awry on the set of a TV series being shot in China last year.
Lately, Chang has been making a number of TV talk show appearances. During one interview several weeks ago, he accused the TV show's director Chen Ming-chang (陳銘章) of attempting to evade responsibility for the accident.
Now he's taken to the blogosphere. The China Times reported that Chang attracted nearly 20,000 followers on t.sina.com.cn soon after launching his account (t.sina.com.cn/n/Diong-Diong) last week.
"Selina's recovery has been hard, and she wanted me to start the account so we could have some fun together. I want to make her a little happier and I can also say what I want to say," he said in a television interview earlier this week.
Chang weighed in on the Taichung pub fire that killed nine people last weekend, which clearly hit home for him and his fiance. "Yet another joyous occasion unprepared for a fire," he wrote on his microblog. "At the minimum, those held responsible must face up to the authorities."
Meanwhile, Ella Chen (陳嘉樺), Jen's S.H.E bandmate, has found a new flame. The Liberty Times (the Taipei Times' sister paper) reported last week that Chen has been dating Alvin Lai (賴斯翔), a 35-year-old Malaysian marketing executive at a cosmetics company, for two months.
Chen's fans appear to be impressed, with blogs marveling over Lai's comparatively towering presence (he stands 180cm tall; she's 163cm).
"Alvin Lai is not bad compared to that other guy," the Liberty Times quoted one fan as saying. The fan might be referring to singer Tommy Chao (趙士懿), who got busted by Next Magazine (壹周刊) last year escorting a "hot chick" (辣妹) to a fancy hotel while he was reportedly dating Chen.
But Lai has already been put on notice: a large number of Chen's fans have been posting on his sina.com account, warning him to watch his step or else face their wrath.
One fan wrote, "You'd better treat [Chen] well. If you put up anything like the unfaithfulness she faced in the past, you can be sure that all of her fans will give you a severe scolding." Another fan urged Lai to be a one-girl kind of guy and forget about all of those "Malaysian models."
Comments will be moderated. Keep comments relevant to the article. Remarks containing abusive and obscene language, personal attacks of any kind or promotion will be removed and the user banned. Final decision will be at the discretion of the Taipei Times.