[ART JOURNAL]Massive public art project
Danish artist Olafur Eliasson's four mammoth waterfalls in the New York Harbor and East River will be the city's biggest public art spectacle since Christo's 'Gates'
If they pay attention to it at all, many people view the water off Manhattan's East Side as a flat, even boring expanse stretching under a series of bridges.
Not this summer.
When the spigots are turned on tomorrow, four mammoth waterfalls will spring into existence, freestanding cataracts roaring down into the East River and New York Harbor in a multimillion-US dollar engineering feat designed by Danish artist Olafur Eliasson.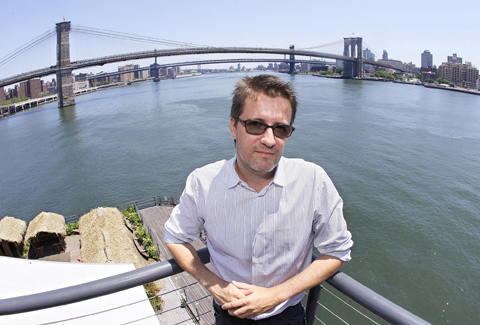 Denmark-born artist Olafur Eliasson poses at South Street Seaport overlooking the Brooklyn Bridge and the East River. Starting tomorrow Eliasson's artwork, four mammoth waterfalls, will change the Manhattan skyline. Above: An artist's rendering of one of The New York City Waterfalls, which will roar at the Brooklyn base of the Brooklyn Bridge and off Governors Island in the New York Harbor.
PHOTO: AP
"Here in New York, water is everywhere. We take the water for granted," Eliasson said in an interview. "I want to suggest — now, it's not about the land, now it's about what's between the land." The New York City Waterfalls is the city's largest public art project since 2005, when artists Christo and his wife, Jeanne-Claude, adorned 37km of Central Park's paths with thousands of saffron drapes. The artificial cascades will be up through Oct. 13.
Eliasson, 41, creates indoor weather systems that incorporate elements like temperature, moisture, aroma and light. He's best known for his 2003 tour de force, The Weather Project, which drew about 2 million people to London's Tate Modern to see a glowing sun "rise" in a gallery — an effect he created by using a mist machine, mirrors and hundreds of light bulbs.
For this project, since there are no cliffs for water to pour over, metal scaffolds provide the framework for each waterfall. A system of pumps carries water up to a trough, where it will be released in a frothy cascade — about 132,485 liters every minute for all four falls.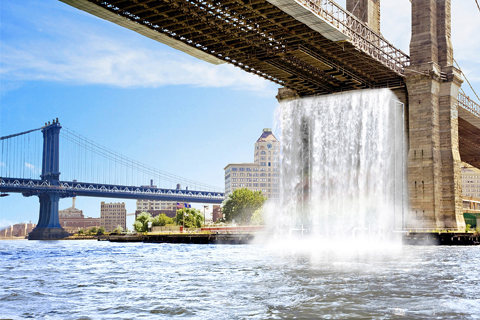 PHOTO: AP
The falls will be turned on every day from 7am to 10pm and illuminated after sunset.
They will roar off Governors Island in the harbor and into the East River at the Brooklyn base of the Brooklyn Bridge, Pier 35 near the Manhattan Bridge and off the Brooklyn Promenade. The highest will stand 36m tall, or almost the height of the Statue of Liberty, minus its pedestal.
They will be visible from the Brooklyn and Manhattan waterfronts and from the pedestrian and bike lanes on the Brooklyn Bridge.
"My work is ... about the relationship between the waterfalls, the journey around this part of town and the spectator," Eliasson said. "I want people to see something which is personal. I want them to see themselves, essentially. I'm not offended when people say 'This is not art.'" Waterfalls, which overlaps with the last days of a retrospective of Eliasson's work at New York's Museum of Modern Art, is expected to generate at least US$55 million in economic activity for the city.
"The project promises to make a big splash in our local economy by attracting thousands of sightseers to town, who will then spend money in our restaurants, hotels and stores," Mayor Michael Bloomberg said.
Hotels are advertising special packages and tourist agencies are offering bicycle and boat excursions.
More than 5 million people saw Gates, including about 1.5 million out-of-town visitors, pumping about US$254 million into the economy.
The US$15.5 million cost of Waterfalls was raised by the Public Art Fund, a private not-for-profit organization. Individuals, foundations and corporations — including Bloomberg's own media company, Bloomberg LP — donated US$13.5 million, and a state agency picked up the rest of the tab.
It's not the first time Eliasson has experimented with water. In his 1993 Beauty, he produced a rainbow in a Danish gallery by projecting light across a fine mist of water. And for a work called Green River in 2000, he poured nontoxic green dye into a river in Stockholm.
Children were included in the planning plans for Waterfalls. The Public Art Fund collaborated with the city's Department of Education to assemble study guides for teachers taking their classes to see the displays.
"Children tend to see things very different than grown-ups," Eliasson said, explaining that while adults might see a static landscape in a waterfall, a child may see it as vital and changing.
Regardless of age, Eliasson said the goal of his project was to take spectators beyond the two-dimensional postcard image of the New York skyline.
"New York is sort of the icon of the modern city. ... It's a city everybody has a view on," he said. "There's something quite challenging about trying to, let's say, shake the image that people have of this city."
Comments will be moderated. Keep comments relevant to the article. Remarks containing abusive and obscene language, personal attacks of any kind or promotion will be removed and the user banned. Final decision will be at the discretion of the Taipei Times.