[RESTAURANT REVIEW] Meet Fresh (鮮芋仙)
The recently opened Meet Fresh (鮮芋仙) franchise specializes in shaved iced, jelly and tofu desserts and drinks that it claims follow Sinetic medical ideas of "hot" and "cold" foods.
According to traditional Chinese medicine, some foods are "cold" and others are "hot." This concept is not related to temperature per se but to imbalances different kinds of food create — or remedy — in the body.
Meet Fresh's herb jelly combo (NT$50, 鮮芋仙招牌), for example, is considered to be "cold," which in general means that it is a good dish to eat during the summer, unless you are elderly or have a cold.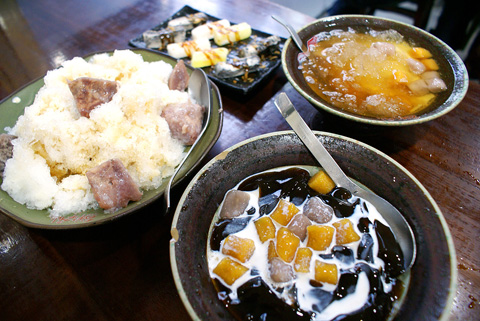 Meet Fresh is hot and cold.
PHOTO: NOAH BUCHAN, TAIPEI TIMES
The herb jelly combo layers homemade herb jelly with shaved ice, balls made from taro flour and condensed milk.
To make the dessert, herbs are boiled for at least 24 hours and then, as they cool, solidify into a jelly. Syrup is dabbled on top and the result is served in a ceramic bowl.
The specialty about this dessert, as with most of the desserts at Meet Fresh, is the combination of textures in your mouth: crunchy ice, smooth jelly, chewy taro balls.
Other desserts served at Meet Fresh include taro with milk shaved ice (NT$60, 芋頭牛奶冰), a mound of ice toped with large chunks of the purple tuber. The taro is fried with brown sugar and then steamed for at least two hours, making it sweet and crispy on the outside and soft and chewy on the inside.
The eight-piece rice dumplings (NT$50, 綜合日式Q麻糬) come in four different flavors: herb, pomelo, brown sugar and original. These "dumplings" are soft and chewy and are topped with syrup that tastes of caramel. The citrusy pomelo was especially flavorful.
Less remarkable were the homemade tofu pudding with taro balls (NT$40, 芋圓豆花), which were a tad on the bland side compared to the other desserts.
Meet Fresh also has a variety of shaved-ice fresh fruit desserts (pineapple, strawberry and mango, NT$40 to NT$130).
The desserts at Meet Fresh are generally cheaper than their competitors but don't suffer for quality as a result.
Publication Notes
Meet Fresh (鮮芋仙)
Address: Gongguan Store (公館店), 50-1, Roosevelt Rd Sec 4, Taipei City (台北市羅斯福路四段50-1號)
Telephone: (02) 2368-2137
Open: Daily from 10am to 11pm
Average meal: NT$50
Details: Chinese and English menu
On the Net: www.meetfresh.com.tw
Comments will be moderated. Keep comments relevant to the article. Remarks containing abusive and obscene language, personal attacks of any kind or promotion will be removed and the user banned. Final decision will be at the discretion of the Taipei Times.