Cross-cultural festivities set to charm southern Taiwanese
Nine giant red giraffes measuring 8m and weighing 150kg, an opera singer, a mad circus master and his sidekicks and a cannon that shoots out paper showers. These are some of the fanciful props set to parade the streets of Chiayi during the Lunar New Year holiday. This cross-cultural performing art festival, called Printemps Fracasie de Chiayi (French Spring), is a good excuse to visit the city.
Organized by Cultural Friends under the auspices of the French Cultural Bureau, the French Spring Festival is held annually in collaboration with local artists in Asian and European cities. It aims to facilitate cultural exchanges and collaborations between artists.
Celebrating its first trip to Taiwan, the festival will start on Lunar New Year's Day and will run through Lantern Festival (Feb. 7 through Feb. 21) with theatrical marvels, dance and music.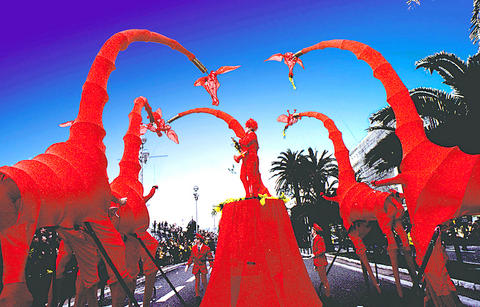 Compagnie Off will open French Spring, a performing arts festival, with street operetta Les Girafes.
PHOTO COURTESY OF BEAUTIFUL TOMORROW
Coming from France, the highly sought-after street performance troupe Compagnie Off will open the two-week festival with Les Girafes, a whimsical operetta that mixes the worlds of street carnival, circus and opera and is inhabited by the giant animals and circus shows.
A celebrated choreographer and dancer, the art director of contemporary dance troupe Beau Geste, Dominique Boivin, will retrace the story of dance by looking at Isadora Duncan, Martha Graham, Merce Cunningham and others. Full of poetry, humor and imagination, the one-man show takes place at Chiayi Performing Arts Center on Feb. 9 and Feb. 10.
From Taiwan, internationally acclaimed Han-Tang Yuefu Ensemble (漢唐樂府) takes to the stage on Feb. 16 to perform a selection of well-known nanguan (南管) music.
The result of cultural exchanges is seen in the collective work of the Acrobatic Troup of the National Taiwan College of Performing Arts (台灣戲曲學院綜藝團) and nouveau circus veteran Philippe Goudard and Transversal Vagabond, which closes the festival with an electrifying blend of contemporary circus aesthetics, Chinese acrobatics and comedy.
For music lovers, check out the parks in Chiayi County from Feb. 9 to Feb. 11 for free music performances by Swan Castle Chamber Orchestra (威泰天鵝堡室內樂團), which will enchant visitors with chanson, jazz and reggae tones.
The event includes an array of French imports, including, wine, cuisine and cinema. Free lectures on the three "national treasures" will be held at various venues.
As for whether Chiayi will become a stronghold of international festivals in years to come, "The event began with no budget. We hope it can be warmly received this year so as to secure sponsorships and continue in the future," said Li Li-heng (李立亨), one of the event's organizers.
Publication Notes
Performance notes
What: French Spring (嘉義法國春天藝術節)
Where: Main theater and dance performances will be held at Chiayi Performing Arts Center (嘉義縣表演藝術中心), Sports Park in Talin, Chiayi County (大林鎮運動公園) and at the square in front of Peitien Temple in Putzu, Chiayi County (嘉義縣朴子市配天宮廣場). French music performances will be held at various parks in Chiayi County
When: Thursday through Feb. 21
Tickets: For theater and dance performances, tickets cost between NT$200 to NT$1,000, available through NTCH ticket outlets or call (05) 206-5675 and (02)2327-9299.
On the Net: www.wretch.cc/blog/frenchspring
Comments will be moderated. Keep comments relevant to the article. Remarks containing abusive and obscene language, personal attacks of any kind or promotion will be removed and the user banned. Final decision will be at the discretion of the Taipei Times.