[ TECHNOLOGY REVIEWS ]
As far as technology is concerned, it would be easy to conclude that the only thing that actually happened last year was that we were blessed with the iPhone's arrival. However, there is a product from Taiwan that may well send shock waves through the technology industry.
As Charlie Stross points out on his analysis at antipope.org, there is a dirty little fact that everybody in the computer industry, and the media circus rotating around it, has been trying desperately to ignore for years: The business is long overdue for commoditization. The vast majority of people do not need NASA-approved amounts of supercomputing power for checking e-mail and playing their albums, so instead of increasing performance specifications, manufacturers should focus on lowering prices and capping power consumption.
And this is just what Asus seems to be doing with its Eee PC sub-notebook, priced to compete head-on with a well-specified cellphone. The Eee moniker stands for "Easy to Learn, Easy to Work, Easy to Play," and if you avoid stabbing yourself in the face with the sheer inanity of its name, you'll be very pleased with how very un-cheap it feels in use.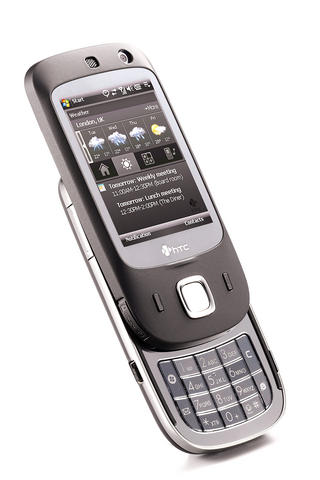 HTC Touch Dual PChome NT$18,800
The screen is small at 7 inches, but the trade-off is fantastic portability, especially since it has new, shock-proof Solid State Disk (SSD) memory technology. In place of a fragile spinning hard disk drive platter for storage, Asus takes advantage of rapidly falling memory prices to load the device with far more robust memory chips. There is not as much space as you might expect in the average PC - two gigabytes, four gigabytes or eight gigabytes are available at present - but you can top this up with your own SD cards, and in the eight gigabyte model you can swap out the drive for a larger one. No matter what you do, it is unlikely that you will be using this as a mobile media centre for transporting music, movies and photos.
What it is good at is providing hassle-free wireless Internet access and communication, especially with its built-in Webcam and microphone for chatting with the folks back home. Also, the solid build doesn't feel very different from machines that cost more.
Negatives are rather hard to come by, and even harder to justify considering its diminutive size and price tag. Yes, there is the rather cramped keyboard, low screen resolution and limited storage space, but that's what you get with a small computer.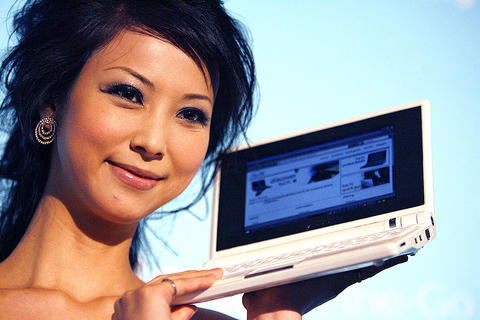 Asus Eee PC PChome Starting at NT$10,499
If you are considering purchasing the Eee PC, be aware that it does not come with Microsoft Windows installed. Instead, it is preloaded with Asus' interpretation of Linux. There is, however, nothing stopping a buyer from installing it, and there is sure to be a small flotilla of vendors camping out at Guanghua Computer Market (光華商場旁) ready to supply that demand. Overall, the computer is a very impressive device that delivers a great deal.
Launched in July, the HTC Touch signalled the opening salvo of the company's own cellphone initiative and an obvious affront to the then-soon-to-be released iPhone from Apple. It sported smooth good looks, small dimensions, an enviable specification list and at least an attempt to tart up Microsoft's Windows Mobile operating system in anticipation of Apple's seductive graphic effects that everyone and his or her dog are now familiar with.
We reviewed the Touch last year and were as impressed with the achievements of the hardware as we were let down by the attempts of the software at a convincing song and dance. At the time, it at least had the advantage of beating the iPhone to market, but now there is no such rock to hide behind and so it must be judged in the cold light of a product that is not even officially sold on this island.
In the last six months, HTC has added higher-speed data connectivity in the form of 3G HSDPA (iPhone, take note), which offers always-on service for those lucky enough to have the upgraded cellphone masts nearby. The observant may notice that the new camera has sprouted on the front as a way for the vain to take self-portraits and the lonely to make video calls. What HTC giveth, though, HTC taketh away, and at the same time that they added the increased cellular data speeds, they decreed that we no longer deserve WiFi, knocking out one of the original's selling points.
Ultimately, it probably does not matter a great deal, as most of the browsing experience has not improved upon the previous generation. What has changed is the addition of the slide-out keyboard from the base of the unit. In some ways, complaints about the previous version's typing ability and frustrating user interface are substantiated by the additional keys, otherwise why bother adding them? No matter, what is true is that it is a step up in usability, albeit at a loss of some elegance.
Overall, the Touch Dual keeps HTC at the forefront of the Windows Mobile game with a very attractive piece of hardware design, but it's difficult to get too excited in light of the Touch Dual's handsome Californian cousin. The onus is surely now upon Microsoft to step up its game, especially with HTC's assured involvement in the impending Google Phone.
Comments will be moderated. Keep comments relevant to the article. Remarks containing abusive and obscene language, personal attacks of any kind or promotion will be removed and the user banned. Final decision will be at the discretion of the Taipei Times.