Restaurants: Ocean Blue
A large aquarium, replete with reef fish and live coral, establishes the seaside theme at Ocean Blue, a new restaurant-cum-lounge bar on the fringe of the trendy Dinghao (頂好) district.
The sand-colored wallpaper and the fluid lines of the ceiling are unobtrusive, and the slightly secluded dinning area has a pleasant intimacy. Downstairs, deep sofas and areas separated by bead curtains lend the place a cozy feel, which is contrasted by a huge tank of blacktip reef sharks that adds an edgy touch. Feeding the sharks is part of the late night entertainment.
The food at Ocean Blue is an unusual fusion of Thai and Italian cuisines designed by head chef Gilbert Chua (蔡文要).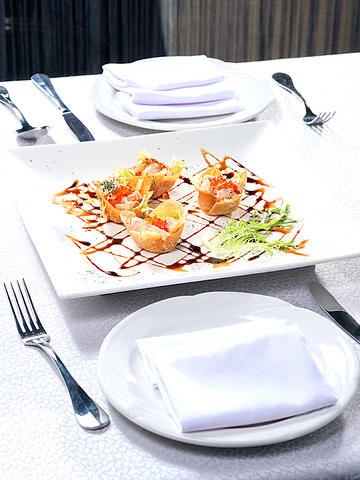 Ocean Blue makes a splash with a huge tank of blacktip reef sharks and innovative Thai-Italian cuisine.
PHOTO: COURTESY OF OCEAN BLUE
With dishes such as Thai beef capaccio (NT$320) and mango pumpkin soup (NT$200), the menu is intended to surprise. The soup, which uses mango juice instead of the usual cream as its base, is light and tangy. Chua is also adept at more conventional Thai dishes such as green curry chicken (NT$380). The curry itself is mild, but flavorful. The restaurant stocks a wide selection of New World wines that compliment the innovative fare. Set menus are paired with selected wines. Live lobster, giant prawns and Pacific oysters are other options, all made with a Thai twist.
With an emphasis on well-made drinks, rather than gimmickry, the bar is a welcome addition to Taipei's nightlife scene. It's no surprise that there are plenty of tropical-themed cocktails (the mango martini is definitely worth trying, even for those not partial to fruit cocktails), but it's the range of single malt whiskeys served with a single giant ice cube that is the clincher. With its view of Da-an Road, the bar at Ocean Blue also makes a pleasant change from the usual dark rathskeller spaces favored by interior designers of night spots.
As an elegant place for a business lunch, a cool quiet hide-away during the afternoon, a chic restaurant to take a date or a place to chill out with friends in the early hours, Ocean Blue, with wireless Internet access, DJ booth, shark tank and solid selection of food and wines, combines youth and sophistication - no mean feat.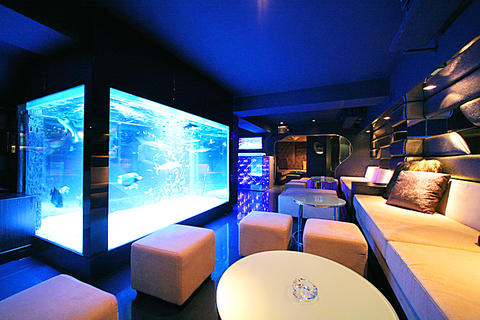 Publication Notes
Ocean Blue
Address: 180, Da-an Rd Sec 1, Taipei (台北市大安路一段180號)
Telephone: (02) 2704-7561
Open: 11:30am through to 3am
Average meal: NT$800
Details: English menu; credit cards accepted; live DJs Wednesday, Friday and Saturday; wireless Internet access
Comments will be moderated. Keep comments relevant to the article. Remarks containing abusive and obscene language, personal attacks of any kind or promotion will be removed and the user banned. Final decision will be at the discretion of the Taipei Times.