Killer weekend for Halloween
Halloween bashes are popping up faster than zombies in a George Romero movie. See today's Vinyl Word for the lowdown on the dance parties, or continue reading for a list of other events at bars and clubs from Taipei to Kaohsiung.
TAIPEI
PS Cafe
The past few years have seen Halloween in Taiwan grow from a small affair to a series of raucous celebrations.
It pays to dress up in the city this weekend. Since Halloween falls on a Wednesday this year, most of the action is scheduled for tomorrow, beginning with PS Cafe's Night of Mayhem (tel: 02-2776-0970), from 8pm to 1am. Digit will man the turntables and everyone in a costume gets a free "brain" shot.
Citizen Cain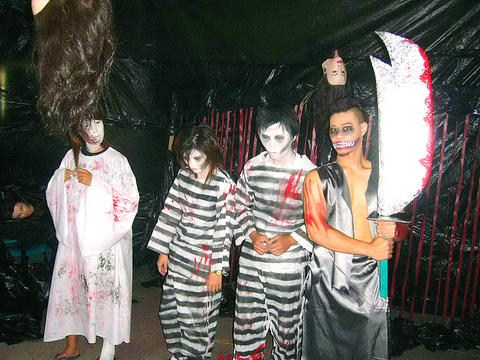 The past few years have seen Halloween in Taiwan grow from a small affair to a series of raucous celebrations.
PHOTOS: TAIPEI TIMES
Also starting early, but continuing until daybreak, is the costume party at Citizen Cain (tel: 02-2708-4557). Things get underway at 8:30pm, after which NT$10,000 worth of prizes will be awarded for the "best," "sexiest," and "scariest" costumes. Specially designed "black cat" and "pumpkin cat" shots are NT$100 all night.
Comedy Club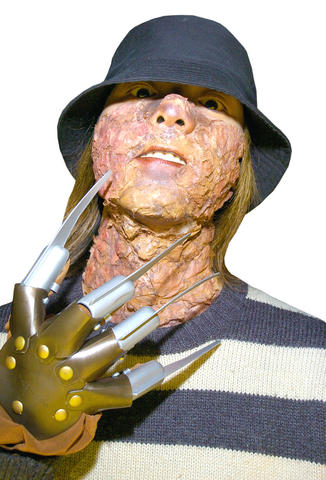 "Hellboy" and "Mormon" Elder Li will make an appearance at the Comedy Club's English-language stand-up comedy show (tel: 02-2369-3730), starring Mark Goding, Trista di Genova, Kurt Penney, Huanger, Chris Wang, Adrian Maidment and Matt "the puppet guy" Bronsil. NT$350 admission includes one free drink. The hour-long, non-smoking event starts at 10:30pm.
Goding, who will dress up this year as Hellboy and motor off to compete in Brass Monkey's costume contest after the show, said he's still sore over losing competitions the previous three years to a man wearing a trash can, a couple dressed as China Airlines employees and Barney the Dinosaur. "If there's anyone wearing a rubbish bin or dressed as Barney, Hellboy will rip their heads off," he says.
Brass Monkey
Moving on to the larger venues, Brass Monkey (tel: 02-2547-5050) sheds its sports bar image for something spookier with what is usually one of Taipei's most well-attended and cut-throat (as in competitive) costume competitions. This year's Halloween Party runs from 9pm to 2am. Women in costumes get free cocktails from 9pm to midnight and a total of NT$10,000 is up for grabs for the "sexiest" and "best" costumes. Contestants are judged by the volume of the crowd's cheers. Last year's winners were Barney the Dinosaur and a couple dressed in bondage gear.
Roxy Vibe
Music! Thrills! Horror! Excitement! Roxy Vibe (tel: 02-2358-2813) marks its return as a concert venue with Live in Hell's Basement, featuring The Unrelentless, Coach (教練) and Public Radio, followed by the O-Brothaz Sound System, "bringing the sweetest reggae and dancehall sin can buy." At the stroke of midnight, NT$3,000 will be given away in a costume contest. The party runs from 10pm to 3am, but, as always, Vibe stays open much later.
Other Taipei parties scheduled for tomorrow:
The Source
Ideoteque at The Source (tel: 02-3393-1789). DJs spin indie, electro, pop and folk. NT$500, all you can drink.
Bliss
The Chillest Haloween Party in Town at Bliss (tel: 02-2702-1855). Entrance to the bar is free. NT$200 to see Panafricana perform upstairs at 10pm. Free to see the O-Brothaz upstairs at 3am.
Carnegie's
Carnegie's (tel: 02-2325-4433). The Anhe Road club where you can dance on the bar always organizes one of Taipei's top costume contests.
On Tap
On Halloween, On Tap (tel: 02-2741-5365) hosts its own Night of Mayhem with the Underdog party crew from 10pm to 4am. Black is the theme, and free bar tabs and complimentary dinners for two will be awarded to three of the best dressed patrons. Shorty will spin funk until the early hours. Happy hour is extended until 11pm and the kitchen stays open until 1am.
Wax
Gritty, all-you-can-drink club Wax is also hosting a party on Halloween. The usual Wednesday Foreigner's Night prices will be in full effect, with NT$350 for men and NT$100 for women with foreign ID. If you don't have a foreign ID, it's NT$500 for guys but still NT$100 for girls. The flier says the party is for people 18 years old and over only. Yeah, right.
KAOHSIUNG
Megaport Festival
This weekend's biggest event has nothing to do with Halloween. If you live near Taiwan's second city and don't want to go to the Disney Channel's Halloween Party, the Megaport Festival (megaportfestival.com) might be more your scene. Organized by the Taiwan Indie Music Association and TRA Music, it runs today and tomorrow and showcases a solid lineup of bands with underground roots, including Sugarplum Fairy (甜梅號), Nylas, and heavy metal band Anthelion (幻日), who will be suitably attired in full death metal regalia.
US psychedelic indie band The Apples in Stereo play the festival on Sunday and at The Wall (這牆, 02-2930-0162) in Taipei tomorrow (see the contemporary listings in today's Taipei Times, Page 15). Singer/songwriter Robert Schneider studied Mandarin and Chinese philosophy in college and says he's thrilled to be here. "I would advise people to bring earplugs to our show and be ready to jump around," he says, "because we will."
TAICHUNG
Grooveyard
Tomorrow, Grooveyard will be giving away prizes at its Halloween Bash, with music by funk supergroup The Money Shot Horns, then DJs The 4 in Funk Affair. Cover is NT$300, happy hour is from 8pm to 10pm, and there are drink specials all night. On Halloween, people wearing a costume get a free drink.
TAOYUAN
Blue Cellar
Country band 2 Acres Plowed "will be pickin' and grinning" at the Blue Cellar for their Annual Halloween party. The party starts tomorrow at 10pm. NT$50 mixed drinks. One free drink for those in costume. 47 Chenkung Road, Sec 2, Taoyuan (桃園市成功路2段47號).
HUALIEN
Enigma Music Restaurant
As usual, Enigma Music Restaurant (03-833-4716) will be the scene of a Halloween Bash that lasts until the small hours.
TAINAN
Armory Pub
Wear a costume and get free beer tomorrow at the Armory Pub's Big Halloween Party (6-226-9520). Divebomb and Orange Boy will perform, and there will be prizes for the best costumes. First prize is NT$2,000 and a trip for one to Jade Mountain (玉山), second prize is NT$1,000 and a trip for one to Jade Mountain (玉山), third prize is a six-pack of Heineken. You can also get a free beer at the Armory on Halloween if you wear a costume.
Comments will be moderated. Keep comments relevant to the article. Remarks containing abusive and obscene language, personal attacks of any kind or promotion will be removed and the user banned. Final decision will be at the discretion of the Taipei Times.