Waging war and peace in the Amazon
End of the Spear, a fact-based story of conflict and resolution between a primitive warrior tribe in Ecuador and peace-seeking Christian missionaries (of unidentified denomination) from North America, is inspiring enough to make you wish that the filmmakers had reined in their sentimental excesses.
Robert Driskell Jr.'s sumptuous cinematography (the movie was filmed mostly in Panama) makes every raindrop glisten, every leaf appear translucent and every winding river resemble a flowing turquoise train. That physical beauty notwithstanding, the humane message of the film (directed by Jim Hanon and written by Jim Hanon, Bart Gavigan and Bill Ewing) is undercut by the religio-mythic trappings attached to it, and by an inescapable air of Kipling-esque smugness in its portrayal of civilized whites enlightening rampaging dark-skinned savages. The overawed musical score by Ronald Owen is so obtrusive that it never lets you have a feeling of your own.
The sleek, mostly Latino actors portraying members of the violent Waodani tribe, who achieve peace and harmony with the surviving missionaries after murdering five, are only marginally more authentic than the American Indians played by Hollywood extras in 1950's westerns. Louie Leonardo, the Dominican actor who portrays the tribe's most violent warrior, Mincayani, suggests a less steroidal version of The Rock in his displays of acrobatics and spear-wielding virtuosity.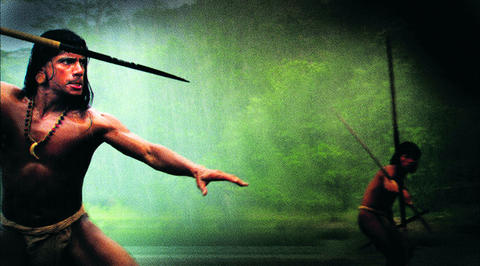 Louie Leonardo as Mincayani in End of the Spear.
PHOTO: COURTESY OF DARE TO MAKE CONTACT
Much of the drama revolves around the disagreement between Mincayani and his fellow tribesman Kimo (Jack Guzman) about the identity of Dayumae (Christina Souza), a Waodani woman lost to the tribe who has been living with the missionaries and becomes a bridge between the two cultures. Is she a spirit, as Mincayani insists, or a real person?
The story is narrated by Steve Saint (Chad Allen), a solemn young man who returns to the scene of the massacre decades after the murder in 1956 of his father, Nate (also played by Allen), and four colleagues during a tense first encounter. The missionaries and their families had settled in the Amazon Basin hoping to save the endangered tribe, then known as the Auca, from extinction in deadly intertribal warfare. Because Nate piloted a bright yellow aircraft, which the astonished Waodani identify as "a wooden bee" when it first buzzes overhead, the movie has some gorgeous aerial photography.
End of the Spear is a film of few words and no developed characters. Not even the grown-up Steve (his younger self is played by Chase Ellison), who in the film's mawkish climax meets and reconciles with his father's killer, emerges as more than a solemn, self-important mouthpiece.
Comments will be moderated. Keep comments relevant to the article. Remarks containing abusive and obscene language, personal attacks of any kind or promotion will be removed and the user banned. Final decision will be at the discretion of the Taipei Times.