Pedal power to the people
More and more people are swapping engines for pedal power and hitting the roads on cycling tours to take in the island's natural beauty
Once viewed in Taiwan as a mode of transport for pauper students or zealous environmental activists, cycling has acquired a new cachet on the back of growing ecological concerns and rising interest in health and fitness.
The cycling population - especially bicyclists able to advance to long-distance routes - has increased in recent years, due in part to an expansion in designated bike trails and the growing realization that Taiwan is a cyclists' heaven, blessed with diverse geographic features, from picturesque plains to mountains 3,000m above sea level.
There are bike trails in most city parks. But more challenging are the strenuous routes that take cyclists through the natural wonders of the island. Tours cover the Central Mountain Range and circumnavigate the country.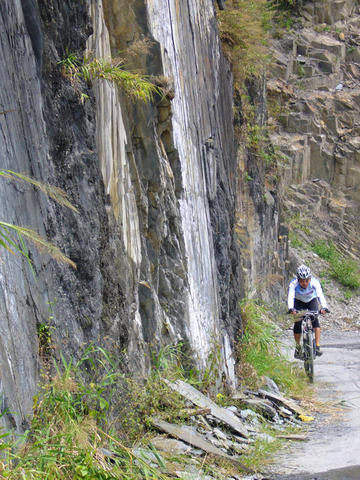 With great views, clean air and health benefits too, it's no wonder cycling tours are becoming more popular.
PHOTOS: TAIPEI TIMES AND COURTESY OF ODO BIKE CLUB
Breathtaking views can be found from Taroko Gorge (太魯閣), Hualien, Suao (蘇澳) and Taitung on the east coast to Taipingshan (太平山) and Alishan (阿里山) in the central region.
For a prospective long-distance cyclist, the list of choices and challenges is almost boundless. Knowing where and how to start can be daunting.
The country's many cycling teams, clubs and associations that organize tours and provide forums through which to share information and experiences and recommend routes, ensuring a safe and pleasant ride, are a good entry point.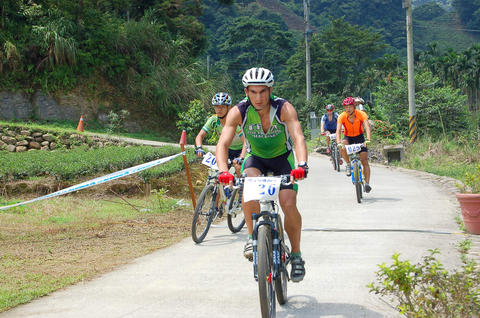 Experienced cyclists recommend novices go on several rides with biking teams as a prerequisite to undertaking longer-distance tours on their own. This gives beginners a chance to pick up tips on how to ride correctly and safely as well as repair and maintain equipment.
One of the best places to start is the Big Apple Team (大蘋果車隊, bigaplle.idv.tw), Taiwan's largest recreational cycling club, which boasts over 1,000 active participants and 20,000 registered members. The team's extensive database of more than 2 million articles contains everything you need to know about cycling to get going.
Apple Cheng (程計源), head of the Team, coordinates day trips every Saturday and long-distance tours every two to three months for beginners and advanced cyclists alike.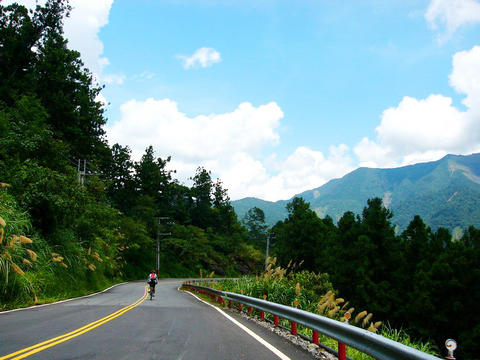 "The rule of thumb for long-range cycling in Taiwan is that it gets more challenging when riding closer to the Central Mountain Range and easier when moving toward the coast," she said.
While Big Apple Team charters buses to transport an average of 200 cyclists for each trip, smaller clubs like the ODO bike club (blog.xuite.net/team_odo/cycling) usually turn to public transportation. Cyclists can either take their bikes on trains as carry-on luggage, or, if the bike can't be dismantled, put them in special carriages.
"It's most convenient to drive a recreation vehicle to the destination and use it as a back-up car. Trains are the second best choice, but express lines only allow carry-on bikes. If there are only three to five bikers and not many passengers on the coach, usually the driver is willing to allow them on," said ODO member Chang Kai-ming (張開明), who also has experience cycling in Europe and China and feels that the island is ideal for cyclists because of its variety of terrains.
Chang said a three- to five-day trip is preferable as it is short enough not to interfere with family life and work, but long enough to venture out into some of Taiwan's most scenic landscapes and challenging routes.
The New Central Cross-Island Highway (新中橫公路) offers scenery that is most representative of the entire island. Cyclists can visit picturesque Chingching (清境), Hehuan Mountain (合歡山) and Wuling (武嶺), which at 3,275m above sea level is the highest point on Taiwan's highway system and a must-visit spot for adventurous bikers.
For intermediate bikers, less intensive two-day trips are available that take in the mountain and coastal panoramas along the Hualien-Taitung Rift Valley (花東縱谷) and Hualien-Taitung Coastal Highway (花東濱海公路). Intermediate bikers also have the option of riding along steep cliffs overlooking the Pacific on the Suhua Highway (蘇花公路), another popular route on the east coast.
"Covering an average distance of 100km per day like most serious bikers is a bit harsh for leisure cyclists. It's more enjoyable to go 70km to 80km a day so that you have more time for sightseeing. When passing through Hualien, you can make a detour to Liyutan Reservoir (鯉魚潭) or Chihsingtan (七星潭) for a couple of kilometers," said Chang, adding that local specialties and snacks are one of the diversions of long-distance trips.
For Chang's relatively luxurious touring - meaning single rooms for everyone at hotels or bed-and-breakfasts - a three- to five-day trip costs from NT$6,000 to NT$8,000.
Apart from private cycling groups, the Cycling Life-Style Foundation (自行車新文化基金會, www.cyclingland.org.tw) and the Taiwan Cyclist Federation (中華民國自行車騎士協會, www.cyclist.org.tw) are two resources worth exploring as both of them organize cycle tours on a regular basis and serve as information portals where people can find out about cycling groups across the country and the activities they hold. The former publishes magazines.
The Taiwan Cyclist Federation organizes cross-island trips twice a year; it also arranges private tours for groups that include back-up vehicles and bike rentals. Previously reserved for professional cycling teams, the Federation's league races take place eight to nine times a year and are now open to the general public.
"Starting from a couple of hundred cyclists in 2002, the number of participants in the league races and tours have increased to over 1,000. Our first cross-country tour this year saw 150 participants," said Federation head Ho Li-chin (何麗卿), adding that the hit movie Island Etude (練習曲) and cross-country cyclist celebrities like Giant's founder King Liu (劉金標) and keen cyclist Ma Ying-jeou (馬英九) have fueled interest in cycling tours.
Normally not a family-oriented route, the nine-day round-island tours organized by Bike in Taiwan Association (台灣自行車環島運動協會, www.bit.org.tw) are gaining popularity with everyone from eight-year-old children to 80-year-old retirees. To promote cycling as a national sport, the Federation provides activities for the non-athletic, such as two- to three-day family excursions held once a month that tour cycling lanes and user-friendly scenic routes across the country in coaches.
Celebrity cyclist Huang Chin-pao (黃進寶), who, along with his wife and two sons completed a 23,600km global trek between 2002 and 2003, devised the tour route after riding across the country more than 20 times. Now, for NT$17,000, cyclists can take up the challenge on specially designed Merida bikes, with pre-tour training, a GPS unit, back-up vehicles and a veteran cyclist riding beside them with a daily schedule covering an average distance of over 100km a day.
"Ninety-five percent of our participants can finish the trip. Those who can't often are not the least physically fit, but people too confident to take the trip seriously and have to quit over sports injuries," said Huang,
Like Chang, the global trekker also thinks Taiwan is an ideal place for cycling. "The weather is always sunny and the landscape is simply breathtaking. If you need help on the road, just wave your hands and someone is bound to come to your aid," Huang said. "The most difficult part is to drag people out of their homes to give it a try. But once you are out, you will soon realize that cycling is not just a sport, but a good way to cleanse the body and soul."
Tips for safe cycling:
* Take a cycling partner on long-distance trips since you will need someone to help carry tools for repairs, first aid kit and supplies.
* Don't cram too many things into your luggage. There aren't many places in Taiwan where water and food supplies can't be purchased. Convenience stores are the best places to send gifts, souvenirs and unnecessary gear back home.
* Plan your route and locate places to stay beforehand. Don't get too worried though if a flat tire slows up your schedule since accommodation can usually be found en route.
* Start early in the day and finish two-thirds of your planned daily distance before noon as exhaustion sets in quickly in hot and humid weather.
* Check the weather before riding along flat sections of the western coastline as you are likely to be cycling against strong winds.
* Beware of guard dogs in the countryside. Source: Taipei Times
Comments will be moderated. Keep comments relevant to the article. Remarks containing abusive and obscene language, personal attacks of any kind or promotion will be removed and the user banned. Final decision will be at the discretion of the Taipei Times.