The Chinese chose cars, chose washing machines, chose life
Contrary to orthodox theory, the arrival of Western goods in China represented the first wave of globalization and was embraced enthusiastically
During the 1930s some Western authors sought to depict China as untouched by the modern world, a place of pagodas, silks and temple bells that was uniquely hostile to change. If they mentioned foreign products they presented them as tawdry goods imposed by unscrupulous foreigners anxious to make large profits out of a gullible populace.
This was far from being the case, argues Frank Dikotter in Things Modern. Cars, trains, trams, steam ships, electric light, macadamized avenues, telephones, radios, gramophones, cameras, sewing machines, thermos flasks, clocks, rubber shoes, wigs, packets of aspirin, soap, fountain pens, matches, umbrellas, glass windows and mirrors - these and more were admired by Chinese of all classes the moment they appeared, and relished for their practicality, fashionableness or effectiveness as status symbols, and frequently all three.
This was incontrovertibly a good thing, Dikotter proclaims. The arrival of these goods represented the first wave of globalization, certainly, but they not only relieved ancient burdens but also gave people choices of how to live, rather than working to eradicate a homogenous and picturesque traditional Chinese world.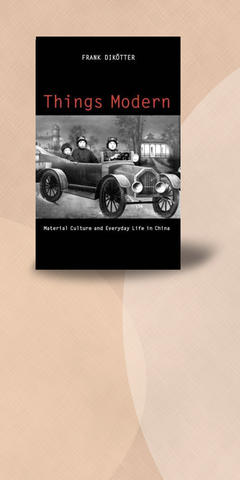 THINGS MODERN: Material Culture and Everyday Life in China By Frank Dikotter 382 pages Hurst and Company
The era evoked in this book strikingly anticipates the situation today. Soon East Asia would be leading the way, both designing and manufacturing the computers, cell phones, plasma TV screens and digital cameras that now define what it is to be modern.
Frank Dikotter is a professor both at SOAS and Hong Kong University. He has made his reputation from challenging Marxist orthodoxies on subjects such as drugs, race, eugenics and prisons, arguing in earlier books that opium use in Asia was traditional and largely harmless, that China possessed its own brand of racism, and that, until the communists turned the clock back, prison reform was well under way in China. His specialism is China's republican era (1912-1949), of which modern Taiwan is in some ways the heir, and it is this period he concentrates on once again in this excellent new book, together with the half-century that preceded it.
There's a certain paradox in someone as erudite as Dikotter applying himself to humble everyday objects. Not that he's unaware of the sheer size of his subject. At one point he remarks on what's omitted - weaponry and cloth in particular - while also saying that there were other objects, from chewing-gum to x-ray machines, that could have been included had there been enough space.
There is a theoretical introductory chapter that confronts opposing positions and comes down in favor of the importance of the tangible in Chinese life in all eras. This, combined with a craving for the new, saw foreign goods achieve almost instant popularity. Dikotter also insists on the different ways imported objects were adapted to local uses. Foreign glass mirrors, for instance, were hung outside dwellings to ward off spirits the more effectively. He's also at pains to point out that end-users were nowhere passive agents, mere victims exploited by commercial forces, but intelligent customers exercising choice who incorporated new things, often inventively, into their lifestyles.
He's also at pains to show, as always, that pre-communist China was modernizing fast. Nor was this only happening in Shanghai - the focus, he says, of too much attention from historians. Even cities as remote as Lanzhou in Gansu Province in the 1930s had "libraries, power plants, electric light, flour mills, soap factories, asphalted roads, neon lights, telegraph and telephone installations, and modern schools, colleges, hospitals and hotels." Half of Russian cities in mid-century, by contrast, didn't have a single library.
Dikotter also emphasizes that new goods didn't only benefit elites. A "copy culture" ensured that foreign goods were quickly imitated in cheaper local versions (something else that has parallels in today's Asia), so that even the poorest could acquire brightly enameled basins, manufactured at a fraction of the price of the old porcelain, and lasting much longer than their earthenware equivalents. This too anticipates the contemporary situation where cheap and attractive goods from China, made following patterns pioneered in the West, are today flooding world markets.
This appears to be the first major survey of the dissemination of modern commodities in China during the period 1842-1949. Once again Frank Dikotter has proved himself a pioneer in his field.
One of the most striking differences between East and West today is that East Asians almost invariably prefer to take vacations in highly-developed countries, whereas large numbers of Westerners opt for older societies, ones they imagine to be pre-modern. What this suggests is that there's a fatigue in the face of modernity that afflicts many Westerners, reflected in an extensive dystopian imaginative literature expressive of world-weariness and disillusion. By contrast, East Asians seize everything new with relish, desperate to be first with the latest cell phone models and the like.
I used to explain this as follows. In declining cultures (the West) people have a nostalgia for the past because things are now stagnating, whereas in rising cultures (East Asia) people have little time for the old because for them the past spells poverty and the new success. They want to travel to affluent countries because they perceive their ways are where their own cultures are heading.
Dikotter, however, offers a different perspective. At the end of his book he suggests the Chinese, for reasons to do with aspects of their traditional culture, may be more attuned to the modern than other people. The implication of this, it seems to me, would be that the pan-Chinese world is moving to inhabit the advance ground, and that what Taiwan and China are now fast becoming is what the rest of the world will one day soon be like. The full implications of such an idea, needless to say, can hardly be dealt with in a book review of this length.
Comments will be moderated. Keep comments relevant to the article. Remarks containing abusive and obscene language, personal attacks of any kind or promotion will be removed and the user banned. Final decision will be at the discretion of the Taipei Times.