First came style. Then substance
The new Audi TT finally lives up to its sports-car billing
Heading north on Route 257 through southeastern Quebec, it occurred to me that Audi's second-generation TT is a perfect example of how, sometimes, it can take years to fulfill a promise.
Then my thoughts turned to manure.
The first TT arrived in the US as a 2000 model, and the rounded little Bauhaus design made visual promissory notes: It would be wonderful to drive.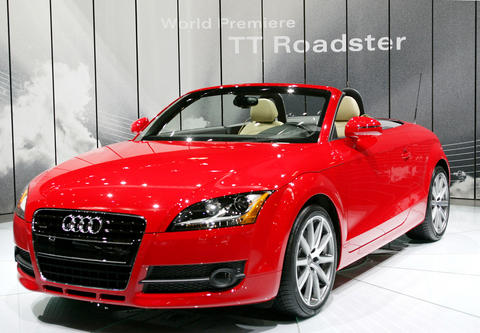 The 2007 Audi TT. The 2008 model uses a second-generation space-frame design of aluminum and steel.
PHOTO: AP
But we were tricked. The steering lacked feel and the driving experience was rather average, not coming close to matching the magic of the TT's appearance.
For the 2008 model year Audi has an all-new TT. A stronger body and redesigned suspension have delivered huge improvements in its handling, finally giving it the performance to back up its come-hither-and-enjoy-driving look.
As before, there are coupe and convertible versions and a choice of front-wheel drive or all-wheel drive. There are two engines: a new turbocharged 2-liter 4 producing 200 horsepower or a carried-over 3.2-liter V-6 that makes 250 horsepower. You can get a six-speed manual or six-speed dual-clutch automatic. Unfortunately, there are restrictions on what goes with what.
Prices start at US$35,575 for a front-wheel drive coupe with the 4-cylinder engine, which comes only with the automatic.
Those who want the V-6 must also take the quattro all-wheel drive system and a price of US$42,275. A six-speed manual is standard on this version; the automatic is an option.
All-wheel drive is not available with the turbo 4, although Audi is thinking of changing that, said Filip Brabec, product planning manager for Audi of America.
For those who desire a convertible, the least-expensive TT Roadster is US$37,575 with front drive and the turbo 4. A version with the V-6 and all-wheel drive starts at US$45,275.
The roadster that I tested had the V-6 and the automatic and a base price of US$46,675. The final price was US$51,225 with options including fancier leather upholstery, larger 18-inch wheels and an upgraded stereo system with Sirius Satellite Radio.
But back to the manure. Starting early one summer morning my wife, Cheryl, and I drove north from our home in New Hampshire along Route 3, passing the First, Second and Third Connecticut Lakes. These are names that hint at a lack of pioneer poetic imagination but excellent counting skills.
By 10am we crossed into Canada and were headed toward this farming town advertised by a small, weathered sign in French that translated to "Let us charm you." A few minutes later, the smell of manure hit with the most drenching pungency possible when a convertible top is down and olfactory protection is drastically reduced.
If we'd had some additional warning ("Let us charm you, but we stink") we could have quickly protected ourselves. Putting the top up (or down) is possible with a push of a button even while the car is moving up to 40kph an hour.
Incidentally, the power open-close mechanism worked flawlessly; the top was snug.
With an overall length of 418cm, the new TT is 14cm longer, but the biggest change cannot be seen. It is the extensive use of aluminum (there is still some steel) to achieve strength with less weight.
The advantage of this new structure can be felt easily. Anyone familiar with the tiresome shake and wiggle of a poorly done convertible will be amazed by the TT's wonderful solidity even on the worst surfaces.
Inside, the TT feels sports-car intimate without being crowded, and Audi's tradition of handsome accommodations continues. The basic controls are easy to use, lacking the classic Teutonic approach in which mystery is preferred over logic.
All the good safety gear is standard, including stability control; antilock brakes; rollover hoops intended to keep noggins off pavement; and seat-mounted bags to protect chests and heads in side impacts.
The coupe and roadster each has more cargo capacity than the first TT and could easily be used for a weekend trip.
By noon we had spent about two hours in Canada and saw no reason to wear out our welcome. We crossed into Maine at Coburn Gore and headed south on Route 27, a smooth two-lane with turns ranging from benevolent sweepers to tricky kinks. Route 27's straights can be short, but with the TT it was easy to build speed.
The 3.2 liter V-6 is rated at 32.6 kilogram-meter of torque, all available between 2,500rpm and 3,000rpm. Part of the swiftness comes from the S Tronic dual-clutch automatic with six gears chosen for strong acceleration, not maximum fuel economy.
The dual-clutch gizmo means quick gear changes (Audi claims 0.2 seconds) and, unlike a manual or conventional automatic, there is no discernable drop in power as the gears change. It is also an extraordinarily eager gearbox that needs no more than a hint that the driver needs a downshift.
On most turns, the TT is a delight. The steering has a good feel and is nicely weighted, inspiring the confidence and communication crucial in a good sports car.
Thanks to a redesigned suspension and extra-sticky summer tires (you can choose all-seasons instead) there is so much cornering power that blind mountain turns at high speeds come with a greatly reduced fright factor.
Alas, it is on the tight turns, like hairpins, that the TT becomes less fun and shows its weak point. It begins feeling nose-heavy and less willing to change direction, reminding the driver that about 59 percent of its weight is up front, far from the ideal 50-50 balance.
On a rough surface the TT's ride is comfortable, at least for a sports car. That means the TT is suitable for enjoyable long-distance travel. It is not one of those rough-riding, tiring sports cars no good for anything more than an afternoon romp.
By mid afternoon we were home, having covered 541km on our TT International Tour, more than enough to come to some sunny and solid conclusions. While the original TT was a dynamic disappointment, Audi has learned its lesson and made nice with the new car. It has not just looks and style but the anytime-anywhere acceleration, cornering and braking that finally make the TT as delightful to drive as to look at.
Comments will be moderated. Keep comments relevant to the article. Remarks containing abusive and obscene language, personal attacks of any kind or promotion will be removed and the user banned. Final decision will be at the discretion of the Taipei Times.